The Hospital and Health Networks' video listed the top 10 reasons for poor hand hygiene as such: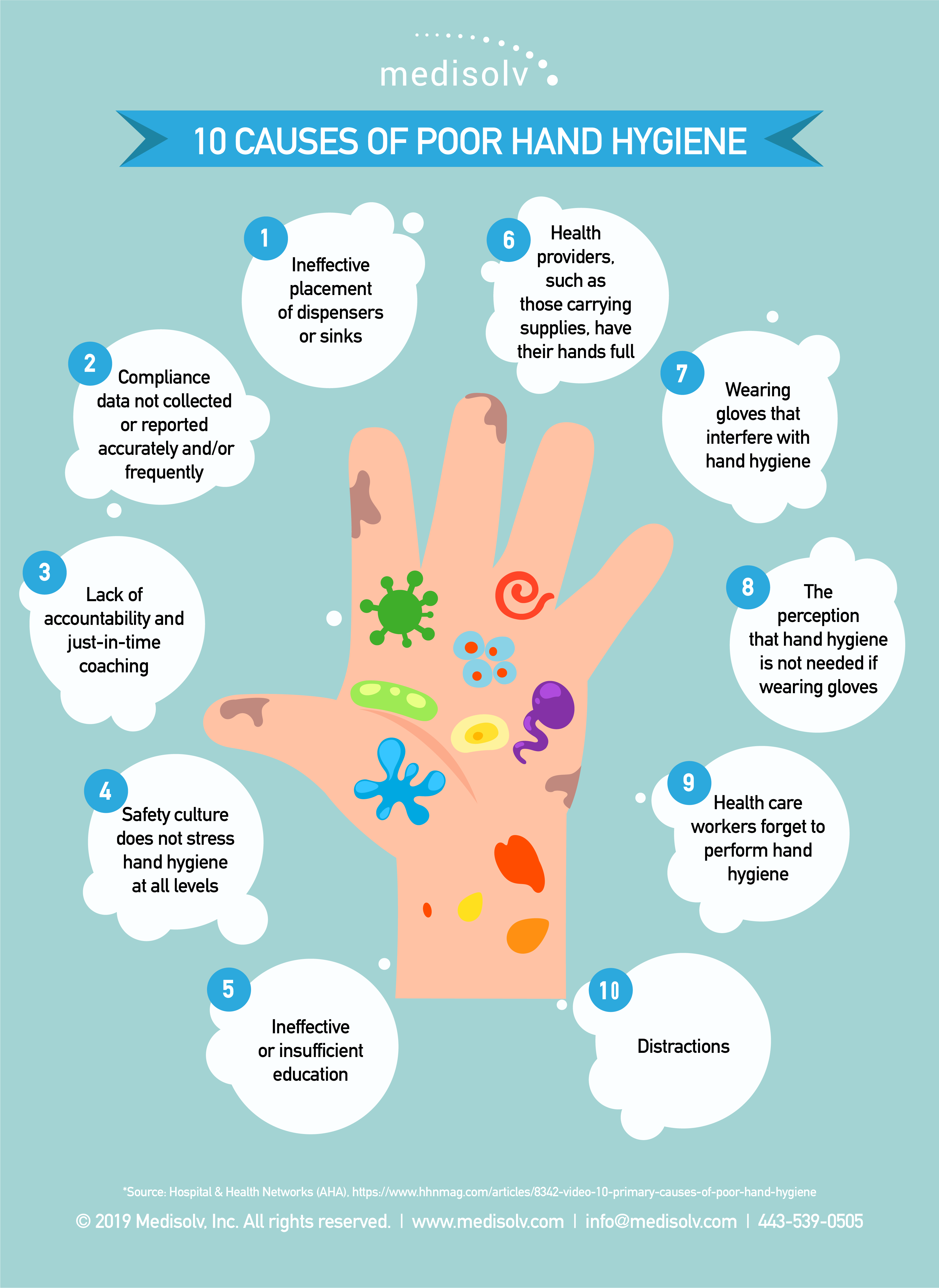 Chances are, your hospital can identify with one or more of these issues. Sometimes a hospital need to get a little creative in order to improve their compliance rate.
Today, we wanted to share with you a few memorable and funny ideas from one of our Medisolv clients who rose their hand hygiene compliance from a 40% rate to 80%.
Hilo Medical Center is the leading provider of inpatient and outpatient care on Hawaii's Big Island. They boast a Leap Frog Grade A, a 4-Star Hospital CMS ranking and a Health Grades Patient Safety Excellence Award. Hilo has worked hard to prioritize patient safety and infection prevention.
Hilo implemented a hand hygiene program. To begin, they asked their nurses how often they washed their hands, and, of course, the majority responded that they washed their hands all the time! All. Day. Long. Yet, when Hilo implemented a "secret shoppers" program to observe their hand washing compliance rate, they found they were performing at a 40% rate. (Does this sound familiar?)
One of the things Hilo is known for is incorporating some fun and memorable ideas with their staff to improve their compliance rates.
Yes, a stark black and white reminder to wash your hands is helpful, but what if you talked about glitter? That's what Chad Shibuya, Hilo's director of infection control did. Chad created a monthly newsletter entitled #COOTIES. One day, during the holiday season, Chad was in a store with his daughter and the clerk was covered in glitter and they got to talking about glitter. Once it gets on you, it's stays on you and it's hard to get rid of. So, Chad went back to the hospital and did a special holiday newsletter about how germs are like glitter.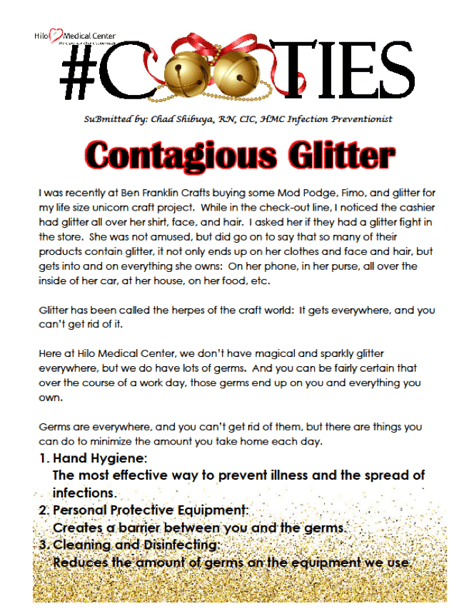 This visual reminder of germs as glitter stuck with people and reminded them to wash their hands as a part of their ongoing hand hygiene project. This, of course, was just one of the many things Hilo did to improve their hand hygiene rate.
And being fun and memorable can extend even to some of the less than pleasant things your hospital deals with every day…
Hilo noticed a problem with their C. diff. numbers. They found out that the staff was actually over-testing for C. diff. They were testing a number of patients who were on medications known to cause diarrhea, such as laxatives. Hilo needed to find a way to reinforce testing only what is known as "clinical significant diarrhea." And they had to get creative about it.
By the way if you've never watched this musical number,
do yourself a favor and take two minutes out of your day to laugh.
https://youtu.be/jsVgi8hoFFc But I digress.
So, to improve compliance, Hilo came up with a silly C. diff. testing guide which uses a popular emoji to clearly explain when to test and when not to test for C. diff. Certainly, if you distribute a guide like this, your staff is going to remember it.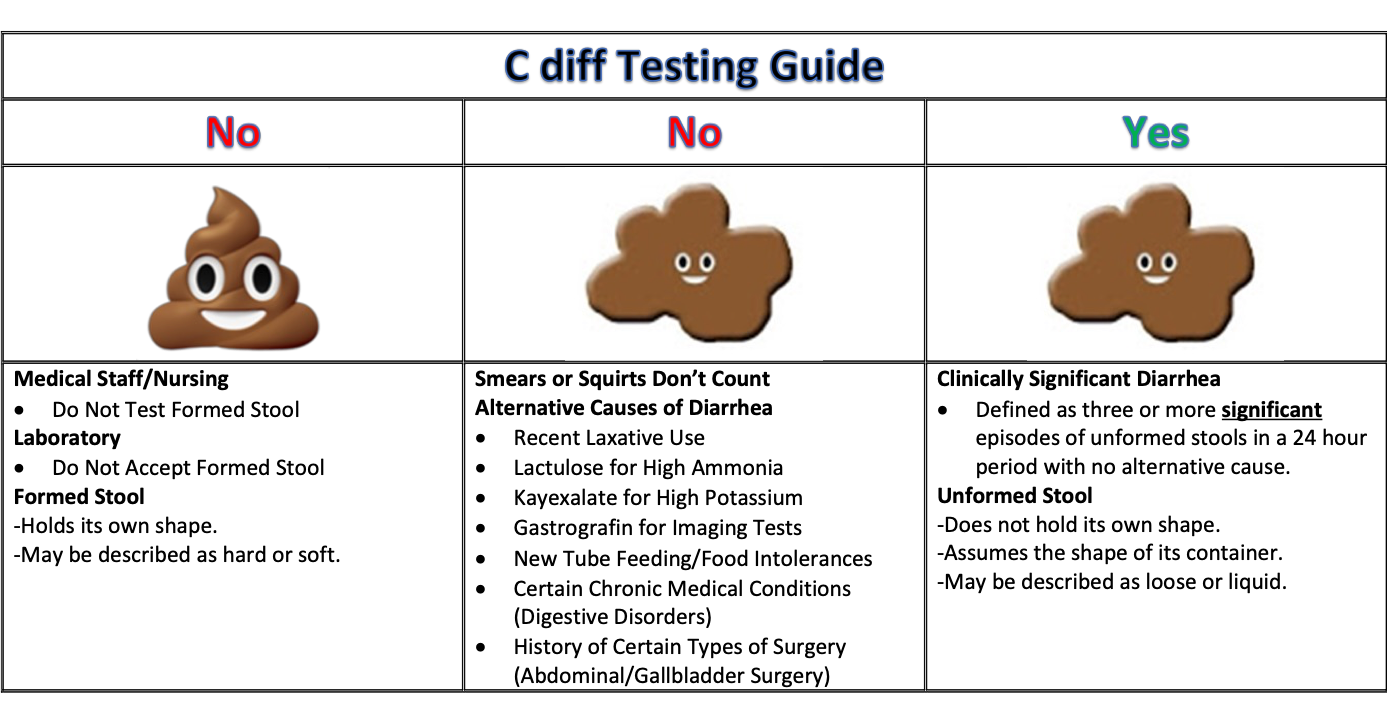 It's these types of creative ideas that can engage staff in a way that gets everyone talking about compliance.
What types of creative ideas is your hospital doing to engage your staff around compliance? Leave your comments below.
Thanks for the great ideas Hilo!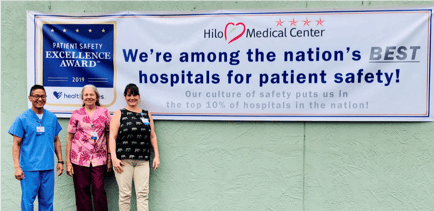 Chad Shibuya, RN, Director Of Infection Control | Tandy Newsome, RN, Director Of Quality Management | Rachele (Conboy) Halliday, RN BSN CNML Pay For Performance Coordinator (Hilo Medical Center)
Tags:
Quality Reporting, Value-Based Care