Have you had a chance to attend one of Medisolv's webinars about eCQM reporting in 2016?
This webinar, appropriately titled eCQMs 101, is all about the basics of Electronic Clinical Quality Measures (eCQMs). We review how an eCQM is calculated and the steps to implement an eCQM in your hospital. You'll also learn how to analyze your results for your best submission to the CMS Inpatient Quality Reporting Program.
After watching this webinar you'll be able to:
Understand the purpose of eCQMs
Identify the differences between Electronic measures and Abstracted measures
Define common quality reporting terms and vernacular
Recognize the process of implementing an eMeasure
Identify the main quality reporting programs and their basic requirements
In the webinar, we reference the Quality Acronym Reference Guide. You can download that guide right here.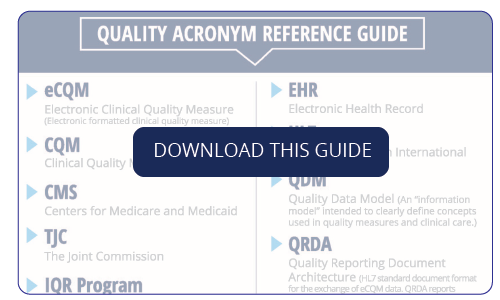 ---
DOWNLOAD:
the 2018 Quality reporting bundle
Successfully reporting your eCQM and chart-abstracted measure data to CMS and The Joint Commission is a process that requires some time and preparation. But how can you prepare without the proper information? Do you know what to search for? Is the information that you found correct and accurate for this submission year?
Set your worries aside. We know that you have more important things to do than dig through a handful of confusing CMS and Joint Commission documents—that's why we did it for you! Yup, true story. We gathered all of the important documents, standardized and simplified them and put everything in our 2018 Quality Reporting Bundle.
Woot woot! *Pause for dance party and sigh of relief.*
Check out what you'll find in this handy bundle below.
CMS IQR Program:
Reporting requirements
Measure list
Deadlines

The Joint Commission ORYX® Initiative for Quality Improvement:
Reporting requirements
Measure list
Deadlines

Oh, AND an Acronym Reference Guide. No more guessing game.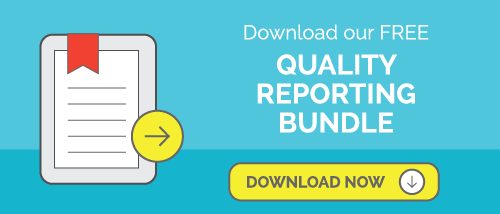 Tags:
Quality Reporting, Academy, IQR Program