What is an acceptable level of lost Medicare revenue for your hospital? Well, obviously no revenue loss would be the best course of action. But it's not as simple as that when it comes down to it. You see, the tradeoff for ensuring your hospital isn't dinged with any penalties from Medicare is investing time, resources and money into a comprehensive Quality program. Sure, sounds great. That is, until you dive into what it means to actually invest in that solution.
A recent report from the American Hospital Association pointed out that hospitals are responsible for reporting data to nearly 50 Quality programs at an average cost of $709,000! Well, that sounds downright ridiculous when you put it that way. And while some people may be willing to throw their hands up and hope that the government regulations are lifted, that course of action actually may be just as costly.
In the graphic below we've highlighted just a few of the major programs to which hospitals are required to submit Quality data to CMS. While one program's negative reduction may only slightly impact your operations, penalties from multiple programs could cost your hospital greatly.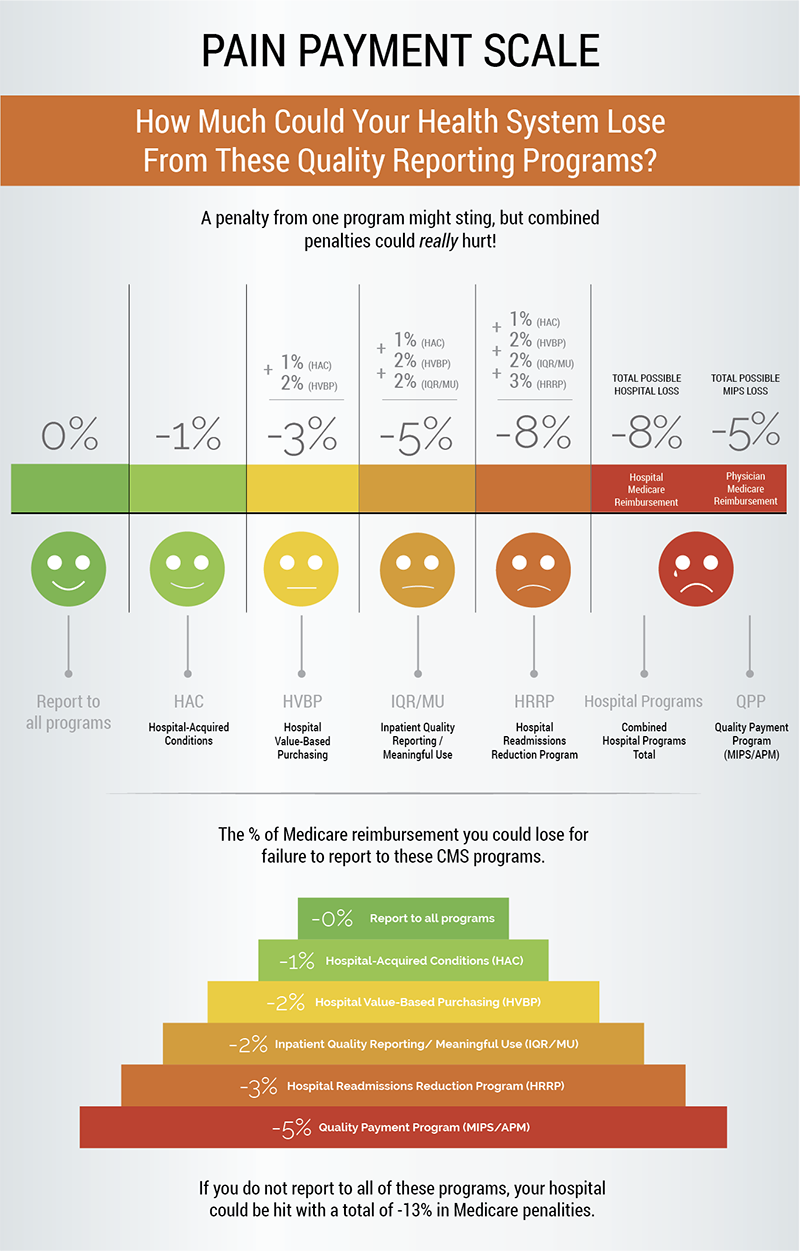 It's pretty shocking when you think about how much money is lost if your health system ignores these programs altogether. So how much do you think you could afford to lose? -2%? How about -5% or -8%? Instead of planning for loss, make a plan to invest in solutions that will help you build that comprehensive Quality program.
Medisolv's Quality management solutions help health systems manage their Quality reporting. Our technology makes access to your Quality data simple and our clinical consultants offer excellent support and guidance to ensure your team has a holistic Quality program. To find out more about our ENCOR solution, click here.
---
WEBINAR:
DATA DRIVEN PATIENT CARE:

USING ECQM VALIDATION FOR PERFORMANCE IMPROVEMENT
Tuesday, July 10, 2018
1 p.m. ET | 12 p.m. CT | 10 a.m. PT
What does your eCQM data tell you about your clinical documentation processes, data management and ultimately, the quality of care of patient's in your hospital?
For the past few years, many hospitals have been focused on simply setting up eCQMs to meet the minimum reporting requirements. For most, the idea that eCQMs could accurately reflect the quality of care in a hospital setting and initiate actionable change is unimaginable.
In this free educational webinar, Medisolv will share tips from their most successful hospitals and how they improved their eCQM results to help drive performance improvement.
If you've already implemented eCQMs, but you aren't sure what to do next, this webinar is for you. Meet your regulatory reporting requirements and drive performance improvement activities at your hospital.
Objectives:
Review common challenges facing hospitals during eCQM data validation;
Construct a plan to improve your eCQM results;
Identify common errors when performing eCQM data validation and recognize how to locate and address gaps in performance;
Identify the requirements for regulatory programs requiring eCQM submission.
---
Medisolv offers software and services which will assist your hospital in selection, validation and submission of your eCQMs to the CMS IQR program.
To learn more about Medisolv's certified Quality Reporting and Management Solution, click here. Our solution is exclusively endorsed by The American Hospital Association.
Tags:
Quality Reporting, MACRA/MIPS Program, Academy, IQR Program