Want the scoop on 2018 eCQM requirements? Pull up a chair.
In a previous post, we discussed the major 2018 eCQM requirements for The Joint Commission ORYX® initiative for quality improvement program. Today, we are switching gears and diving into 2018 eCQM requirements for another major regulatory program: the CMS Inpatient Quality Reporting (IQR) program.
Check out the following short video to learn what's in store for IQR eCQM reporting in 2018—or read all about it below.

2018 IQR eCQMs 101
WHAT:
You don't need to get used to any new eCQM rules this year. Hospitals must still submit four of the available 15 eCQMs to the program.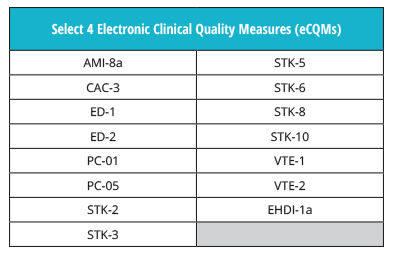 Be sure not to confuse these eCQM requirements with the ones for The Joint Commission's ORYX® initiative for quality improvement program.
Also See: 2018 eCQM Requirements for The Joint Commission's ORYX® initiative for quality improvement program
WHEN AND HOW:
Just as in 2017, you can choose to report data from any one quarter of 2018. The submission window opens this summer, so we suggest that you submit your measures as soon as possible instead of rushing to get it done at the last minute (save your procrastination for the gym). However, you do have until February 28, 2019 to get your data submitted to CMS.

Note: Your data must be submitted no later than 11:59 p.m. PT on the submission deadline with the exception of HCAHPS, which must be submitted by 11:59 p.m. CT; validation medical records must be received by CDAC no later than 4:30 p.m. ET.
GUIDELINES:
In order to achieve a successful eCQM submission, there are a few guidelines that you need to follow.
The data file that you submit must use EHR technology, like Medisolv, that's certified to the 2014 or 2015 edition of CEHRT.

You must use the latest version of the specifications, which is currently May of 2017.

All files submitted to CMS must be in the QRDA 1 file format.

Medisolv offers a quality reporting solution that helps hospitals and clinicians monitor and submit their eCQMs to various regulatory programs such as The Joint Commission and CMS.
So, if you're looking for someone to help you with implementation, validation and submission of eCQMs, send us a note. We'd love to have a chat and see if we are a good fit for you.
---
WEBINAR:
Wednesday, October 24, 2018
1 p.m. ET | 12 p.m. CT | 10 a.m. PT
QUALITY REPORTING: 2018 AND BEYOND,

IN PARTNERSHIP WITH NAHQ
Tying payments to performance across quality and cost dimensions requires robust measurement and reporting. Hospitals and providers, however, are demanding relief from regulatory burdens including quality reporting. What gives?
In response to both internal needs and external pressures, CMS continues to propose dramatic changes in its Quality Reporting programs. While this session will primarily focus on these hospital and ambulatory changes for quality reporting in 2018, future reporting trends and lessons applicable across the continuum of care will also be discussed. In addition, we'll share some strategies that will help you to better manage multiple measure types for the major regulatory reporting programs.
Objectives:
Review 2018 reporting requirements and discuss future trends in quality reporting.

Gain insight into what quality reporting is likely to look like beyond 2018.

Learn strategies to help you stay on top of the complex and changing reporting requirements year after year.

Speaker info:
Dr. Zahid Butt, MD, FACG
Medisolv, President & Chief Executive Officer
Tags:
IQR Program, Academy, Quality Reporting