2021 IPPS Final Rule: The Big Takeaways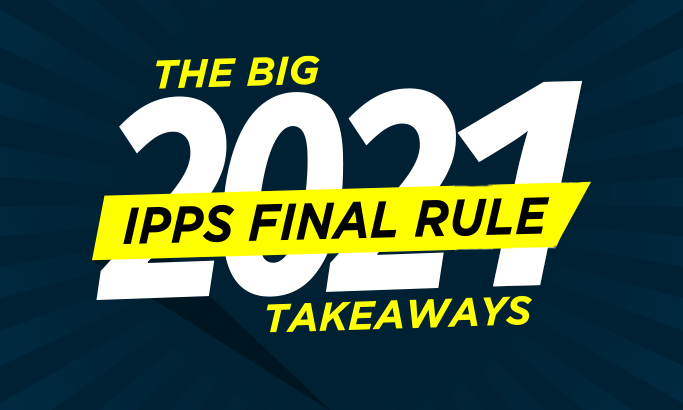 CMS has finalized the 2021 IPPS Final Rule and with that has increased the eCQM requirements for hospitals. Read some of the major takeaways from the final rule.
They really did it. After almost a decade of capturing and reporting electronic clinical quality measures (eCQMs), CMS has finalized a rule which will publicly display the eCQM performance of all hospitals participating in the IQR program.
The 2021 Inpatient Prospective Payment System (IPPS) final rule focuses heavily on eCQMs in the IQR program and makes few changes to any of the other programs.
I thought this quote from CMS summarized their intentions well:
"After holding eCQM reporting and submission policies constant for a number of years in order to give hospitals and their vendors additional time to improve eCQM reporting capabilities, and stating our intention to transition to more robust reporting, we believe that it is time to increase the level of reporting in order to capture additional quarters of data."
Let's take a look at what CMS has in store for us in 2021.
First, some resources:
6 Things for the IQR Program
1. eCQM Reporting Requirements
The number of eCQMs you must submit remains the same (4), but they are increasing the length of time you must submit for and making the Opioid eCQM required.

2 quarters of eCQM data for 2021

3 quarters of eCQM data for 2022 (must submit the Opioid eCQM)

4 quarters (full year) of eCQM data for 2023 (must submit the Opioid eCQM)
2. Public Display of eCQM Performance
Your 2021 eCQM performance (2 quarters – 4 eCQMs) will be publicly reported.
First it will be available to download at data.medicare.gov and then in the future it will be posted on Hospital Compare.
In a separate proposal (CY 2021 OPPS/ASC proposed rule) eCQMs will be used to calculate Hospital Star Ratings in the new star ratings methodology.
3. Opioid eCQM Submission
In 2021, CMS is adding a new Opioid eCQM (Safe Use of Opioids – Concurrent Prescribing), and in 2022 they are requiring that your hospital submit this new Opioid eCQM as one of your four required eCQMs.
4. The Hybrid HWR Readmission Measure
CMS also finalized their plan to adopt the Hybrid HWR Readmission measure. Voluntary reporting starts next year from July 1, 2021 – June 30, 2022 and July 1, 2022 – June 30, 2023. Mandatory reporting begins in 2024.
5. No Changes to Abstracted Measure Requirements
CMS is holding steady on the abstracted measure requirements for 2021 and 2022. You still must submit two abstracted measures (PC-01 and Sepsis) for the foreseeable future.
6. Updating Audit Quarters
CMS will be aligning the audit time tables for abstracted, eCQM and HAC (Hospital-Acquired Condition) reduction program audits starting at the end of this year. Essentially all audits will be combined into one audit which will encompass all three types of measures and be based on the calendar year.

3 Programs | 1 Thing
1. Holding Things Steady for HACRP, HRRP and HVBP
Essentially CMS wants to hold these programs steady (Hospital-Acquired Condition Reduction, Hospital Value-Based Purchasing and the Hospital Readmission Reduction Program). They intend to do that by automatically adopting applicable periods beginning in FY 2023. So, they are just rolling forward the timeframes (specific to each program) that they use to calculate a hospital's performance.

4 Other Final Rule Things To Note
1. Disclosure of Payer Negotiated Rates
The final rule requires Medicare Advantage organizations to disclose the median rate for payer-negotiated inpatient services. They will use this information to set hospital payments beginning in 2024 using a new market-based methodology.
2. New DRG
CMS created a new MS-DRG (Medicare Severity Diagnosis Related Group) for the CAR T-cell therapies.
3. Increase in Payment Rate
The payment rate paid to hospitals will increase by 2.9% compared to 2020. CMS estimates this to mean a $3.5 billion total increase in 2021.
4. Disproportionate Share Hospitals
CMS will distribute $8.3 billion to those hospitals that are considered Disproportionate Share Hospitals (A decrease of $60 million from 2020).


We know that keeping up with these yearly regulatory changes can be overwhelming. That's why we have dedicated clinical experts who can help you better understand what each change means for your organization and ensure you have a comprehensive quality program.
Let's conquer your quality goals together. Send us a note today.
Resource Download
2021 Hospital IQR Program Reporting Requirements [eBook]
This annual eBook covers the requirements for each section of the IQR program. You'll see a simple summary of the requirements, the submission detail and the deadline. We also list each of the measures in each category.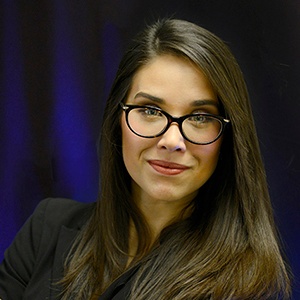 Erin Heilman is the Vice President of Marketing for Medisolv, Inc.