Steward Health Care System Discusses COVID-19 Impact on Quality Department's Role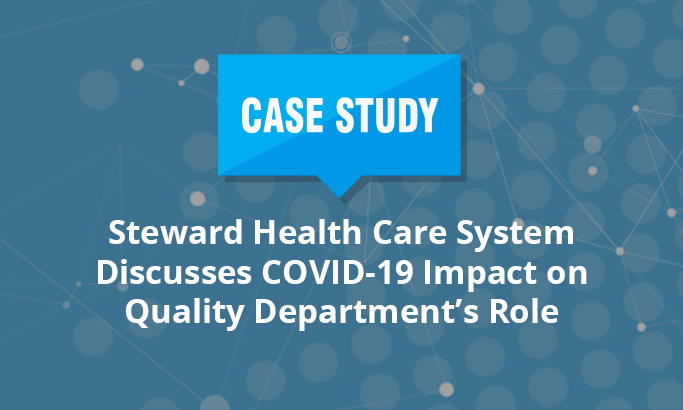 The healthcare system in the U.S. and around the world is becoming increasingly digitized and automated. Yet, when the coronavirus pandemic began showing up in everyone's emergency departments, it was hard-working human beings, not wires and microchips, that made it possible for hospitals and health systems to cope, recover and continue their operations.
We spoke with three managers of the Clinical Quality Analytics and Public Reporting Department of Steward Health Care System, the largest private and physician-led 35-hospital system health care network in the United States. The system is headquartered in Dallas, serves over 800 communities and regularly receives top awards for quality and safety. So, what's their secret to effectively leading their quality management program through the pandemic? A powerful combination of blood, sweat, tears, laughter and teamwork.
With much respect and appreciation, our honored guests are:
Patricia Gokey, system quality resource manager
Claire Sirois-Melvin, system quality resource manager
Jihan Wang, clinical performance and analytics manager
We asked Tricia, Claire and Jihan about how the COVID-19 outbreak affected their jobs and how they do what they do.
What are your primary job responsibilities in your respective positions at Steward?
Claire: As a team, we're responsible for three things. First, we collect and submit quality data on a timely basis to public and private payers. Second, we serve as the quality measure experts across the entire system. And third, we disseminate information to our facilities to educate them on quality measures and any new reporting requirements.
Tell me more about data submission. What are you collecting, and what are you reporting?
Tricia: We manage quality core measures data abstraction, facilitate feedback of actionable outliers to key stakeholders, coordinate submissions of core measure data, and collaborate with hospital quality departments to ensure all administrative requirements are met for both national and state quality data submissions at each of our 35 hospitals. We provide education and oversight to data abstractors, coordinate validation activities, create educational materials, provide updates on actionable quality metrics, and act as consultants by providing high level support on best practices on quality metrics.
Steward runs hospitals in nine states. How do you stay up to date on reporting requirements?
Claire: All of our hospitals treat Medicare patients and CMS' quality reporting requirements the same across the board. We stay up to date by reading proposed and final CMS regulations and by attending CMS webinars on new quality reporting requirements. We participate in state and federal committees, task forces and groups that develop and review quality measures. Plus, we obtain a lot of useful information from our vendor partners (like Medisolv), who hear and read things that we may not have seen yet.
Now let's talk about COVID-19. How has the pandemic affected your job responsibilities?
Jihan: One of the biggest impacts has been on our EHR system conversion. When the system began to switch EHR systems, there was no knowledge of an upcoming pandemic. The "go live" dates were delayed several months. A few hospitals that were targeted to go live on September 1st of this year were pushed back to the end of November. We're converting EHR systems at individual hospitals, and abstracting core measures from legacy systems and new systems, all with fewer resources on-hand.
Why are there fewer resources at the hospital level? Is that because of COVID-19?
Tricia: Yes. At the local level, depending on what region of the country they're in, many hospitals saw reorganization of quality departments. At some hospitals, nurse abstractors were redeployed to the clinical workforce to care for patients.
Are you or your abstractors at the hospital level working remotely or in your offices?
Tricia: It's a little bit of both. As changes occur, we must adapt. Our goals remain the same, we are reaching out and assisting our hospitals whose quality departments were temporarily impacted.
Is your situation compounded by any additional COVID-19-related reporting requirements?
Jihan: Definitely. We work closely with our states and with our IT departments to collect and report to the state and the federal government COVID-19-related data. This includes the number of lab tests, lab test results, number of COVID-19 admissions, and the COVID-19 mortality rates. Our department collaborates with individual hospitals and assists when necessary.
As you know, CMS suspended hospitals' core measure reporting requirements for the first two quarters of 2020 because of COVID-19. Did you take CMS up on its offer or did you continue to abstract and report your core measures?
Claire: As a system, we decided to continue reporting. Number one: We wanted to see how COVID-19 was affecting our other measures. Number two: We really wanted to maintain as much of a sense of normalcy as we could, in terms of providing the same level of care that we always have, despite what was happening. We were never going to say, "Oh no, let's just forget it." That's just not in our nature.
Speaking of your nature, describe the culture at Steward and in your quality department that enables you to keep moving forward despite all your recent challenges.
Tricia: We believe in open, clear lines of communication. Jihan, Claire and I work closely together as a team. We're always calling, texting and emailing each other. It's the same with our hospitals. We have open, clear lines of communication with their quality departments and with their hospital leadership to address any issues that come up.
Claire: Related to that, we also believe in a high level of accountability. At every level of our system, everyone knows what's expected of them. It's our job to make sure that people are doing the right thing and they're following the rules that they're supposed to be following. This is about collecting and reporting data on a monthly basis to improve the quality of care for our patients.
Jihan: It also helps to have a strong Wi-Fi connection and a really nice home office setup!
The three of you obviously have a great rapport. What makes that work?
Jihan: We do laugh a lot, and I think having a sense of humor helps us get through this busy year with the EHR conversion and the pandemic. It's been a crazy year not just for this team, but for everyone across the entire system.
Claire: Keeping things light does help us get through the day, because it is stressful. At the same time, we're also very cognizant, respectful and supportive of the clinical staff who are on the frontlines. We know them and interact with them every day. We know what they're going through.
Tricia: We also have each other's back. When we have questions, we bounce ideas off each other, we listen to each other, we give each other advice. It's a great team to work with.
"Quality is never an accident; it is always the result of high intention, sincere effort, intelligent direction and skillful execution; it represents the wise choice of many alternatives." – William Foster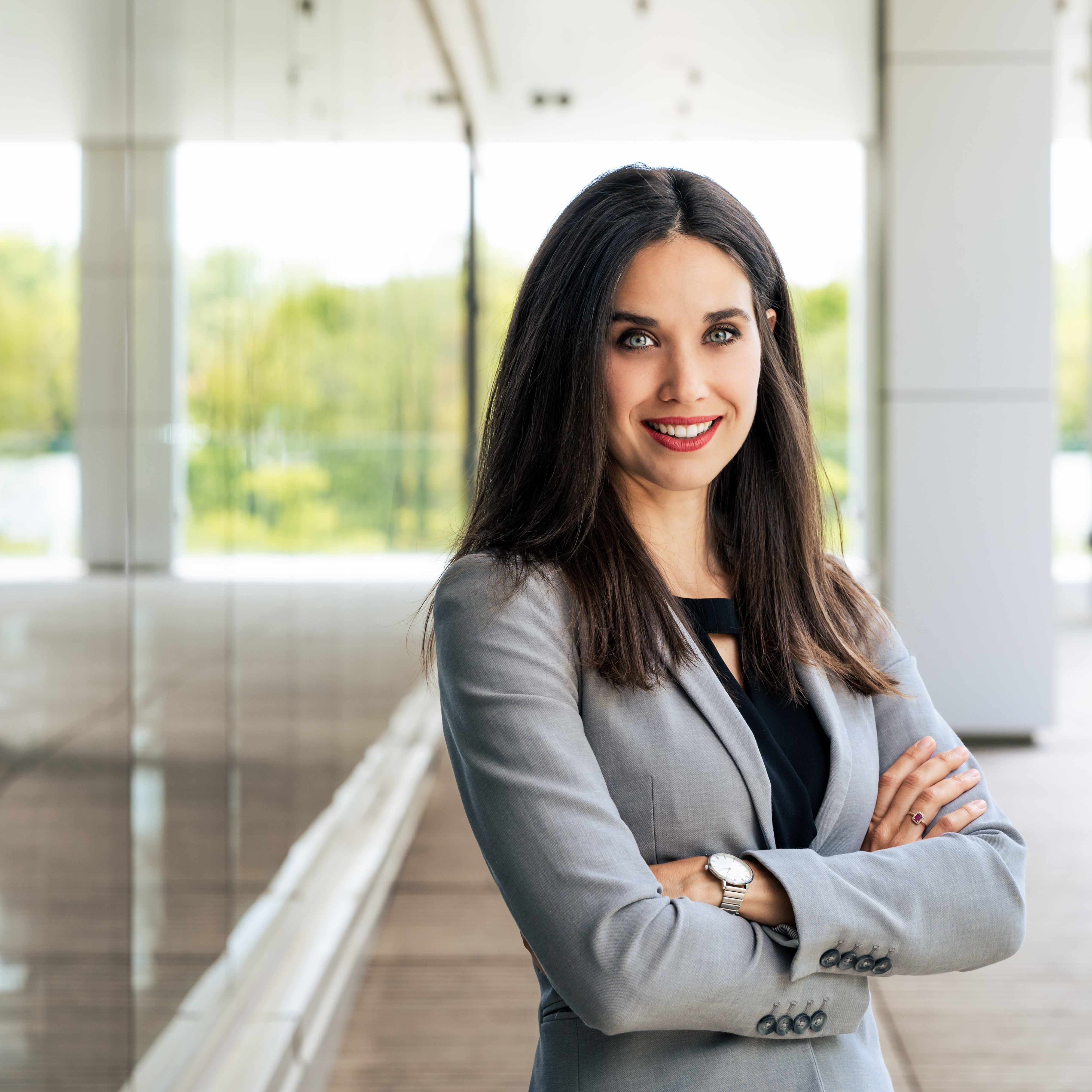 Erin Heilman is the Vice President of Sales & Marketing for Medisolv, Inc.