A Guide to CMS's New Perinatal Measures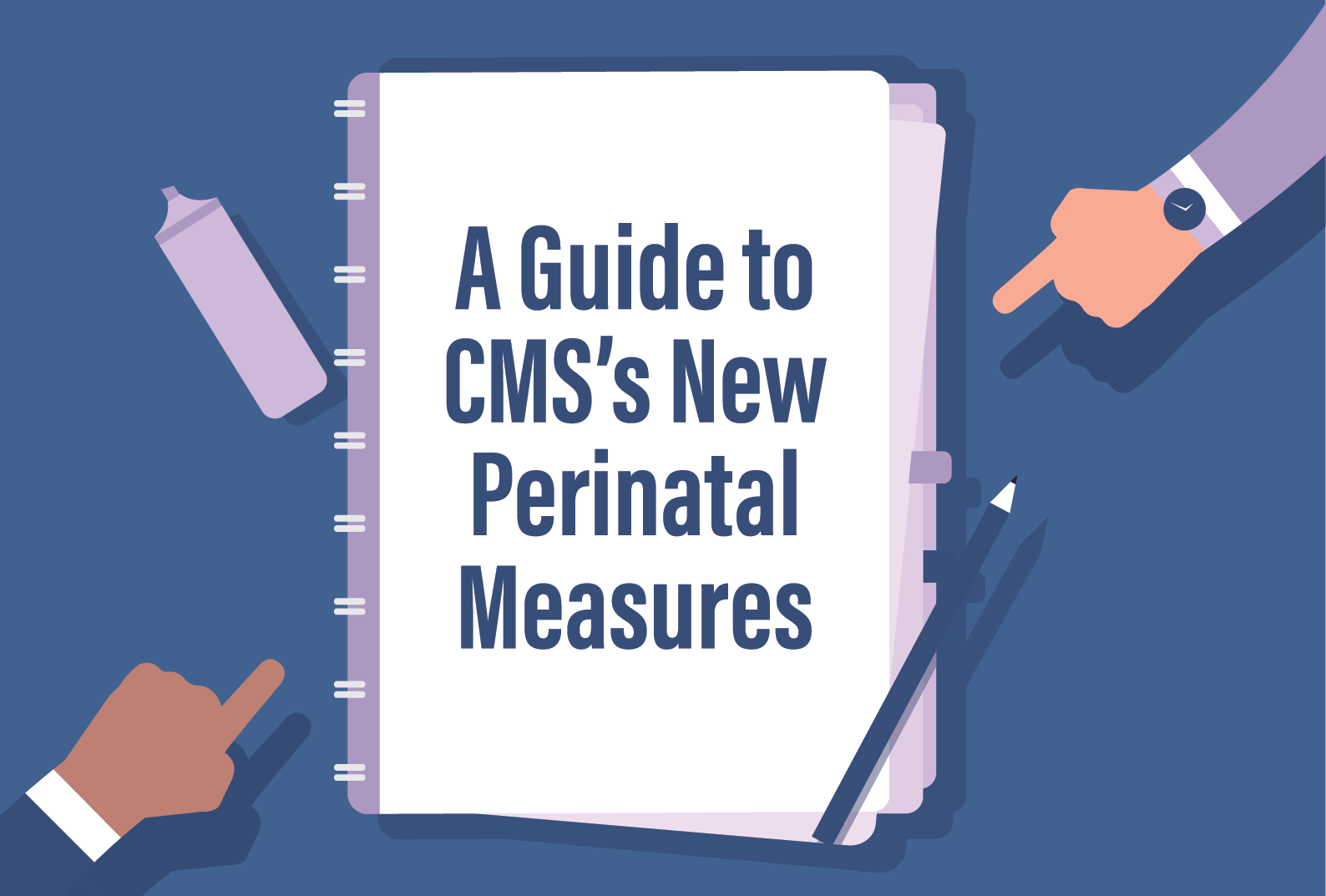 Whoa, baby! CMS has announced that it's officially rolling out two new electronic clinical quality measures (eCQMs) focused on perinatal care in 2023: ePC-02 (Cesarean Birth) and ePC-07 (Severe Obstetric Complications). More importantly, both of these measures will be required and publicly reported starting in 2024.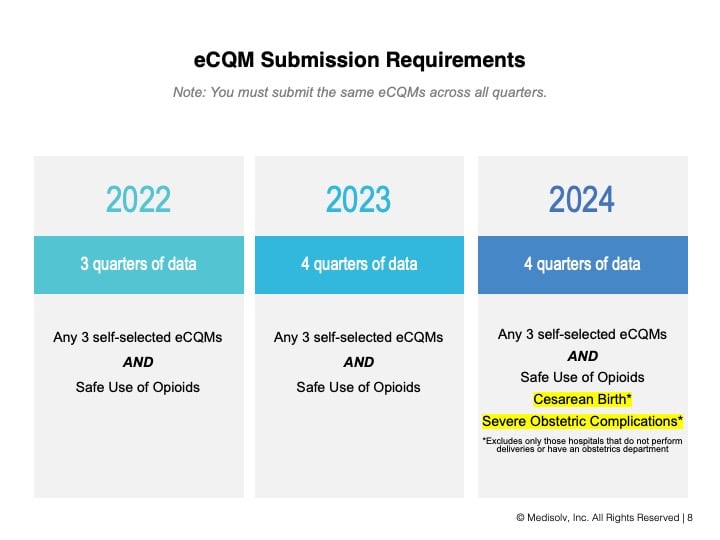 As a mom, I think I can speak for all moms when I say, "Thank you, CMS, for making women's health a priority!" But as a quality improvement person, I can say from experience that these measures can be tricky to implement.
Our Best Advice: Start Now
Medisolv participated in CMS's ePC-07 feasibility testing, and we've helped a number of hospitals implement both measures under The Joint Commission's ORYX program. What we've learned in that time is that your challenges with these measures will most likely come down to setup issues—like mapping and data integration—and not the quality of your clinical care.
By giving yourself a head start now, you can weed out avoidable errors and ensure that your data—when it's time to share it—is a validated and accurate reflection of your hospital's care. To help you get started, let's break down what you need to know about each measure. (Be sure to also watch our on-demand webinar for additional guidance.)
ePC-02: Cesarean Birth
The Motivation: The rate of elective and non-elective C-sections has risen steadily since 1990 and accounted for almost 32% of live births in 2020. What's more, there seems to be little consistency in standards, with C-section rates varying tenfold across hospitals (from 7.1% to 69.9%). According to CMS, 60% of that variation can be attributed to first-birth early labor admission rates and first-birth labor induction rates. Since we know that forced labor leads to poorer outcomes, CMS is hoping ePC-02 can reduce C-section rates and increase patient safety for baby and mom.
What It Measures: ePC-02 measures the rate of nulliparous women with a full-term, single baby in a vertex position who have delivered via C-section. This is an inverse measure, so the lower your rate, the better.
The Benchmark: CMS has stated that an acceptable rate for ePC-02 is 30% or lower. However, CMS is quick to caution that it doesn't want to encourage any dip in rates that could be unsafe, and that there is no established threshold for what rate may be too low. The big-picture goal is to simply make sure you're working toward achieving a benchmark that's appropriate for the safety of your patient population.
Where You've Seen This Measure Before: This measure is currently an abstracted measure and an eCQM for The Joint Commission's (TJC) ORYX program. CMS is taking what's been learned through ORYX to adapt the eCQM for the IQR program.
Who Qualifies for the Initial Patient Population (IPP): Any inpatient encounter with a delivery procedure. The patient must be between 8 - 64 years of age.
It should be noted that, in every EHR we've encountered, there have been issues with accurate evaluation of the delivery procedure date and time. As is the case with all eCQMs, the date and time of data capture can make or break your results. It's important to review your delivery procedure documentation to make sure the date and time is the same across all instances of documentation (including coding). We highly recommend relying on your clinical documentation for validation here.

Who Qualifies for the Denominator: Inpatient moms who deliver a live birth single baby with a gestational age greater than or equal to 37 weeks. The patient must be one of the following:
Gravida = 1
Parity = 0
History of Pre-Term Births = 0 + History of Term Births = 0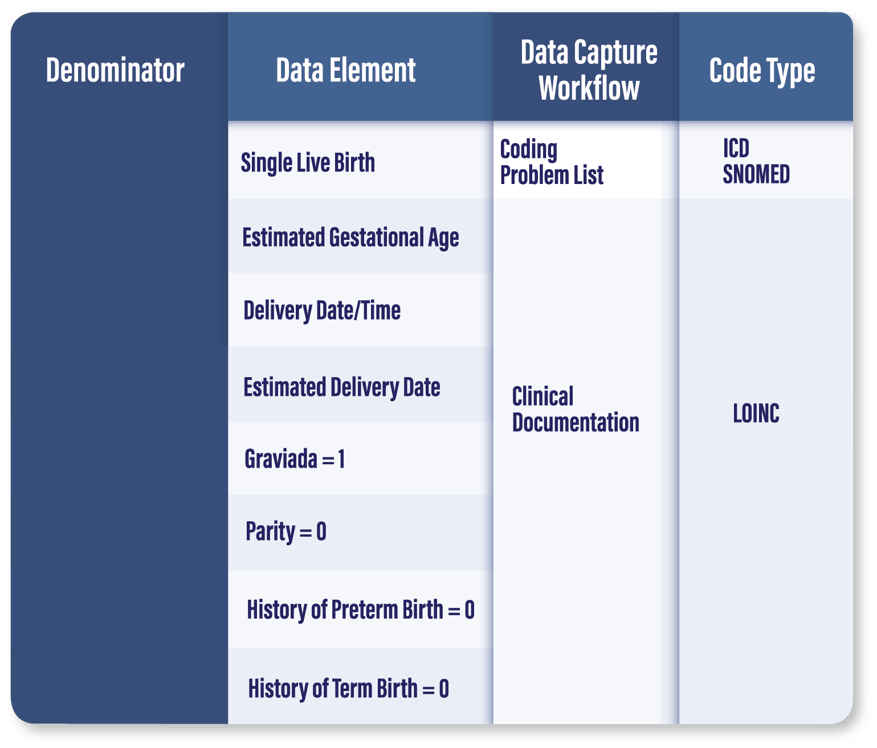 Who Should Be Excluded: Patients with abnormal presentation and/or placenta previa are excluded from the denominator.

Who Qualifies for the Numerator: This one's pretty simple: any patient encounter from the denominator (who isn't excluded) that has a C-section procedure performed. Keep in mind that this is an inverse measure and you want the numerator to be low—the patients in the numerator are your fall-outs!

Early Lessons Learned: Consistent, educated decision-making from your clinicians is the linchpin to success with this measure. Having a tracking tool that allows you to quickly identify the clinicians associated with any patient that lands in the numerator will make it significantly faster and easier for you to root out issues, establish departmental policies, and provide additional education to those who need it. (Hint, hint: Medisolv's ENCOR platform can help.)
ePC-07: Severe Obstetric Complications
The Motivation: Despite spending more than any other country on maternity care ($1.4 billion in FY 2021!), the U.S. ranks worse than most other developed nations in pregnancy-related deaths and severe maternal morbidity (SMM). Between 1993 and 2014, the overall rate of SMM increased by an astounding 200%, and a 2019 report from 14 maternal mortality review committees revealed that 65.8% of pregnancy-related deaths were preventable.
The data is even more alarming along racial lines, as women of color are at a significantly higher risk for severe maternal complications. In fact, non-Hispanic black women are three to four times more likely to die from pregnancy-related causes than non-Hispanic white women. CMS believes this measure is the first step toward reversing these unsettling trends.
What It Measures: ePC-07 measures patients with severe obstetric complications which occur during inpatient delivery hospitalization. CMS follows the CDC's guidance in identifying 21 factors that classify as severe obstetric complications, including sepsis, blood transfusion, ventilation, and more. You can view the list here.
What Else It Measures: ePC-07 will be stratified to measure obstetric complications with and without transfusion. And it will be CMS's first-ever risk-adjusted eCQM based on a list of nearly 30 Present on Admission variables that CMS has identified, such as asthma, diabetes, and hypertension. So, when you (or Medisolv) submit your QRDA file to CMS , you'll also need to include your risk-adjusted data for CMS to integrate into its final calculations.
The Benchmark: ePC-07 will be scored as a rate per 10,000 delivery hospitalizations. (Yup, this is another inverse measure, so you want those rates low.) CMS has not issued any benchmarking, which isn't unusual for eCQMs. We expect some guidance to emerge as CMS learns more from the risk-adjusted data.
Where You've Seen This Measure Before: Just like ePC-02, this measure is currently an abstracted measure and an eCQM for TJC's ORYX program. Now it's being adapted for the IQR program because, as CMS puts it, "the broad availability of EHR data presents the opportunity to measure maternal complication rates that cannot be fully measured using claims data alone"
Who Qualifies for the Initial Patient Population (IPP): Same as ePC-02: any inpatient encounter with a delivery procedure for patients in the 8-64 age range. The date/time accuracy issue we noted in ePC-02 also applies here, so, again, be prepared to lean on your clinical data as you validate.

Who Qualifies for the Denominator: Inpatient moms who deliver at 20 weeks or more. If you already have ePC-02 set up, getting this denominator in place should be pretty simple.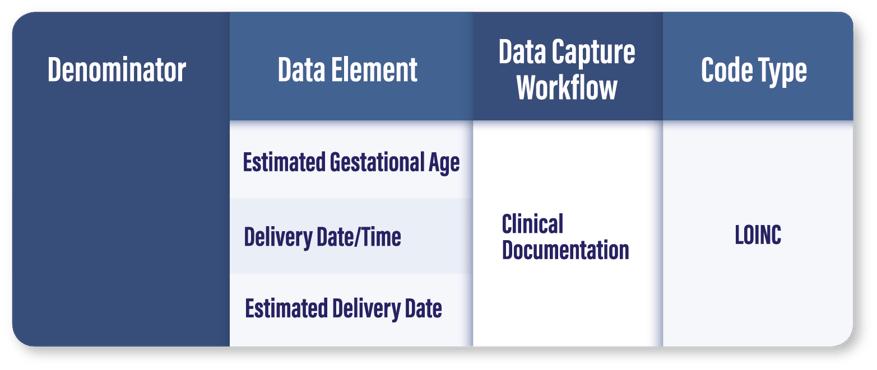 Who Should Be Excluded: Patients with (1) a COVID diagnosis AND (2) either a COVID-related respiratory diagnosis or a COVID-related respiratory procedure. Interestingly, this is the first time CMS has included COVID in an eCQM measure specification.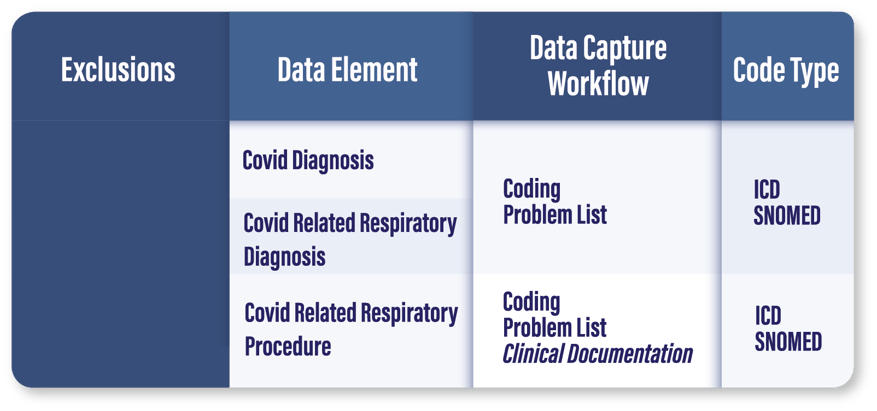 Who Qualifies for the Numerator: Encounters with EITHER a (1) severe obstetric complications diagnosis or procedure, (2) an expired discharge disposition, or (3) a blood transfusion. For patients who are coded with a severe obstetric complications diagnosis, a second Present on Admission code must equal "No" or "Unknown" to eliminate patients with pre-existing conditions from your score.
Who Qualifies for the Stratified Numerator: Encounters with a severe obstetric complications diagnosis or procedure NOT including any encounters where a blood transfusion was the ONLY complication. Again, the severe obstetric complications diagnosis will need to be scored as "No" or "Unknown" under Present on Admission to qualify.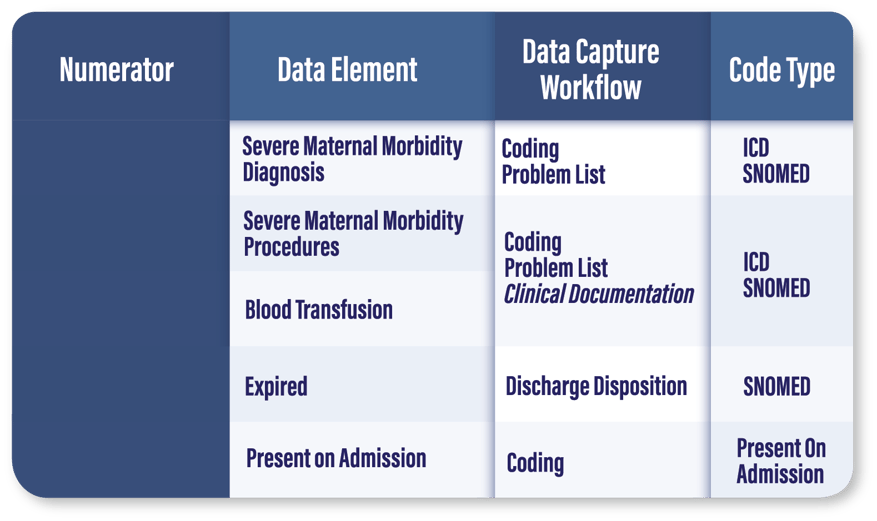 Early Lessons Learned: CMS has been very open about addressing racial disparities in its measure rationale. Most likely, they plan do more with this measure than just make maternal care safer. They will be using this measure to further understand and address health inequities that moms from historically marginalized communities face. As you get to know this measure, look for ways to use your data to understand your gaps in maternal care and identify opportunities to improve equity in your women's health services.
Final Thoughts: Don't Be Afraid to Ask For Help
Is your head spinning yet? That's perfectly normal. As we've said, these measures are a bit more complex on the front-end and you won't be the only one troubleshooting your way through the setup process.
Our clinical quality advisors have been through this ringer before and are happy to answer any questions you may have—so feel free to drop us a line if you'd like to schedule a 1:1 session. And, of course, be sure to check out our Education Center for even more DIY tools and resources:
Medisolv Can Help

This is a big year for Quality. Medisolv can help you along the way. Along with award-winning software you receive a Clinical Quality Advisor that helps you with all of your technical and clinical needs.

We consistently hear from our clients that the biggest differentiator between Medisolv and other vendors is the level of one-of-one support. Especially if you use an EHR vendor right now, you'll notice a huge difference.

We help troubleshoot technical and clinical issues to improve your measures.
We keep you on track for your submission deadlines and ensure you don't miss critical dates
We help you select and set up measures that make sense based on your hospital's situation.
You receive one Clinical Quality Advisor that you can call anytime with questions or concerns.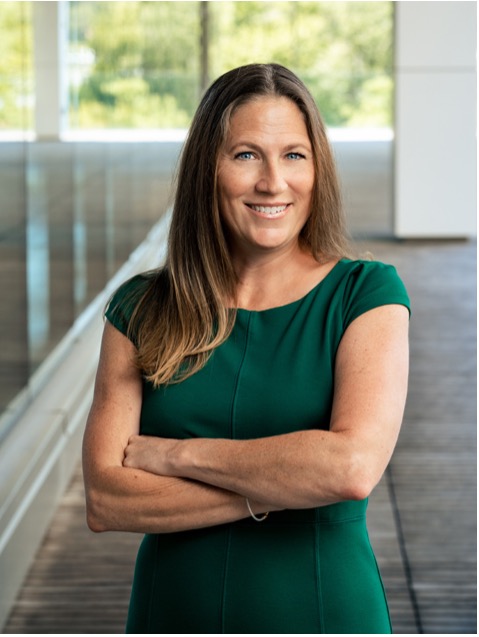 Kristen Beatson is the Vice President of Electronic Measures at Medisolv, Inc.