Hospitals Unprepared to Meet eCQM Requirements of the Hospital IQR Program [Infographic]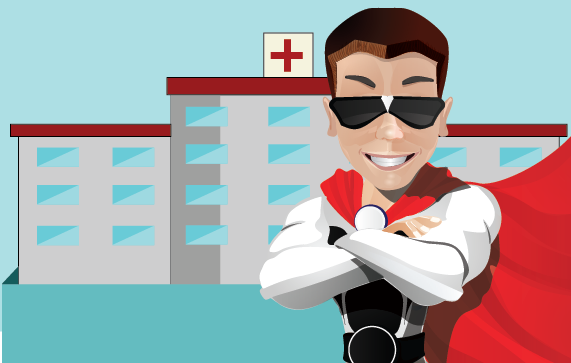 Despite the fact that over 86 percent of hospitals believe that they will be able to successfully report eCQM data this year to the Hospital Inpatient Quality Reporting (IQR) program, only two percent could submit tomorrow if required.
This disparity is highlighted in The Joint Commission's recent survey on hospitals' experiences and challenges with eCQM requirements for the CMS Hospital IQR program.
Leaders at The Joint Commission, the American Hospital Association (AHA) and the Federation of American Hospitals (FAH) surveyed over 300 hospitals and found that most hospitals are unprepared to meet the challenges of eCQM submission.
This year, hospitals must submit four eCQMs to the CMS IQR program by the February 28, 2017 deadline.
The hospitals in this survey were first asked if they will submit eCQMs to the IQR program, to which over 86 percent responded in the affirmative. They were then asked how ready their hospital is to submit eCQM data to CMS. Approximately 78 percent of hospitals responded that they needed to do some or a lot of work in order to successfully submit eCQM data.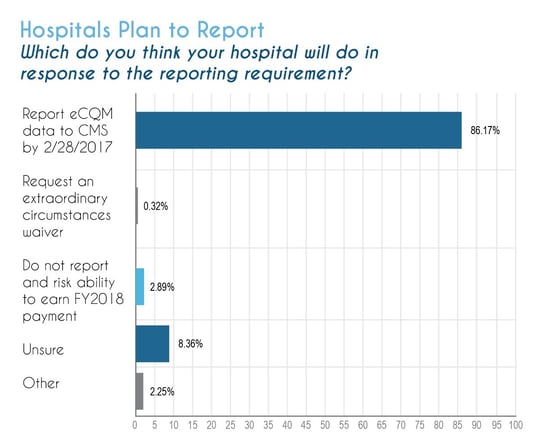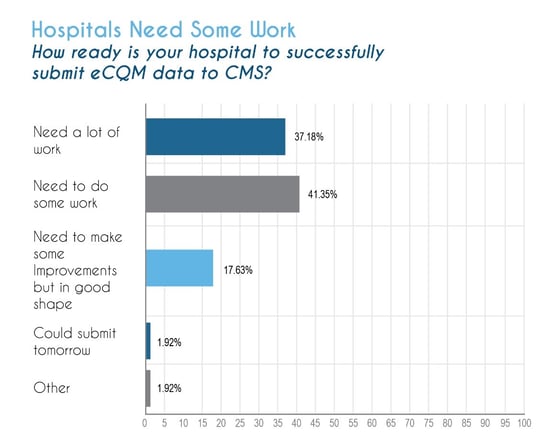 The Joint Commissions' Pioneers in Quality committee was responsible for conducting this survey. Committee member, Dr. Zahid Butt, Medisolv CEO, responded to the survey results. "This survey is indicative of what I have been observing for the past several years," commented Dr. Butt. "Hospitals seem to believe eCQM submission is not complicated. They believe they can just call up their EHR and ask them to help submit their eCQM data, but I think hospitals will find that this isn't the case."
When asked why he believes this to be true, Dr. Butt said that, "the survey points out that many hospitals are unsure or unaware of what it will take to generate and submit valid QRDA Category 1 files.
"The majority of hospitals plan to submit using QRDA files generated directly from their EHR, which they believe their EHR vendor will provide assistance with, but many EHRs only provide the hospital a basic eCQM reporting module. The hospital must generate, test and ultimately submit the QRDA file to CMS."
And it's true. The majority of hospitals have not or do not know if their hospital has successfully generated a QRDA Category 1 file.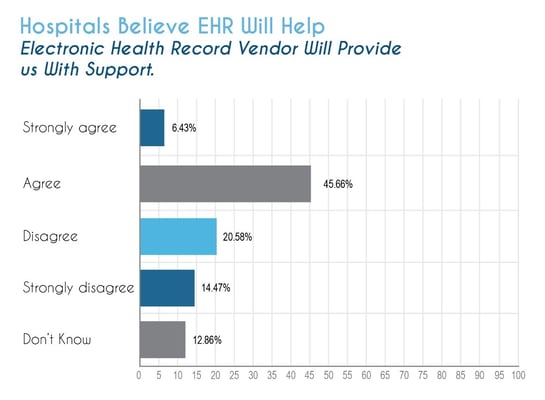 So while hospitals believe that they will be able to submit to CMS, the majority of hospitals haven't actually taken the steps to determine if their staff is capable of this process.
Additionally, of the hospitals surveyed, only 13 percent had successfully submitted eCQM patient-level data to CMS in the past. This submission will be a first-time experience for the majority of hospitals nationwide.
On the other hand, hospitals may decide that implementing and reporting eCQMs will be more costly than just accepting CMS' payment reduction and therefore, will not submit. Hospitals stand to lose up to 2 percent of their Medicare reimbursement funding.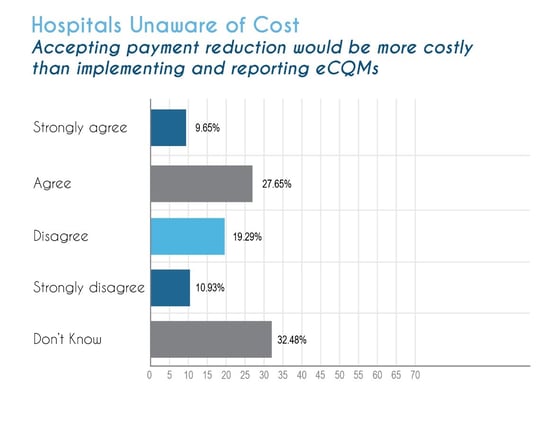 It's clear from this survey that the eCQM data submission is anything but clear to a majority of hospitals. The deadlines are rapidly approaching and now is the time for hospitals to confirm that they can or cannot successfully submit eCQM data. CMS has a testing environment open now for your hospital to test your QRDA file.
Upcoming Deadlines
October 1, 2016 – Start of Q4. Begin submission of eCQM patient-level data files to CMS.
December 31, 2016 – End of Q4.
February 28, 2017 – Final day to submit eCQMs to the Hospital IQR program


If your hospital is unable to successfully submit, or your hospital staff is overwhelmed at the very idea of the eCQM process, talk to Medisolv. We can provide you with a comprehensive quality reporting solution, and what's more is that our software comes with submission services. Our expert consultants will work with you to choose your hospital's eCQMs and submit them to CMS on your behalf. Medisolv has successfully submitted QRDA Category 1 files to both CMS and The Joint Commission. October 1 marks the start of Q4, which is your last opportunity to record eCQM data to submit. Don't wait. Start your eCQM submission process today.
---
ON-DEMAND WEBINAR:
Lessons from the First YEar of ecqm reporting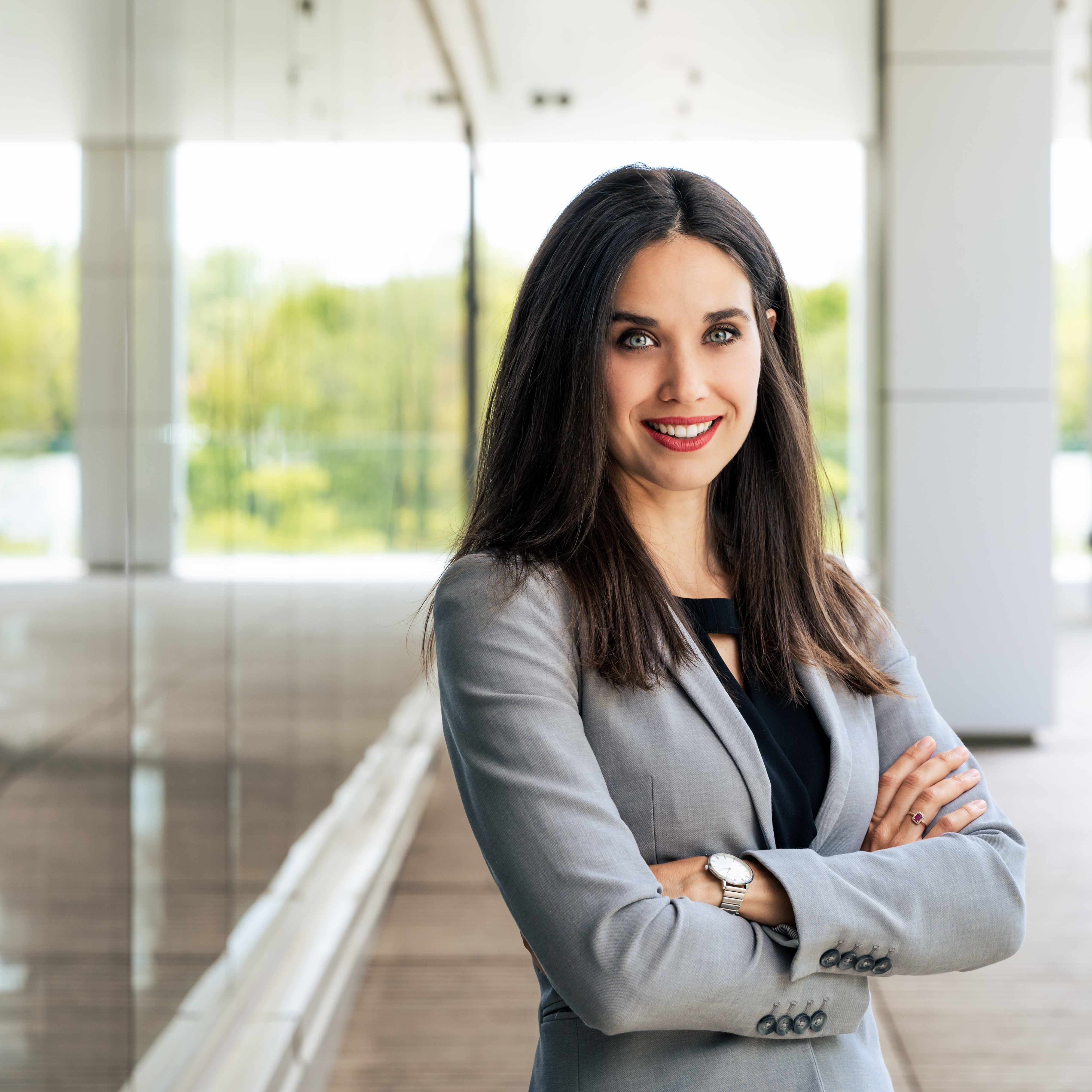 Erin Heilman is the Vice President of Marketing for Medisolv, Inc.