A Note From Our CEO: The State of Healthcare Quality in 2020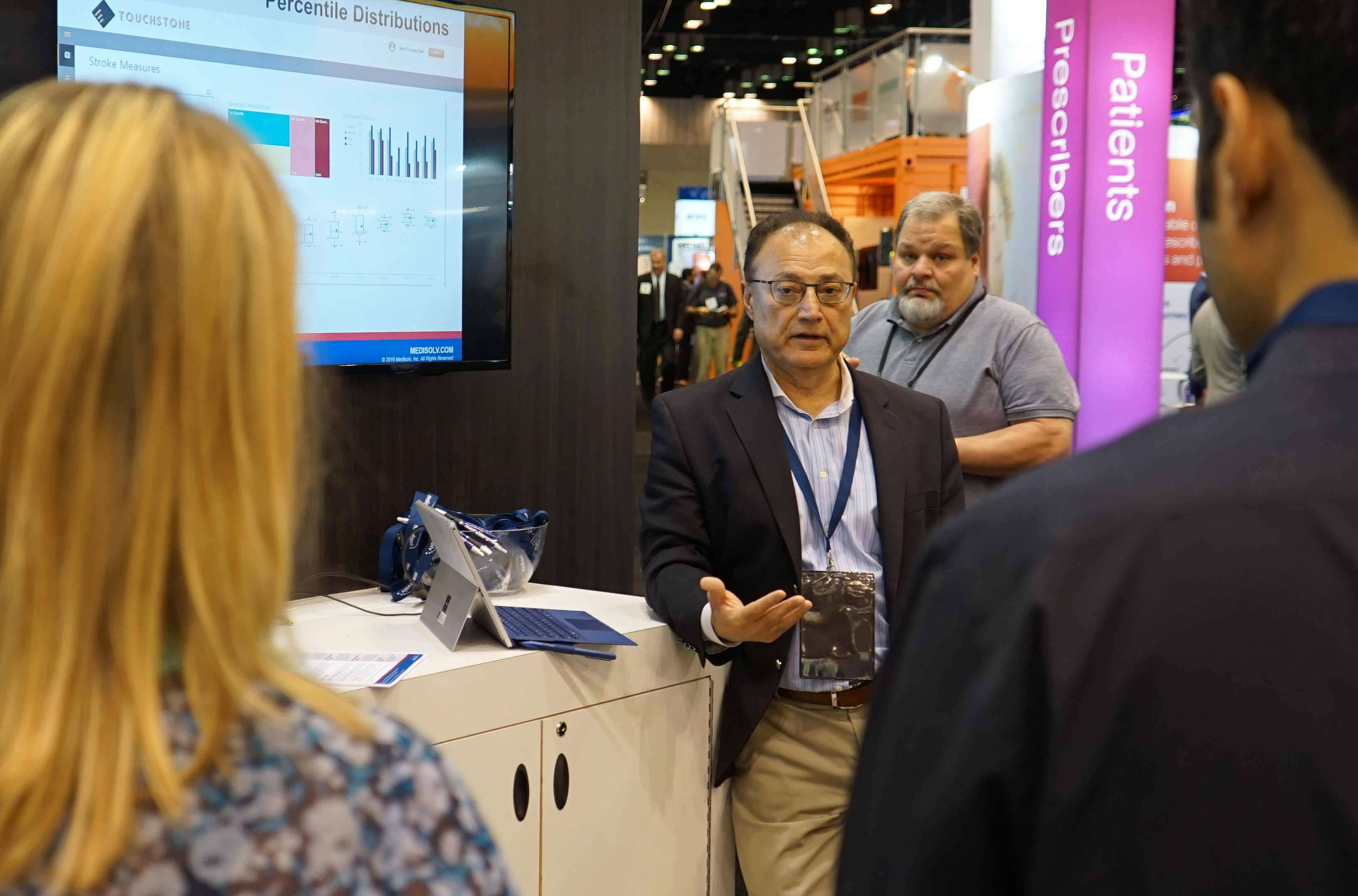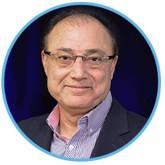 As we say goodbye to the teen years of this century and move beyond the decade of Meaningful Use, it is a good time to look back on how quality measurement and reporting has evolved, and more importantly, where it may be headed. Several key trends in motion are likely to continue next year and beyond.
Improvements to Quality initiatives
While the national quality enterprise has many important stakeholders, CMS, as the largest payer, continues to set the national agenda for quality reporting and linking performance to payments.
Outcomes over process
CMS is beginning to emphasize outcomes over process measures and the secondary use of clinical data for electronic clinical quality measures (eCQMs) or risk adjustment of claims-based outcomes measures.
Better use of eCQMs
Quality reporting through eCQMs became an essential requirement of Meaningful Use for both providers and vendors. While eCQMs, in my opinion, still remain the best option for comprehensive quality reporting without additional provider burden, their promise is yet to be fully realized. It has been more difficult to implement hospital eCQMs as compared to their ambulatory sisters. Complexity of the measure logic, lack of standardized workflows and errors in the early specifications were some of the main contributors. CMS continues to fully support eCQMs and is making significant investments in improving existing measure specifications while also funding development of new eCQMs.
Should CMS use Social Determinants of Health?
Another paper vs. plastic type debate continues in whether to use Social Determinants of Health (SDOH) for risk adjustment vs. stratification in value-based payments linked to quality measures performance. Capturing standardized SDOH data during care delivery is high on the priority list of many systems and standards organizations like HL7 through its Gravity project.
Big tech is interested in PROMs
There is great interest in the use of patient generated data for Patient Reported Outcomes Measures (PROMs) and other consumer-oriented healthcare solutions. It is drawing in the big tech players like Google and Amazon, but it's unclear how deep they will dive into the standardized quality measurement space.
How CMS intends to address value-based care in 2020
Moving organizations through the four categories of care
In the image here, you can see the four CMS-defined categories of value-based care. Most programs currently reside in Category 2, especially in boxes B and C. Going forward, we are likely to see much more activity in 3B (APMs with Shared Savings and Downside Risk) and 4A (Condition-Specific Population-Based Payments). I believe that condition or procedure specific bundles are suitable for specialists who have, up until now, been left out of the primary care driven alternative payment models. Many private payers are either implementing their own pay for performance programs or are part of public private partnerships such as the CPC+ payment program.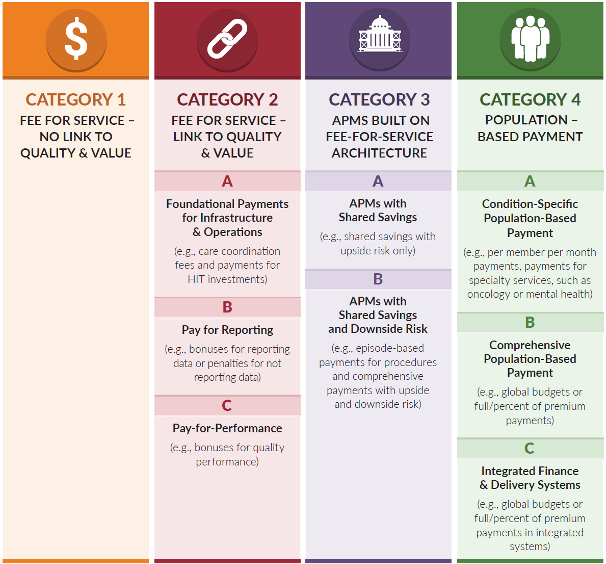 Continuing their Meaningful Measures initiative
CMS's Meaningful Measures initiative (illustrated below) is trying to address the value of quality measurement itself. CMS continues to reduce the number of measures in its programs in order to reduce provider burden. They use this framework to evaluate whether a measure should be included in their quality programs. Only those measures that are the most critical to providing quality care and improving outcomes will be included.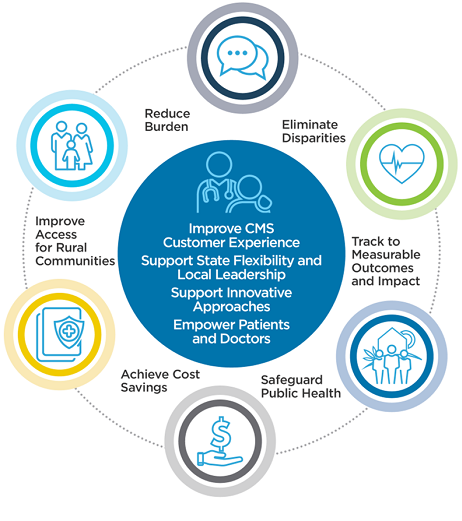 The search for a value-based provider solution
Providers continue to be overwhelmed by the myriad of payment programs and associated reporting requirements. This is driving many solo practitioners and smaller groups to be acquired by hospitals or other entities leading to consolidation with the potential unintended consequence of higher costs. It is ironic that quality measurement and reporting is often cited as one of the most burdensome activities. This is partly because they feel the measures are an external mandate rather than a way to measure and improve their practice. Providers want measures to be meaningful to their own patient population, simple to understand and fair. Complex risk adjustment algorithms and payment adjudication formulas often sacrifice simplicity in the interest of fairness.
Healthcare and politics in 2020
Finally, it is impossible to avoid the politics of healthcare in 2020. We are headed into a presidential election year in case you didn't hear. In the 2018 mid-term elections healthcare was the number one issue on voters' minds and is likely to be one of the top issues again; however, no one appears to have articulated a winning idea yet.
Healthcare costs continue to rise without any visibility on a viable near-term solution. Every single day for the next 14 years 10,000 people will turn 65 and become eligible for Medicare. Everyone appears to acknowledge that the current trend of rising healthcare costs including prescription drugs is unsustainable, and that our fragmented, uncoordinated system of care is unlikely to fix it, yet a national consensus of a solution remains as elusive as ever.
How then do hospital and physician leaders navigate these turbulent waters. Through a deeper focus on the quality and safety with innovative and valid performance measures that accurately assess the value of care above and beyond regulatory mandates. Quality departments need measurement tools with actionable accurate and timely data, so they can make improvements in performance to help lower costs, improve quality and increase reimbursements in the value-driven world of the roaring twenties.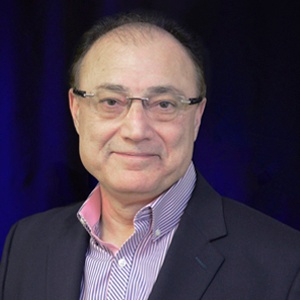 Medisolv CEO, Dr. Zahid Butt, is a senior executive with 30 years of experience in health care delivery and health information technology (HIT). Prior to his current role at Medisolv, he was a Senior Attending Gastroenterologist and Director of Clinical Informatics at St. Agnes Healthcare, a member of Ascension Health. He has served on several government and private sector Health IT task forces. He is currently the Chair of the HIMSS Quality and Safety Taskforce. As a nationally-recognized expert in electronic quality measurement (eCQMs), he has served on several CMS and NQF Technical Expert Panels to develop and maintain quality measures for national quality reporting programs.