[Decision Tree Guide] Should We Submit Optional Quality Data to CMS?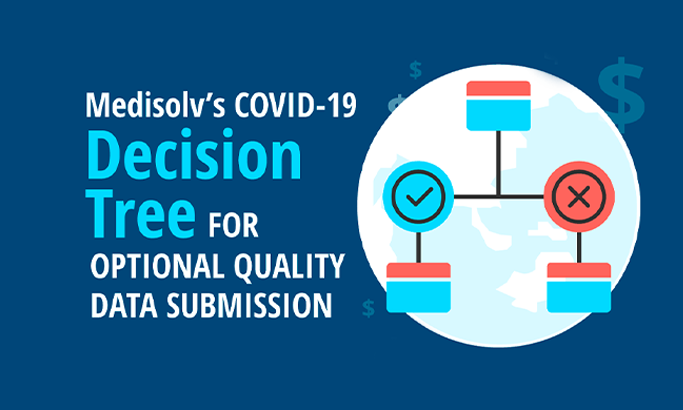 One of the biggest questions on the minds of Quality leaders is, "should my hospital still submit data for Q1 and Q2 of 2020?" CMS made much of their normal reporting requirements for quality programs optional for hospitals in Q1 and Q2.
Optional?! Seriously? Can't someone just tell me yes or no?
If only Cosmo magazine would create a "Should You Submit?" test that could give you the exact answer you seek.
Well, it's obviously not that easy, but we do have some good news. Medisolv's Vice President of Clinical Analytics and Research, Vicky Mahn-DiNicola, has created a decision tree to provide you an analytical approach to making this decision. She explains it below.
By: Vicky Mahn-DiNicola RN, MS
In March 27, 2020 CMS released a memo informing hospitals of easing data submission requirements in order to decrease burden to hospitals who are caring for their COVID-19 population. A "blanket waiver" for submission of chart-abstracted and survey measures for Q4 2019, Q1 2020 and Q2 2020 now gives hospitals options on whether to submit some, none, or all their data during these three quarters.
Because these optional measures significantly impact your hospital's incentive payments or penalties in the Hospital Value Based Purchasing Program (HVBPP) and the Hospital Acquired Conditions Reduction Program (HACRP), hospitals must weigh their decision carefully. Below is an analytical approach to help guide your team in this important decision.
Step 1: Review Timelines and Measure Impact
The first step is to help your stakeholders understand the impact of your decision over time. To do that, show them the timelines related to each program. Explain to your stakeholders and leadership team that the decision you make is going to follow you for several years. In HVBPP (shown below) your performance periods will be impacted for payment years 2021 and 2022, and your future baseline periods will also be affected, which will impact improvement points in payment years 2023 and 2024.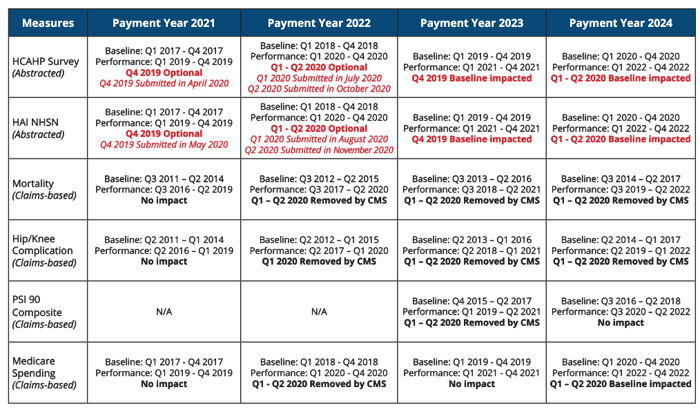 Above: Impact of optional data submission for the Hospital Value Based Purchasing Program
As you evaluate these timelines, keep in mind that you have time to make these decisions. Your first decision to submit the Q1 HCAHPS data doesn't come until July 2020 and then you have all the way until November 2020 to decide about your Q2 HAI measures.
This is another reason why continuing to internally report this year is in your best interest. When it comes time for submission, you will have the information you need to make a decision as to whether or not to submit.
Read more: Should We Still Abstract Core Measures?
Step 2: Evaluate Your Performance
Below is a step wise approach you can take to evaluate your performance and make a data driven decision about your submission options. Start by reviewing your hospital specific reports for your fiscal year 2020. Ask yourself, "did we receive a payment reduction last year?"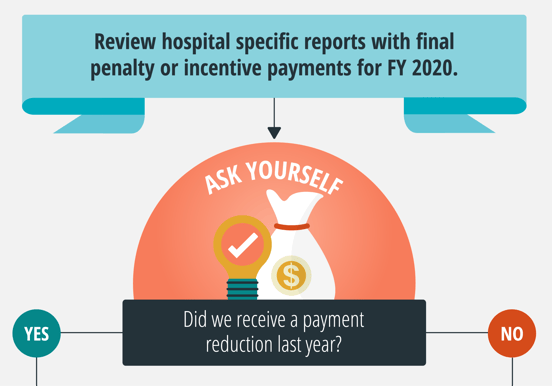 If the answer is no, then review your performance trends for the measures during the applicable performance period, particularly paying attention to the periods of time covered by the blanket waiver.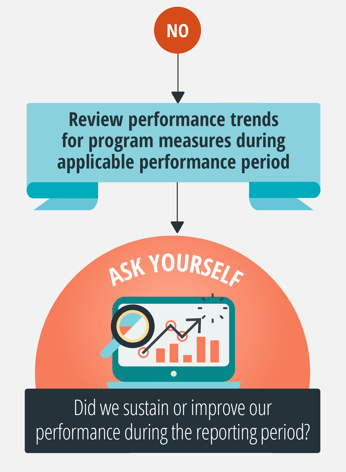 If you sustained or improved your performance in a given measure during the performance period, a decision to submit your data would likely benefit your organization by increasing your incentive payments. Remember, during the blanket waiver periods you may submit some measures, and not others, so each measure needs to be individually assessed.
If you did receive a penalty last year, still review performance trends for the applicable period.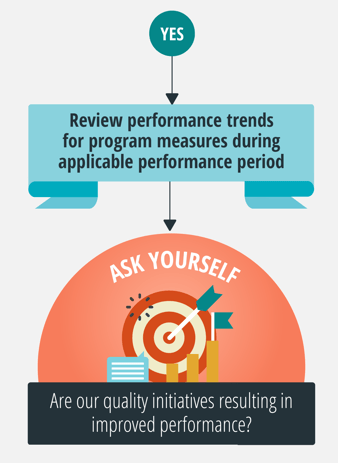 Submitting data that improved, even with a previous penalty is always in your best interest because you are competing against all US Hospitals. Leapfrogging past other hospitals will always be more favorable in terms of penalty reduction, because you will still be evaluated on your performance during the remaining quarters in a given performance period.
Deciding if an ECE is Right for Your Hospital
For those hospitals that didn't show improvement for any measures during the blanket waiver quarters, you can consider submitting a request for an Extraordinary Circumstances Exemption (ECE) in the Hospital Value Based Purchasing Program. An ECE is not necessary if you elect not to submit data during the blanket waiver quarters because all US hospitals have been granted a blanket waiver.
If, however, your hospital experiences significant hardship secondary to COVID-19, such as having to furlough staff responsible for data collection due to economic hardship following extreme loss in hospital revenue, an approved ECE would remove your hospital from the HVBPP for the applicable payment year. Not only would this eliminate the 2% withholding for participation in HVBPP, it also eliminates any penalties and incentive payments.
This pathway should only be considered in extreme cases where hospital performance significantly declined, and your quality and patient safety programs were greatly compromised.
It is important to note that even with an approved ECE for HVBP Program, any data submitted to NHSN during the blanket waiver periods will still be used in the HAC Reduction Program. This is because CMS is required to utilize all HAI data submitted to NHSN in the calculation of a hospitals Total HAC Score.
Unlike the HVBP Program, an approved ECE for the HAC Reduction program will not remove you from the program or exempt you from penalty. There is probably little to no benefit in submitting an ECE for the HAC Reduction Program unless your hospital undergoes extreme hardships beyond Q2 2020. A separate ECE request is required for both programs and may be found at Hospital VBP Program or HAC Reduction Program.
For questions about whether an ECE is right for your hospital, submit your inquiries to the QualityNet Question and Answer Site.
Additional Considerations
Finally, there are other factors to consider when making your data-driven decision on submission options. A dialogue with your leadership team to answer the following questions will support the best approach for your organization:
1. How important is public transparency to your organization?
2. What is your capacity and priority to continue internal monitoring during the blanket waiver periods?
3. Are any of the measures or HVBP program incentive payments tied to bonus payments for staff or leadership?
4. How will your decision align with your organization's mission and quality and safety culture?
Analytics Give You an Edge
For those of you with Medisolv's Value Maximizer, our predictive analytics software which forecasts performance across three CMS quality programs, there is a report to help with this task. The Domain Time Trend report will quickly show you which measures you have improved on compared to all US hospitals. You can see at a glance where your improvements will result in lower penalties or higher incentive payments.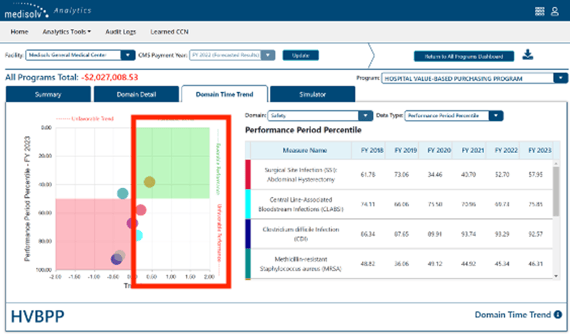 Learn more about the Value Maximizer software.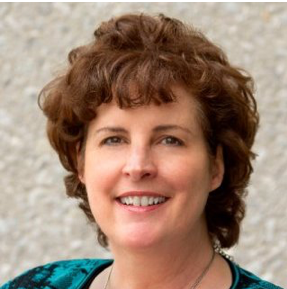 Vicky is the Vice President of Clinical Analytics and Research at Medisolv. She has over 20 years of clinical analytics and product management experience, as well as a strong clinical background in Cardiovascular and Critical Care Nursing, Case Management and Quality Improvement. She has been successful at partnering with innovative thought leaders and executing strategy for new models of care delivery, case and quality management programs, performance measurement and benchmarking.