A Quick Guide to the THA/TKA PRO-PM Measure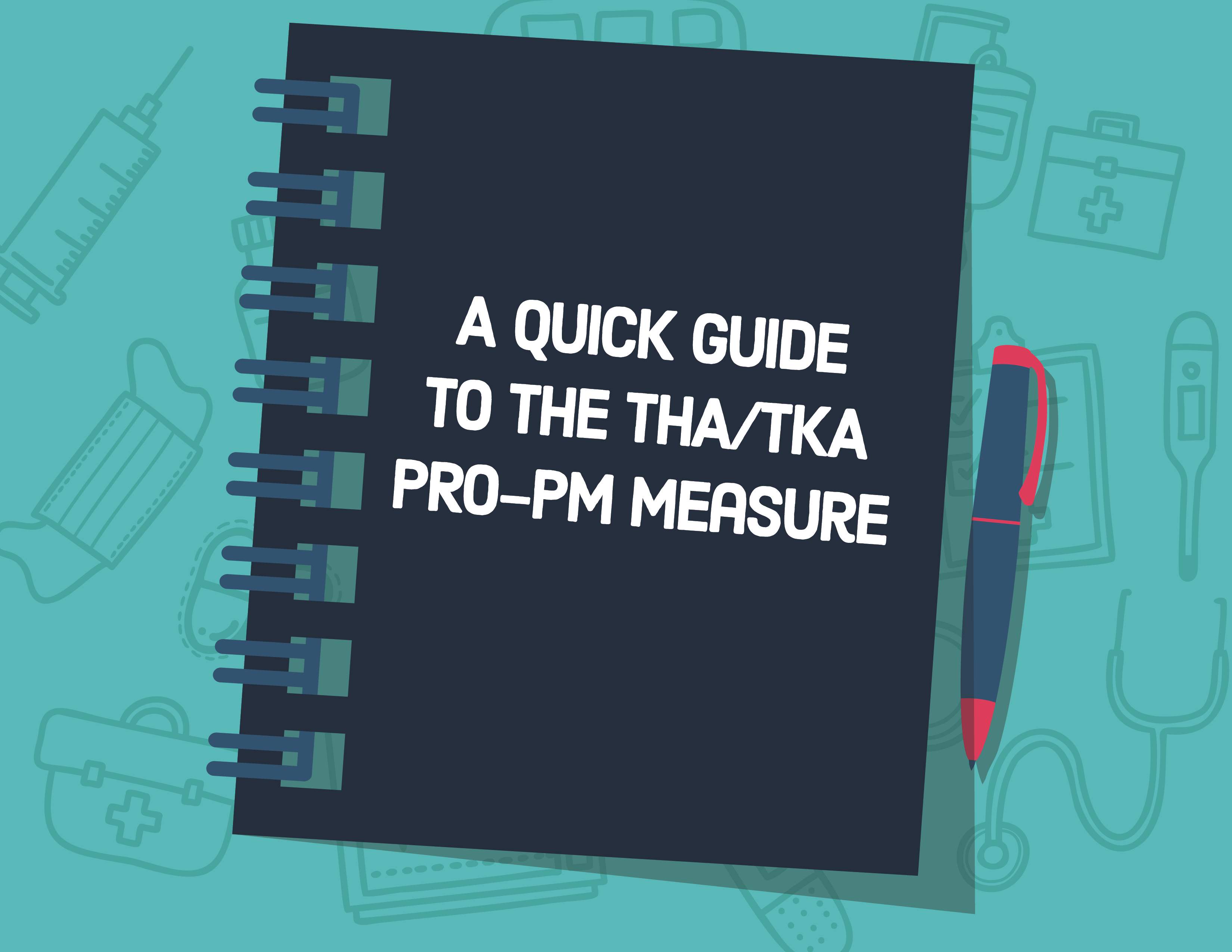 The new Hospital-Level Total Hip Arthroplasty/Total Knee Arthroplasty Patient-Reported Outcome-Based Performance Measure (THA/TKA PRO-PM) is more than just a mouthful. (Try saying it three times fast...) It's also the first time that CMS's Inpatient Quality Reporting (IQR) program will rely directly on patient input to calculate your performance in a specific measure.
On a tactical level, THA/TKA PRO-PM has been specifically designed to measure your hospital's rate of improvement in patients' self-reported pain and function following elective primary THA/TKA. But CMS's ultimate hope is that this measure will lead to greater "collaboration and shared decision-making between patients and providers."
While that is all well and good, the THA/TKA PRO-PM measure is...complicated...to say the least. You will likely have to create new pre- and post-op workflows. You will be required to submit a lot of data. And CMS will be using your data—plus some of their own—to calculate your final outcome for you.
The good news: CMS has given you two voluntary reporting periods to get everything into place before mandatory public reporting kicks in in 2027. The urgent news: data collection for both of those periods is already underway, so if you haven't gotten started, now's the time. And finally, the hopefully helpful news is that we've got a resource for you to download. You'll need to read this article to understand the three tabs it includes.
Download our THA/TKA PRO-PM Guide
With all of that in mind, here's everything you need to know to get moving on this trailblazing, slightly hair-raising, measure.
Which Patients are in the Measure?
To be included in your THA/TKA PRO-PM measure data, patients must meet three criteria.
Enrolled in Medicare fee-for-service
Aged 65 or older
Undergoing an elective primary THA and/or TKA (including bilateral procedures)
CMS will require you to submit complete data sets for, at minimum, 50% of your eligible patients in order to meet your IQR requirements.
Which Patients are NOT in the Measure?
The key word in determining if a patient is eligible for the measure is "elective." If a patient exhibits any of the following criteria, he or she is not considered an "elective" surgical patient, and is therefore ineligible for the measure:
The procedure is a revision or to address a mechanical complication from a prior THA/TKA procedure
The procedure involves a concurrent partial hip/knee arthroplasty procedure or resurfacing procedure
The patient has a femur, hip, or pelvic fracture which has triggered the procedure
That patient has a disseminated malignant neoplasm or a malignant neoplasm of the pelvis, sacrum, coccyx, lower limbs, or bone/bone marrow
The patient is undergoing simultaneous removal of an implanted device or prosthesis
What Data Do I Need to Collect?
As you can see in the detailed chart below, THA/TKA PRO-PM relies on a combination of patient-reported outcome (PRO) data and risk variable data; administrative claims data; and Medicare enrollment and beneficiary data, collected at different points in the patient's care.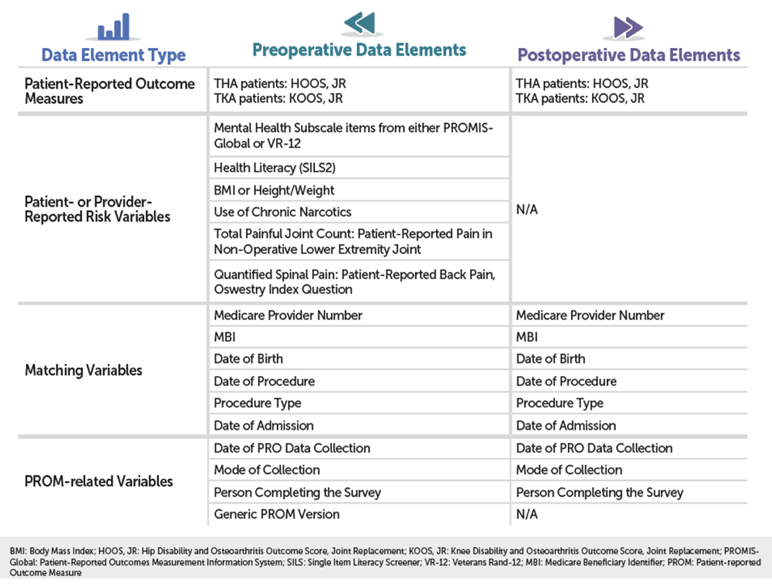 The heart of your PRO data will be two standardized forms: the HOOS, JR. form for THA patients, and the KOOS, JR. form for your TKA patients. You can download both forms here. Forms will need to be administered to patients two times: once before surgery and once after surgery (see "When Should the Data Be Collected?" for more details). If you're like a lot of hospitals, these forms are still distributed on good, old-fashioned paper, so may need to manually enter your HOOS and KOOS data after it's collected.
One other important thing to note: your pre-op data collection process will also need to include a handful of "Patient- or Provider-Reported Risk Variable" screenings that, along with the patient's 12-month administrative claims history, will be used to risk-adjust your hospital's outcome. You can access CMS's recommended questionnaires for these screenings here:
When Should the Data Be Collected?
THA/TKA PRO-PM requires you to collect your PRO data within two very specific windows of time.
Pre-Op Data Collection
(PRO Survey + Risk Variable Data)

Post-Op Data Collection
(PRO Survey Only)

0 to 90 days before the procedure

300 to 425 days after the procedure

Because the post-op data collection window is so large, there is a long lead time between the year an eligible procedure occurs and the year it actually gets included with your submitted data. As such, the data collection periods for the 2025 and 2026 voluntary reporting periods are already underway. Fortunately, you still have plenty of time to start collecting data to meet your 2026 voluntary submission requirements (remember: you only have to submit matched data for 50% of your eligible patients).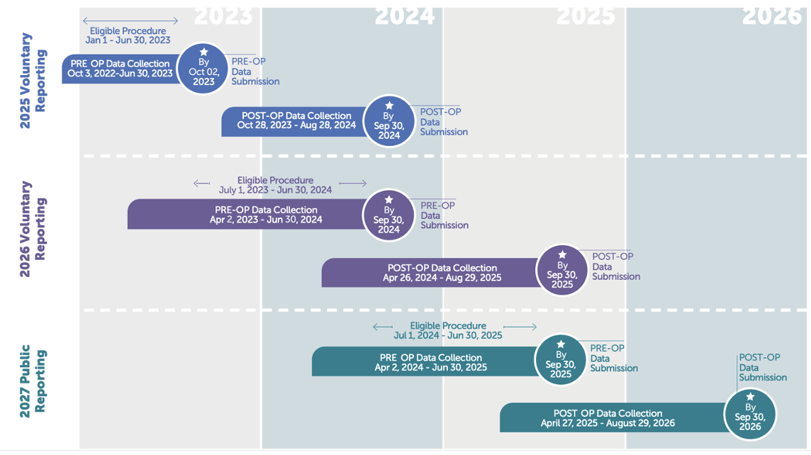 If you're in the .000001% of hospitals that could not benefit from the voluntary reporting practice, please note that your pre-op data collection for the 2027 mandatory public reporting year must start on April 2, 2024.
How Should I Submit My Data?
Medisolv will be supporting this measure in our ENCOR for Hospital Abstracted Measures software. You can learn more about the module and get a quote here. But if you don't have a vendor like Medisolv, CMS will accept your data as a CSV or XML file, or you can opt to manually enter your data into CMS's Hospital Quality Reporting system.
How Will My Performance Be Scored?
CMS will compare each patient's pre-op HOOS/KOOS survey to his or her post-op survey to calculate the change in the patient's pain and function score. A patient's change in score must meet or exceed a minimum "substantial clinical benefit threshold" in order to be deemed a success. The threshold is slightly different depending on which survey the patient is taking.
Substantial Clinical Benefit Threshold

HOOS, JR.

KOOS, JR.

22 points

20 points

Next, CMS will factor in all the risk variable data you submitted, as well as your claims data, to create your final "risk-standardized improvement rate" (RSIR). If, for example, you achieve a 60% RISR, that means that, in general, 60% of your patients reported a substantial improvement after their THA/TKA procedure.
Will My Results Be Made Public?
You bet your THA they will. During the 2025 and 2026 voluntary reporting periods, only your participation and response rates will be publicly reported. Your measure scores will be delivered to you confidentially. 2027 will be the first year that your scores will be publicly reported—and your annual payment update will be affected.
Where Should I Start?
Chances are, the hardest part of the THA/TKA PRO-PM measure will be determining how and when to collect your pre- and post-op PRO data. Fortunately, CMS has already outlined some helpful workflows for you in a free and easy-to-understand infographic that you can download here.
You can also contact Medisolv for a 1:1 call about our ENCOR software and how we can help with this measure or subscribe to our Education Center for continued updates on as the THA/TKA PRO-PM measure evolves. Plus, be sure to check out some of our latest guidance on all your other IQR requirements:
Medisolv Can Help

This is a big year for Quality. Medisolv can help you along the way. Along with award-winning software you receive a Clinical Quality Advisor that helps you with all of your technical and clinical needs.

We consistently hear from our clients that the biggest differentiator between Medisolv and other vendors is the level of one-of-one support. Especially if you use an EHR vendor right now, you'll notice a huge difference.

We help troubleshoot technical and clinical issues to improve your measures.
We keep you on track for your submission deadlines and ensure you don't miss critical dates
We help you select and set up measures that make sense based on your hospital's situation.
You receive one Clinical Quality Advisor that you can call anytime with questions or concerns.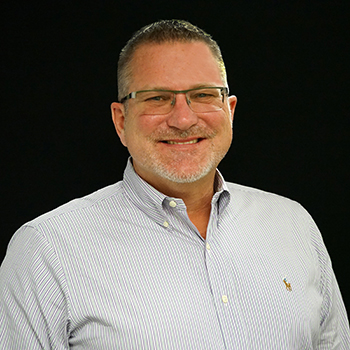 Brian Hill is the Vice President of Quality Measures at Medisolv, Inc.