* NOTE Since this blog was written, CMS has updated their eCQM submission deadline for 2017. The deadline is now March 16, 2018.
Is this year slipping away from you? Major deadlines for reporting to the CMS Inpatient Quality Reporting (IQR) program are approaching. What to do?! Play the classic board game, IQR Land, of course.
Try not to get lost as you navigate the dangerous terrain found within IQR Land. Journey through mountains and forests, across rivers and fields, while navigating the submission deadlines for each IQR program requirement.
And for those of you who feel that this much color upsets your intellectual sensibility, we've made a very boring calendar for your viewing pleasure at the bottom of this blog.
To help you on your journey, here is a summary of the Hospital IQR program deadlines that you'll navigate below. Good luck explorers!
2017 Hospital IQR Program Deadlines
Discharge Quarter

Submission Deadline

Clinical, HAI, PC-01
Population & Sampling
HCAHPS
Quarter 1 2017
August 15, 2017
August 1, 2017
July 5, 2017
Quarter 2 2017
November 15, 2017
November 1, 2017
October 4, 2017
Quarter 3 2017
February 15, 2018
February 1, 2018
January 3, 2018
Quarter 4 2017
May 15, 2018
May 1, 2018
April 4, 2018
Measures
Included Dates
Submission Deadline
eCQMs
Choose one quarter: Q1, Q2, Q3, Q4
February 28, 2018
Structural & DACA
Jan 1 - Dec 31, 2017
April 1 - May 15, 2018
Influenza Vaccination
Coverage Amount HCP
Oct 1 2017 - Mar 31, 2018
May 15, 2019

NOTES:
All dates are subject to change.
Data must be submitted no later than 11:59 pm PT on the submission deadline with the exception of HCAHPS, which must be submitted by 11:59 pm CT; validation medical records must be received by CDAC no later than 4:40 pm ET.
Validation for fiscal year 2019 includes Q3 2016, Q4 2016, Q1 2017, and Q2 2017.
---
DOWNLOAD:
The 2018 quality Reporting Bundle
Successfully reporting your eCQM and chart-abstracted measure data to CMS and The Joint Commission is a process that requires some time and preparation. But how can you prepare without the proper information? Do you know what to search for? Is the information that you found correct and accurate for this submission year?
Set your worries aside. We know that you have more important things to do than dig through a handful of confusing CMS and Joint Commission documents—that's why we did it for you! Yup, true story. We gathered all of the important documents, standardized and simplified them and put everything in our 2018 Quality Reporting Bundle.
Woot woot! *Pause for dance party and sigh of relief.*
Check out what you'll find in this handy bundle below.
CMS IQR Program:
Reporting requirements
Measure list
Deadlines

The Joint Commission ORYX® Initiative for Quality Improvement:
Reporting requirements
Measure list
Deadlines

Oh, AND an Acronym Reference Guide. No more guessing game.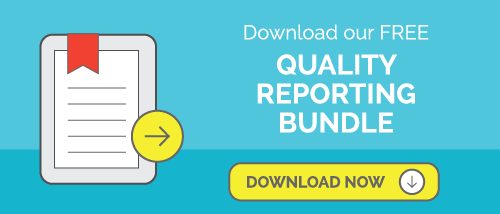 Tags:
Quality Reporting, Academy, IQR Program