The Joint Commission made an historic announcement this week. For the first time, hospitals will be required to submit four Electronic Clinical Quality Measures (eCQMs).
In 2015 & 2016, hospitals had the option of submitting their ORYX performance measures as eCQMs, but it was never a requirement. And indeed, for most hospitals, submitting eCQMs to the Joint Commission will be entirely new. Here are the results of eCQM submission to the Joint Commission from 2015.
In 2015, hospitals had three options to submit
their ORYX performance measures
Option 1: Select and report on six chart-abstracted measure sets for the entire calendar year.
Option 2: Select and report on four electronic measures, eCQM sets, for one quarter of the 2017 calendar year, by the submission date of June 29, 2018.
Option 3: Select and report on six measures in a combination of chart-abstracted and eCQM sets.
So which option did hospitals choose in 2015?
Option 1: All but 34 hospitals chose this option for submission.
Option 2: Only one hospital submitted under Option 2; the Medical University of South Carolina. (P.S. That was Medisolv! Read about the submission here.)
Option 3: There were 33 hospitals that submitted using a combination of chart-abstracted and electronic measures.
The options for 2016 submission were very similar to 2015 with a few different measure options to choose from.
The 2017 ORYX Performance Measurement Requirements
In 2017, most hospitals will have only one option for ORYX performance measure submission.
Required:
Select and report on five chart-abstracted measures quarterly.

Four Additional Perinatal Care measures (PC-02, PC-03, PC-04, PC-05) are required for health care organizations with at least 300 live births per year.

Select and report on six eCQMs, for all four quarters of the 2017 calendar year, by the
submission date of June 29, 2018.
The Joint Commission stated their reason for the change was to keep in alignment with the changes to the CMS Inpatient Quality Reporting (IQR) program.
Also See: Hospital IQR Program Reporting Requirements for 2017
Here is a quick summary of the CMS IQR program requirements in 2017. Hospitals are required to submit four of the available 15 eCQMs for one quarter of 2017. If hospitals do not complete this component of the IQR program, they face a penalty of up to 2% of their Medicare reimbursement.
With this decision, the Joint Commission aligned their requirements with the IQR program by requiring eCQMs and removing several of the measures
They stated that "the Joint Commission continues to remain as closely aligned as possible with the Centers for Medicare & Medicaid Services (CMS) Hospital Inpatient Quality Reporting (IQR) Program. While CMS has made changes in its Hospital IQR Program for 2017, the Joint Commission has elected not to adopt all of the … eCQMs implemented by CMS."
The Joint Commission chose to include 13 of the 15 eCQMs that CMS put forward. The two measures not included are STK-08 - Stroke Education, and STK-10 - Assessed for Rehabilitation.
Hospital Challenges
Some hospitals may face some big hurdles next year. A unique aspect of this program is that the Joint Commission requires that performance measures be submitted by a quality reporting vendor, like Medisolv. These vendors must be certified by the Joint Commission. There are only 19 certified vendors who are able to submit eCQMs on a hospital's behalf. Medisolv is an approved ORYX vendor for both chart-abstracted measures and eCQMS. Here is a list of all of the certified vendors.
Last year, only six vendors actually submitted eCQMs to the Joint Commission on behalf of a hospital. Medisolv was the only vendor to submit performance measures to the Joint Commission under Option 2 on behalf of the Medical University of South Carolina. Read more here.
If a hospital is not currently using one of these approved vendors, they will have to go through the entire process of selecting a vendor, installing the solution, and implementing and validating the eCQMs for successful submission.
Related Content: An unbiased blog about choosing a Quality reporting vendor
If your hospital has not begun the process of implementing eCQMs, now is the time to start. Both CMS and the Joint Commission will require eCQM submission in 2017. Medisolv is a certified vendor that can fulfill your IQR, Meaningful Use and Joint Commission accreditation eCQM needs. And what's more? We submit the files on your behalf, which frees up your staff to focus on true quality improvement.
Talk to Medisolv today to discuss your quality reporting needs.
---
FREE DOWNLOAD:
The Ultimate Regulatory Requirements Kit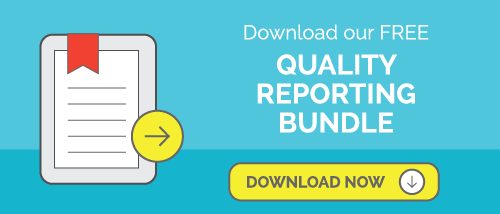 Successfully reporting your eCQM and chart-abstracted measure data to CMS and The Joint Commission is a process that requires some time and preparation. But how can you prepare without the proper information? Do you know what to search for? Is the information that you found correct and accurate for this submission year?
Set your worries aside. We know that you have more important things to do than dig through a handful of confusing CMS and Joint Commission documents—that's why we did it for you! Yup, true story. We gathered all of the important documents, standardized and simplified them and put everything in our 2018 Quality Reporting Bundle.
Woot woot! *Pause for dance party and sigh of relief.*
Check out what you'll find in this handy bundle below.
CMS IQR Program:
Reporting requirements
Measure list
Deadlines

The Joint Commission ORYX® Initiative for Quality Improvement:
Reporting requirements
Measure list
Deadlines

Oh, AND an Acronym Reference Guide. No more guessing game.
Tags:
Quality Reporting, Academy, IQR Program