So many deadlines, so little time. Are you having trouble keeping track of all the deadlines for the CMS Inpatient Quality Reporting (IQR) program? Get organized with a quick round of The Game of Submission Life!
Give the wheel a strong spin (*pause to stretch your strongest spinning hand/finger*) to see where your submission journey will take you. What twists and turns will you encounter on your way to submission success? Will you earn a little cash on the road? There's only one way to find out—buckle up and start your engine, folks!
To help you prepare for your Game of Submission Life road trip, below is a summary of the 2018 hospital IQR deadlines. Safe travels.
2018 HOSPITAL IQR DEADLINES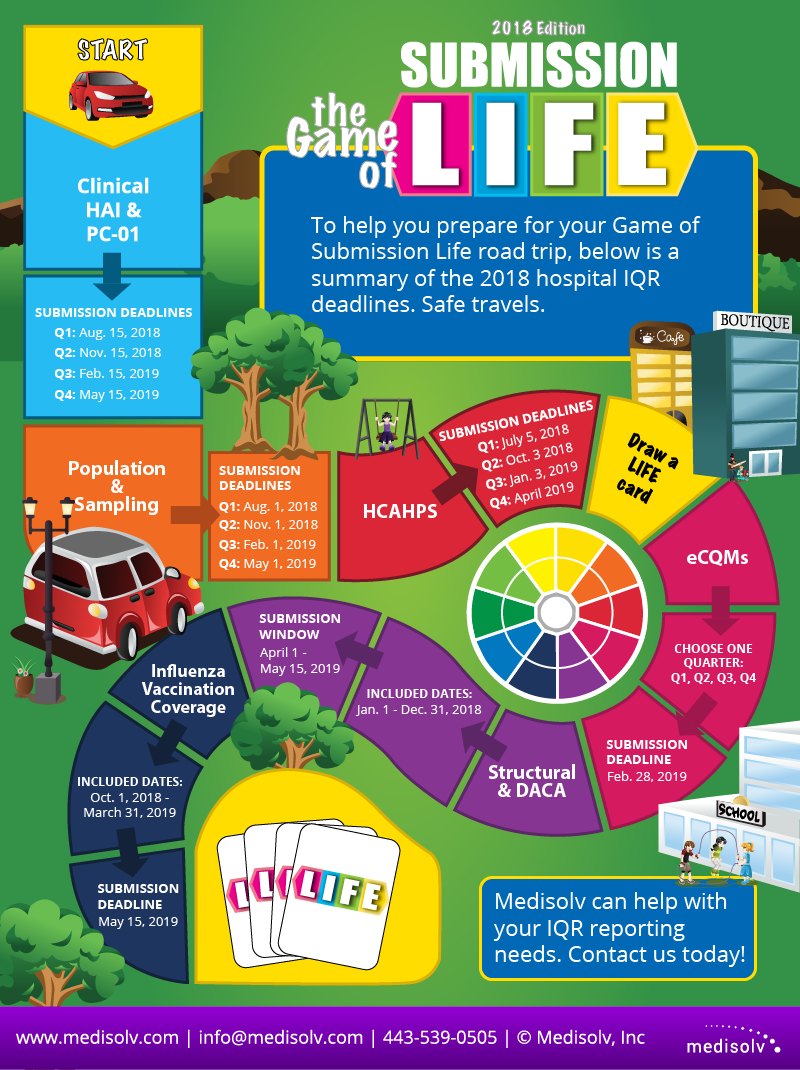 NOTES:
All dates are subject to change.
Data must be submitted no later than 11:59 p.m. PT on the submission deadline with the exception of HCAHPS, which must be submitted by 11:59 p.m. CT; validation medical records must be received by CDAC no later than 4:30 p.m. ET.
Validation for calendar year 2018 includes Q3 2017, Q4 2017, Q1 2018 and Q2 2018.
---
WEBINAR:
Tuesday, July 10, 2018
1 p.m. ET | 12 p.m. CT | 10 a.m. PT
Data Driven Patient Care:

Using eCQM Validation for Performance Improvement
What does your eCQM data tell you about your clinical documentation processes, data management and ultimately, the quality of care of patient's in your hospital?
For the past few years, many hospitals have been focused on simply setting up eCQMs to meet the minimum reporting requirements. For most, the idea that eCQMs could accurately reflect the quality of care in a hospital setting and initiate actionable change is unimaginable.
In this free educational webinar, Medisolv will share tips from their most successful hospitals and how they improved their eCQM results to help drive performance improvement.
If you've already implemented eCQMs, but you aren't sure what to do next, this webinar is for you. Meet your regulatory reporting requirements and drive performance improvement activities at your hospital.
Objectives:
Review common challenges facing hospitals during eCQM data validation;
Construct a plan to improve your eCQM results;
Identify common errors when performing eCQM data validation and recognize how to locate and address gaps in performance;
Identify the requirements for regulatory programs requiring eCQM submission.
Tags:
Quality Reporting, Academy, IQR Program