Achieving a successful MIPS submission can be challenging for any Eligible Clinician—but did you know that small practices in particular are more likely to receive a negative payment adjustment than larger practices?
Based on interviews with 23 stakeholders, the Government Accountability Office (GAO) found that small and rural clinician practices will possibly face the same disadvantages with MIPS as they did with former reporting programs such as PQRS, Meaningful Use and Value-Based Modifier. For practices with 15 or fewer providers, these disadvantages include limited technology, finances, staff and program requirement knowledge.
According to the GAO's report, CMS made a few predictions for both small and large clinician practice reimbursements in year two of MIPS. They estimate that 82 or 91 percent of small practices will receive a positive or neutral payment adjustment. On the other hand, they estimate that nearly all large practices, made up of 100 or more providers, will receive a positive or neutral payment adjustment.
Hmmm so what does this all mean? How does CMS go about calculating and finalizing a positive, neutral and negative payment adjustment for MIPS? To help you better understand MIPS reimbursements, we've provided a breakdown of MIPS reimbursements for 2018 below.
MIPS REPORTING CATEGORIES
Let's start by reviewing the four MIPS categories for 2018: Quality, Advancing Care Information (ACI, renamed Promoting Interoperability), Improvement Activities (IA) and Cost.
Each of these categories are worth a percentage that count towards your overall final score.

REIMBURSEMENT DISTRIBUTION
Now on to final scoring and you know, dollar dollar bills.
WHAT'S AT STAKE?
For 2018, Eligible Clinicians can receive a negative reduction of up to -5% and a positive adjustment of up to +5%. This increased by one percent (-4% and +4%) from last year.
PERFORMANCE THRESHOLD
Take a look at the graphic below for a visual of how CMS handles MIPS distributions based on performance.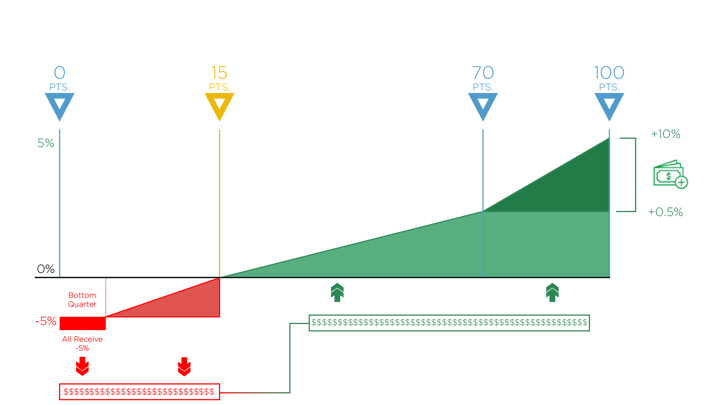 0-14 Points
To stay on the positive end of the spectrum (represented in green on the graph) and avoid a penalty, you need to score at least 15 points. This number has increased since 2017, when the minimum performance threshold was set at a mere 3 points.
If you score less than 15 points, you'll likely get stuck with a reduction. And if you are one of the lowest performers on the bottom quarter, you'll automatically receive the full -5% reduction (represented in the scary red section on the far-left side of the graph).
15-100 Points
Since MIPS is a budget neutral program, CMS will take all the funds from the negative payment adjustment and distribute them among those who did meet the performance threshold and achieved the positive payment adjustment. That means that any Eligible Clinician who scored 15-100 points will be able to get some portion of these funds, totaling up to a +5% payment adjustment.
Bonus Points
There are a lot of opportunities for Eligible Clinicians to earn bonus points in year two of MIPS. In fact, CMS added a small practice bonus for 2018, which allows any qualifying small practice to get five additional bonus points added to their final MIPS score. Stay tuned for a future blog, where we'll dive into all the ways that you can make money through MIPS.
EXCEPTIONAL PERFORMANCE

Lucky #70
If you're able to end up with a score of 70 points or higher, you'll be eligible to receive the Exceptional Performance Bonus money.
That's right. CMS sets aside $500 million for exceptional MIPS performers—and this money is in addition to the money you receive from achieving a positive payment adjustment.
In 2017, 92% percent of Medisolv clients, comprised of both small and large clinician practices, qualified for the Exceptional Performance Bonus money.
Keep in mind that your 2018 MIPS performance will be applied to your 2020 Medicare reimbursements.
While larger practices have a greater chance of receiving a positive MIPS payment adjustment, small practices shouldn't count themselves out. When you partner with Medisolv for your MIPS journey, we'll provide personalized assistance to conquer those smaller practice disadvantages and ensure that you'll end up with the best possible MIPS results. Regardless of practice size, our clinical experts are dedicated to providing clients with ongoing insight and guidance on category requirements, measure selection, program changes and quality performance improvement. And, we'll take care of submitting all your MIPS data to CMS.
Send us a note today about your MIPS reporting needs.
---
DOWNLOAD:
BEGINNER'S GUIDE TO MIPS YEAR 3
Medisolv has the tools to help your organization gear up for quality reporting success. In this FREE 24-page eBook, you'll learn about MIPS Year 3 and find all the information needed to complete the program in 2019.
This guide includes:
Eligibility criteria
Reporting options
Category requirements
Important dates to remember
Tags:
Regulatory Updates: Ambulatory