2020 Joint Commission ORYX® Requirements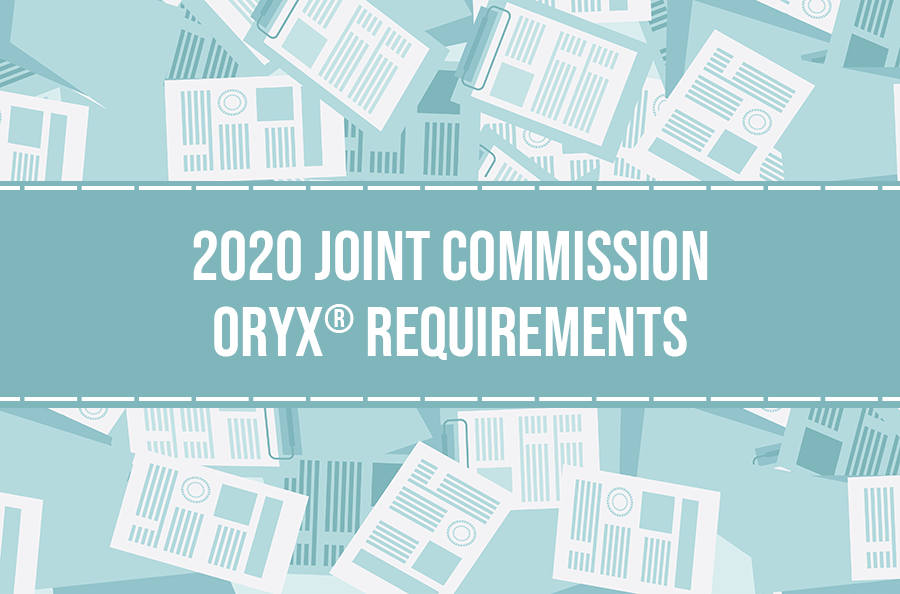 There are some big changes coming to The Joint Commission's ORYX® program in 2020. Changes include submission method, data file type and measure lists.
Requirement changes in response to COVID-19 are reflected below.
Last week we reviewed the new eCQM that The Joint Commission (TJC) announced – ePC-02. If you want to catch up on the details of that new eCQM you can read it here.
Let's review some of the major changes to the ORYX® program and then go over the actual requirements for 2020.
---
TJC Change #1: Data File Type
Most significantly, The Joint Commission (TJC) is moving away from patient-level data submission and moving to aggregate data submission. Now this is only applicable for your chart-abstracted measure submission. So, each quarter, a hospital must submit their monthly performance at the aggregate level instead of the patient-level data.
It's not 100% clear how this information is to be submitted. Will it be a file that is submitted, or will it be manual entry of the information, or will there be an option for either? TJC is vague on this, but we anticipate finding out more information early in the new year.
TJC Change #2: Submission Method
All of your hospital's data, for both chart-abstracted and eCQMs, must be submitted via the DDS platform. The DDS platform is TJC's Direct Data Submission platform.
If you're a Medisolv client, don't panic. Nothing changes for you. Medisolv will still submit all of your data, both abstracted and electronic, as we always do. Hospitals must simply authorize their vendor to submit on their behalf and we take care of submitting your data.
TJC Change #3: Measure Changes
Usually we have found that TJC tries to align their measure lists with the CMS programs, but over the course of the last few years things have diverged. So, to provide a comparison for you, we've laid out the measure lists side-by-side so you can identify where the differences lie.
This was such a pain to pull together, so I made it into a downloadable Excel workbook for you to have. You can sort the data using the filters on the sheet. The download button is below.
Beginning with January 1, 2020.
The 2020 TJC vs CMS Inpatient Chart-Abstracted Measure List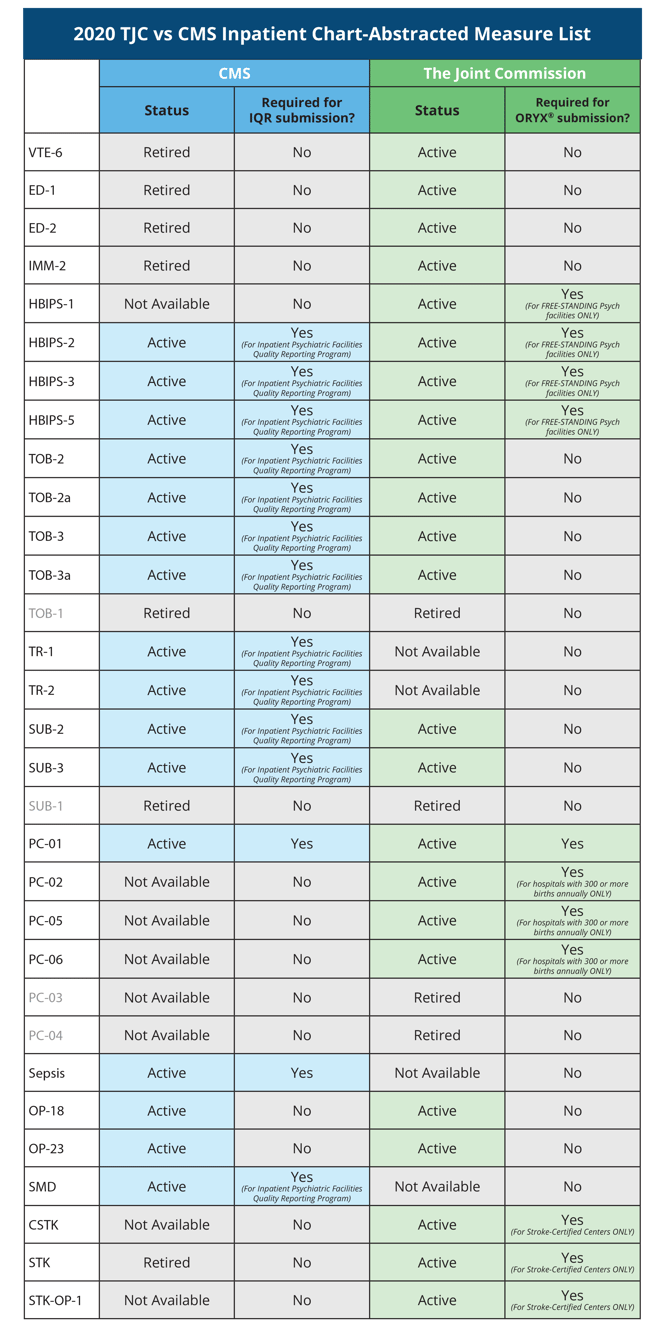 The 2020 TJC vs CMS Inpatient eCQM Measure List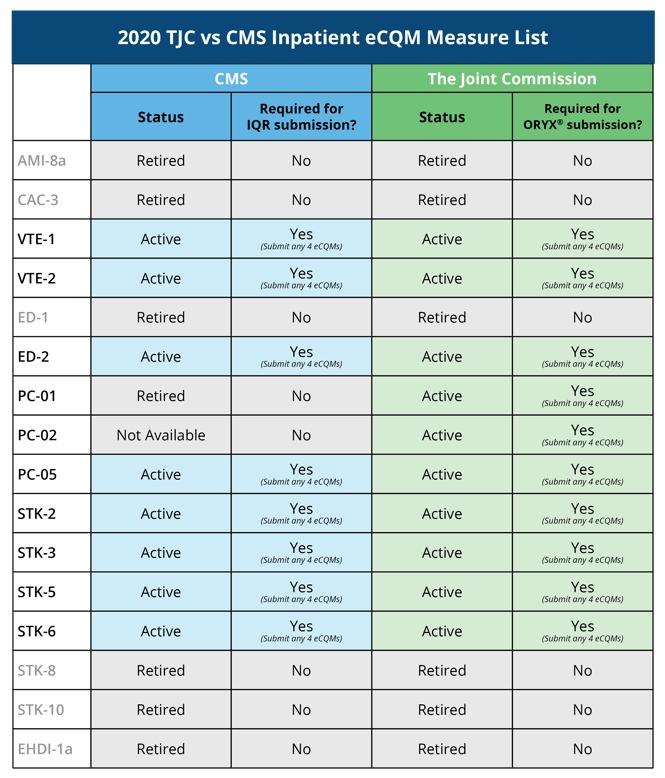 Download these reference charts for excel:

2020 TJC ORYX® program requirements
Chart-Abstracted Measure Requirements
The Joint Commission has narrowed the list of required chart-abstracted measures to one, (unless you are a hospital with 300 or more births or a free-standing psych hospital).
Requirement change in response to COVID-19: Q1 & Q2 chart-abstracted data submission is optional.
If you do submit, the submission deadline has been extended for Q1 & Q2 as show below:
Q1 2020 deadline extended from July 31, 2020 to Oct. 31, 2020.
Q2 2020 deadline extended from Oct. 31, 2020 to Jan. 31, 2021.
Chart-abstracted measures
PC-01
For hospitals with at least 300 live births a year, three additional measures are required: PC-02, PC-05 and PC-06
eCQM Requirements
The eCQM reporting requirements will remain the same. In 2020, hospitals must continue to submit four of the available 10 eCQMs. You must report on one self-selected quarter from 2020. The deadline to submit your measures is March 15, 2021.
The difference this year, is the available measure list. TJC added a brand-new eCQM, ePC-02 (Cesarean Birth). They also retired the following eCQMs: AMI-8a, CAC-3, ED-1 and EHDI-1a.
eCQMs

ED-2
STK-3
PC-01
STK-5
PC-02 (NEW)
STK-6
PC-05
VTE-1
STK-2
VTE-2
Just like the abstracted measures, this data must be submitted via the DDS platform, although this isn't new for eCQMs. This was a requirement in 2019. However, unlike the abstracted measures, eCQMs must still contain patient-level data in the form of a QRDA I file format.


Special Facility Requirements
Hospitals with at least 300 births per year are required to submit three additional perinatal care abstracted measures (PC-02, PC-05 and PC-06) in addition to the PC-01 measure above.

Freestanding Psychiatric Hospitals
In 2020, freestanding psychiatric hospitals must continue to report on the four Hospital-based Inpatient Psychiatric Services (HBIPS) chart-abstracted measures below. Just as with your chart-abstracted measures, aggregate data must be submitted on a quarterly basis for the entire 2020 calendar year using the DDS platform.
HBIPS Chart-abstracted measures
HBIPS-1
HBIPS-2
HBIPS-3
HBIPS-5
Critical Access And Small Hospitals (ADC of 10 or fewer)
Critical access and small hospitals with an average daily consensus of 10 or fewer inpatients are required to collect data on any three measures from any of the chart-abstracted or eCQM options below.
| | |
| --- | --- |
| Chart-abstracted measures | eCQMs |
| ED-1, ED-2 | ED-2 |
| PC-01, PC-02, PC-05, PC-06 | PC-01, PC-02, PC-05 |
| VTE-6 | STK-2, STK-3, STK-5, STK-6 |
| IMM-2 | VTE-1, VTE-2 |
| HBIPS-1, HBIPS-2, HBIPS-3, HBIPS-5 | |
| TOB-2, TOB-3 | |
| SUB-2, SUB-3 | |
| OP-18, OP-23 | |
Just as before, these hospitals are exempt from the requirement to submit, but the reports must be available for review by surveyors during on-site surveys. If you do submit, it must be monthly aggregate data on a quarterly basis using the DDS platform.

Facilities with Suspended requirements
As in the past, the following facilities are exempt from The Joint Commission ORYX® requirements in 2020:
Freestanding Children's Hospitals
Long Term Acute Care Hospitals
Inpatient Rehabilitation Facilities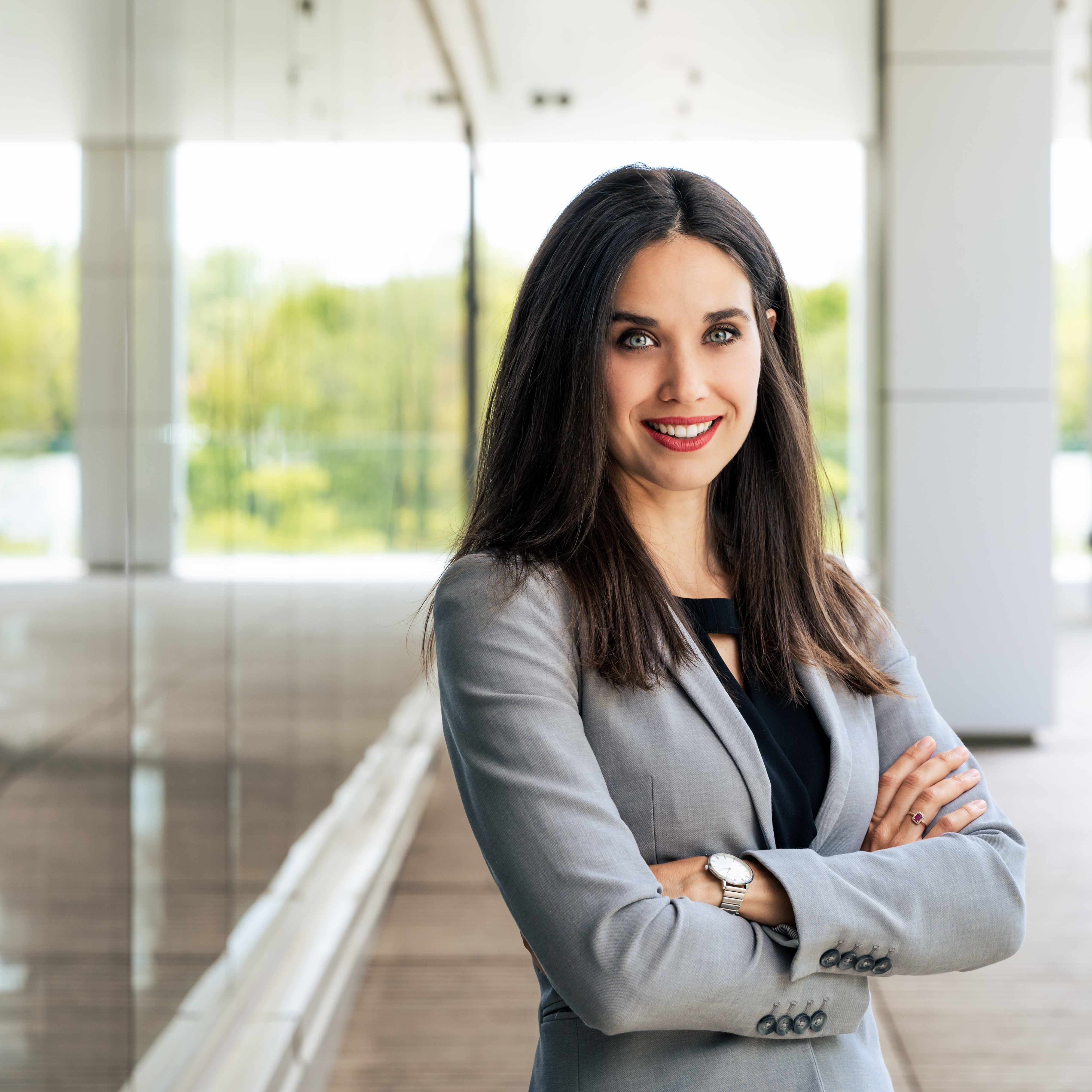 Erin Heilman is the Vice President of Marketing for Medisolv, Inc.