3 Ways to Prepare for the CMS Web Interface Retirement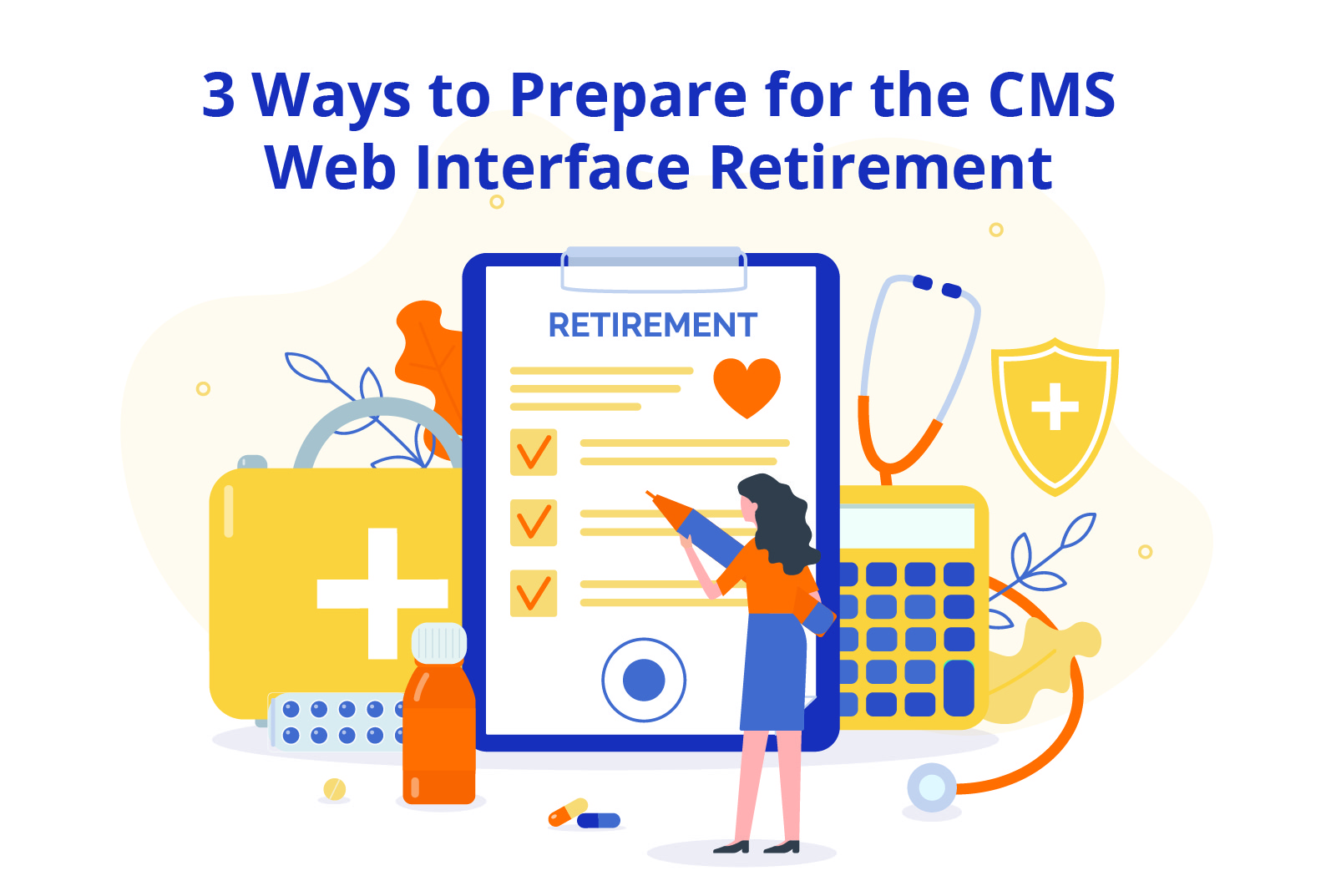 By now, you have undoubtedly heard the good news: the sunsetting of the CMS Web Interface has been delayed until 2025. But don't pop the champagne just yet.
The big switch may have slowed down temporarily, but there are still many questions your organization needs to answer—and significant processes you need to establish—over the next ~24 months. Here's how to make the most of this breathing room period before the CMS Web Interface is officially retired.
Step 1: Map Out Your Data Aggregation Plan Now
Does your team understand exactly what the retirement of the CMS Web Interface means for your organization? If not, here's a quick primer:
Since 2017, the Quality Payment Program (QPP) has allowed large organizations and ACOs to use the CMS Web Interface reporting method to complete MIPS requirements. This has allowed qualified organizations (those with >25 clinicians/NPIs) the option to report MIPS quality using a sampling of only 248 patients for each measure across a single TIN, selected through Medicare Part B claims. This small data set is typically abstracted into a spreadsheet, submitted, and that's a wrap.
Now, in an effort to begin collecting more meaningful data, CMS has upped the ante in a big way. Once the CMS Web Interface is retired, ACOs will be required to report all quality measures on all patients and all payers across all practices for 365 days of the year using either eCQMs (electronic clinical quality measures) or CQMs (clinical quality measures). For most ACOs, using CQMs is impractical. That would be entirely too much abstraction to actually be feasible. That means eCQMs is the measure type all ACOs will likely need to use going forward.

ACOs must learn to` juggle multiple, disparate EHRs and data collection methodologies. Developing a cohesive data aggregation system is going to be a major undertaking. Your senior leadership, quality management, and information technology teams need to start planning what that looks like for your ACO now.
Step 2: Choose Your ACO's Reporting Framework
If you are a Medicare Shared Savings Program (MSSP) ACO, CMS is limiting you to just one reporting framework moving forward: the APM Performance Pathway, or APP.
For all other ACOs you have 3 options to choose from: the APP framework, the traditional MIPS framework, or both. In our opinion, the APP framework is the obvious choice for 2 reasons:
You only have to submit APP's 3 required measures (versus MIPS' 6 required measures out of 48 possible choices).
Those 3 required measures tend to be less burdensome on practices on a practical, day-to-day workflow level.
Generally these measures will be applicable to at least some of the clinicians in your group (see chart below for a list of the measures).
If you choose to submit under both frameworks, CMS will award you the higher of your two scores. Provided that you have a quality management vendor (like Medisolv) who handles your submissions for you, this may be a valuable option for your ACO, as it gives you an added layer of protection, while placing the bulk of the administrative burden on your vendor.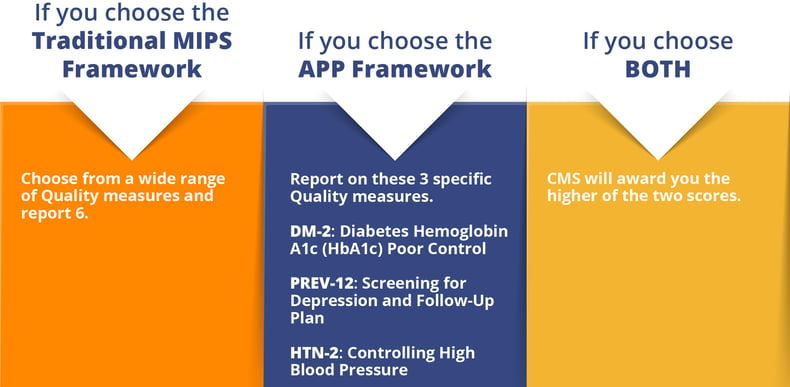 Here is a list of quality measures on the CMS website.
Step 3: Consider MVP Reporting for 2023
There's one more wrinkle to consider: to MVP or to not MVP? Launching in 2023 as an optional program, the new MIPS Value Pathways (MVP) program attempts to provide visibility into specialists performance in the MIPS program using sub-TIN reporting. In the 2022 PFS Final Rule CMS requested feedback on their proposal to require MVP reporting for any multi-specialty group by 2028.
The goal of an MVP is to deliver reporting at a more granular level, specialty by specialty (or pathway by pathway to use CMS's terminology). The MVP that a clinician or specialty practice selects will determine what measures they can and should report. CMS believes this will lead to improved value and less burden for providers and enable patients to make more informed choices when selecting providers.
CMS is launching the MVP program with 7 pathways, which will be open to individual clinicians, single-specialty group practices, multi-specialty group practices, subgroups, and alternative payment model entities in 2023, 2024 and 2025. In 2026, CMS will require any participating multi-specialty group practices to break into subgroups to participate in one of the 7 pathways.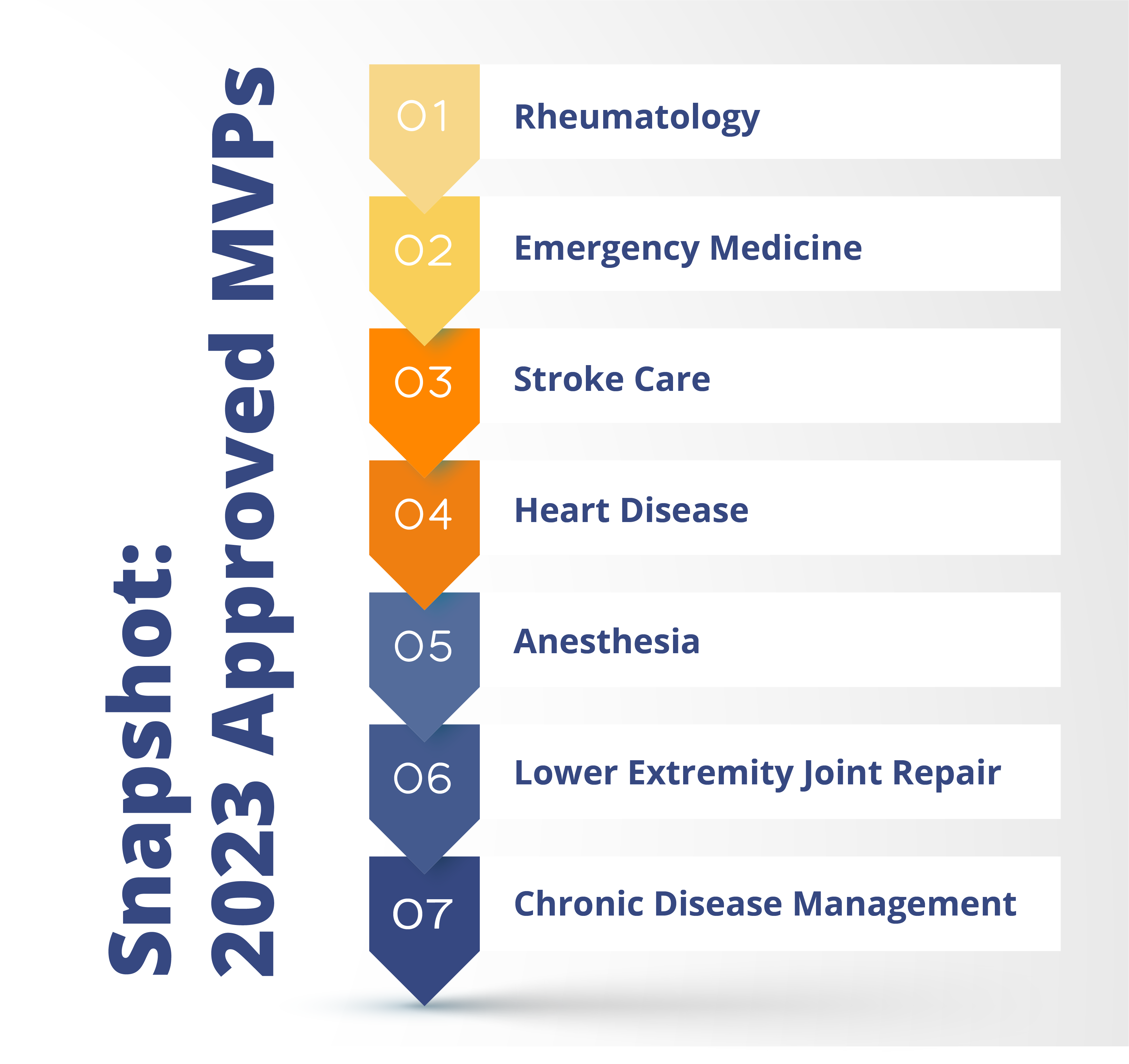 Our advice: if you will eventually have to report as a multi-speciality group, take CMS up on its offer and enroll in the voluntary MVP reporting program when you can but ideally in 2023 or 2024. The data collection and submissions overhaul that MVPs will require is reason enough to get a head start. But also consider this: MIPS measures have traditionally skewed more towards the work of primary care providers and hospitalists. So, for your specialists, MVPs will likely be a big wake-up call—one that requires them to think and work differently on a patient-by-patient level. Giving your ACO time to generate clinician education, buy-in, and compliance before reporting is mandatory is a smart move if you want to protect and grow your scores.
Bonus reminder: As with the APP framework, CMS is giving providers the option to submit both MVPs and traditional MIPS during the voluntary reporting period and will award you whichever of your two scores is the highest.
Final Thoughts: What if CMS Pushes Its Deadlines Again?
Yes, it's true. History has proven that CMS could change the rules and deadlines on us any minute, however, in the 2023 PFS proposed rule CMS made it clear that they are still intending to sunset the CMS Web Interface Measures by 2025 for everyone. We'll know more when CMS issues its final rule for 2023 later this year.
But even if CMS does delay these changes, it is still in your best interest to start looking at your data through the all-patients, all-payers, all-practices lens now. It is the key to unlocking so many other patient care goals for you, including improving population health, reducing health care costs, and advancing health equity. For too long, the CMS Web Interface had made quality reporting a box that organizations had to check. It's time now for organizations like yours to lead the charge to elevate the role of quality data in patient care. Together, we have the power to put quality data to good use.
More Resources to Prepare Your ACO for What's Next
At Medisolv, we offer so much more than quality software and start-to-finish submissions management. We're the quality improvement partner committed to deciphering and anticipating CMS's regulatory changes for you—so that you can keep your organization ahead of the curve. Check out some of our additional resources now:
Medisolv Can Help

Along with award-winning software, each client receives a dedicated Clinical Quality Advisor that helps you with your technical and clinical needs.

We consistently hear from our clients that the biggest differentiator between Medisolv and other vendors is the level of one-of-one support. Especially if you use an EHR vendor right now, you'll notice a huge difference.

We help troubleshoot technical and clinical issues to improve your measures.
We keep you on track for your submission deadlines and ensure you don't miss critical dates.
We help you select and set up measures that make sense based on your organization's situation.
You receive one advisor that you can call anytime with questions or concerns - no limit on hours.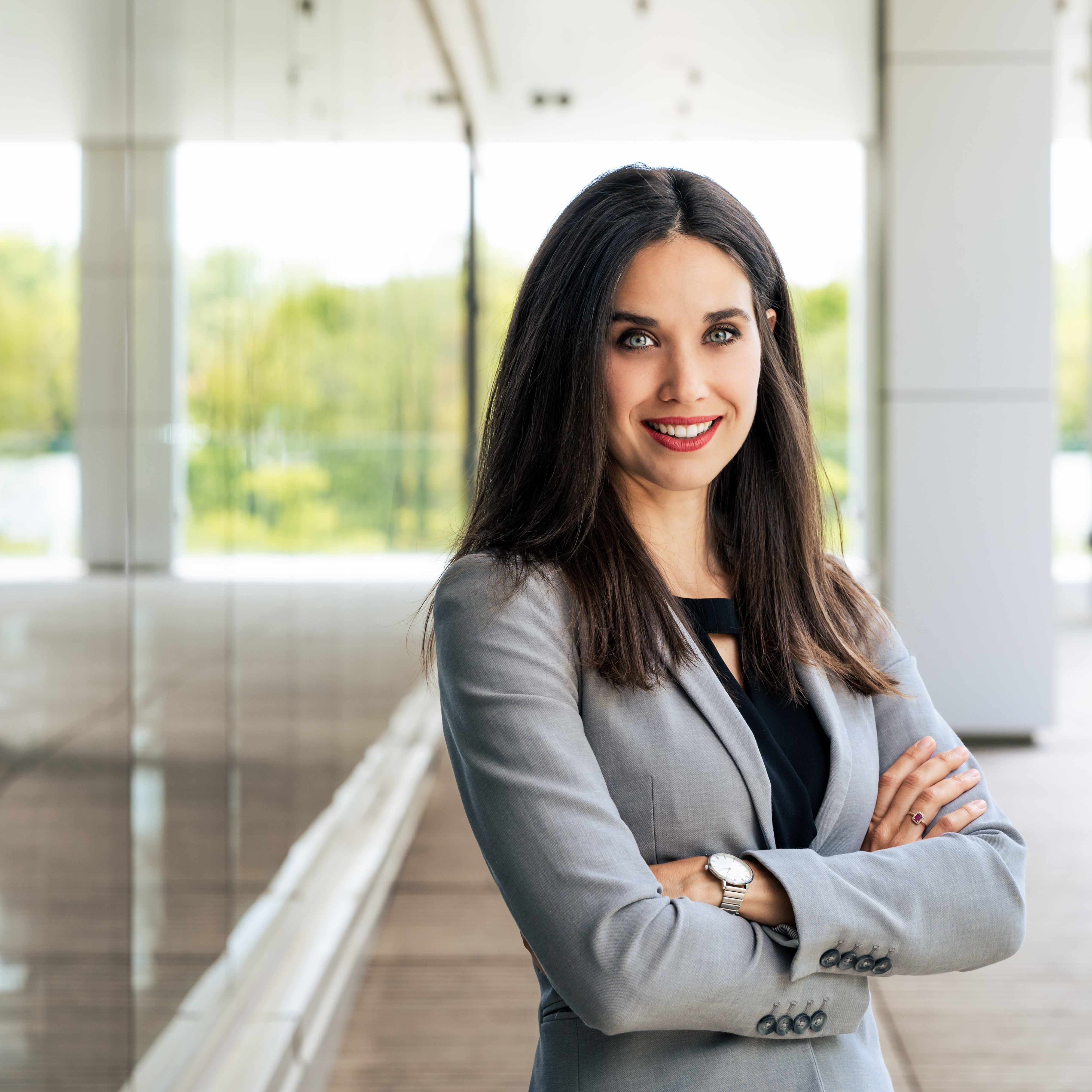 Erin Heilman is the Vice President of Sales & Marketing for Medisolv, Inc.