Merry Medisolving: Featuring Beaufort Memorial Hospital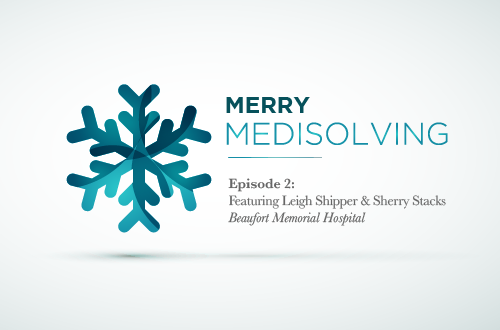 Would you say your Quality team
loves
your IT team or vice versa? Ok, maybe not love, but how about like? Do they get along? Or perhaps your Quality and IT teams generally have very little interaction. This week we take you to a hospital whose Quality and IT teams have invested in the communication between the two teams allowing them to achieve significantly high eCQM performance.
Name: Leigh Shipper
Job Title: Clinical Informatics Manager
Hospital:

Beaufort Memorial Hospital



Name: Sherry Stacks, RN
Job Title: Core Measure Coordinator
Hospital:

Beaufort Memorial Hospital

Beaufort Hospital is a 197-bed hospital tucked away on one of South Carolina's coastal islands. It is here in the small town of Beaufort that we find our next client story.
Leigh Shipper, Clinical Informatics Manager and Sherry Stacks, RN, Core Measure Coordinator share their story.


So who does what for Beaufort?
Leigh: I'm Leigh Shipper. I work on the IT side as the Clinical Informatics Manager.
Sherry: And I'm Sherry Stacks. I work in the Quality Department as the Core Measure Coordinator.
I want to chat with you about how your teams implemented eCQMs at Beaufort Hospital. How did the process begin?
Leigh: Well it started on the IT side actually in response to the Meaningful Use mandate from CMS. Our leadership knew that there were new requirements and they came to me and my team to figure it out. IT was tasked with setting up the electronic capture of quality data.
How did the implementation process go? Was the Quality department involved initially?
Sherry: I did have some involvement back in the Meaningful Use days, but much less.
Leigh: Yes, we worked with Quality, the nursing staff and the physicians to make sure what we were building initially was going to work. But there wasn't any validation of the measure performance.
Essentially, I followed MEDITECH best practices, evaluated our current workflow and decided within the IT team where it made the most sense to capture the information. When we thought we had it set up correctly, we had Quality evaluate the set up. We wanted to avoid redundancies because the Quality department was doing similar work with the Core measures at the time.
Every key stroke has got to make a difference. You must be conscious of the parallel requirements of Core measures and eCQMs. Where can we get away with one versus two questions? How can we marry the two to make the process cleaner for our end user?
Sherry: Yes, my job was to make sure it was built correctly and aligned with the Core measure effort we had going on. I needed to make sure it made sense for everyone.
When did it change from an IT-led initiative to heavy Quality involvement?
Leigh: Well in the lead up to 2016 we knew we needed to get a plan in place for submitting the required four eCQMs to CMS for the IQR program. I had already been working with Quality for some time, but when the new eCQM requirements were put in place, it was a natural evolution to involve Quality at a deeper level. The mandate expanded our relationship.
Sherry: We were already using Medisolv's ENCOR product for our abstracted Core measures, so, when it came time for eCQM tracking and submission we started using the ENCOR for Electronic measures. The best part about having both ENCOR products is that I can see the mismatches. Medisolv built out a report for me on our dashboard where I can see our electronic results versus our abstracted results. This really helped me to compare the measure performance. I was able to see why we weren't passing a measure so I could either tweak our set up or educate our staff.
I would be responsible for educating the staff and Leigh would update the system as we needed.
Did your teams ever experience any trouble working together?
Leigh: Sherry and I have a great working relationship which makes it much easier to work effectively. We didn't really have concerns between us, but there are a lot of people involved and affected by any changes so there definitely were some challenges. Our biggest barrier is always going to be end users because we're asking them to do more or do something different. It was important that we kept them involved throughout the process.
Nurses obviously think clinically and in IT our brains are IT-centered. In the Quality department, Sherry has the ability to walk both sides of the line which is an asset. She would explain to the staff why they were having to do what we were asking them to do. She took the initiative to go back to the end users who weren't using the system appropriately and follow up with them as necessary. She was our agent for change. In the IT department, we made sure she had the data to back her up during those conversations.
She was kind of our enforcer.
Sherry: I was the enforcer, but if what we were doing was making a doctor or a nurse have to take five extra steps I would go to Leigh and say, "we've got to figure out a way to get rid of some of these steps." Leigh would work with me to figure out a way to minimize the steps.
It's important that you have one person who will take the initiative to understand the problems from both the IT and Clinical side. I had to learn a lot about what they call "discrete data" on the IT side. I had to understand the reasons why we had to document our work in certain places and then I had to communicate that back to the nurses and doctors.
How did your eCQM Results change?
Sherry: When I first started looking at our numbers nothing matched up between our electronic and abstracted Stroke measures. From that starting point, we literally just started taking it apart, one problem at a time.
Leigh: We looked at each fallout and decided whether we needed to change our set up to make it easier for end users. Or sometimes more education was needed for our end users.
Sherry: There is one example that stands out to me. In the beginning, we had trouble with the measure EHDI-1a Hearing Screening Prior to Hospital Discharge. It was a simple matter when we finally sorted out the problem. Our nurses were writing both ears instead of writing the ears separately. For the data to go in properly, it had to say 'right ear' and it had to say 'left ear.' We simply had IT rebuild our structure. I got in touch with the nurses and told them how and why they would need to chart both ears. And that's all it took to fix that measure. IT made a change and we communicated the how and why to the clinical staff and suddenly everything was working properly.
And how did you do on your eCQM submissions?
Sherry: Great! We worked on our numbers throughout the year so I knew which measures were performing well. ENCOR gave me the visibility to easily pick the measures to submit. Then Medisolv submitted the eCQMs for us. It was all very easy.
Lastly, do you have any suggestions for any teams that are struggling to have Quality and IT work well together?
Leigh: Both parties must be willing to listen and learn. IT is responsible for embracing the clinical aspect. They should understand what's important from a clinical perspective. And on the flip side, the Quality department (or at least one member from the team) has to be willing to learn about the technical aspects of eCQMs. Each team should take time to patiently teach the other.
Make changes slowly. Communicate frequently.
Sherry: I agree. A lot of times Leigh would remote in and look at my workstation. I could show her exactly what I was looking at and she could show me what she was looking at. This can be very helpful. And besides that, it just takes a lot of patience.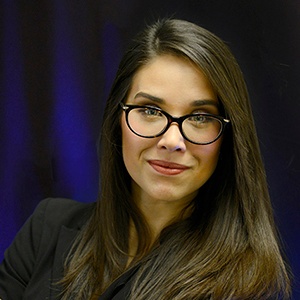 Erin Heilman is the Marketing Director for Medisolv, Inc.