Merry Medisolving: Featuring Laughlin Memorial Hospital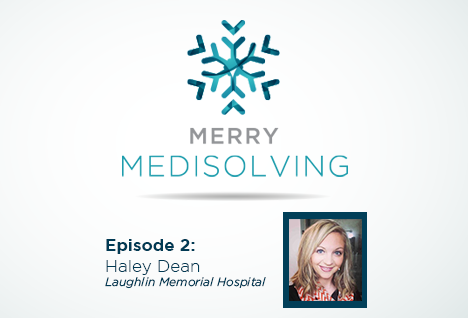 In this client story, we feature Haley Dean, Nursing Informatics Analyst at Laughlin Memorial Hospital. Haley's feelings on electronic quality reporting have changed dramatically over the last three years. "Now I am in charge of making sure everyone understands why all of this is so important in the lives of our patients. It's been quite a journey."
"When Meaningful Use first started, I would often wonder why we were doing this," Haley Dean from Laughlin Memorial Hospital said.
Name: Haley Dean, RN BSN
Job Title: Nursing Informatics Analyst
Hospital: Laughlin Memorial Hospital

Here we ask her a series of questions about her use of the Medisolv ENCOR product.
Currently at Laughlin you work as a Nursing Informatics Analyst. Is that what you always did for them?
No. I started out working in the ED department as an ER nurse for six years. Then one day a consultant came into the hospital to work on our EMR. They needed help with the MEDITECH ED module. So I was drafted. They wanted a nurse in IT. I was reluctant at first, but decided to join the team in 2013. I've been in this current position for three years.
Tell me about your current position.
Well I'll tell you, there is a lot more responsibility with this job. For me, it's more challenging than being an ER nurse. You see I'm the only nurse up here and I act as the clinical bridge due to my clinical background. I help with nurse and physician training, and also work on the different modules in MEDITECH that touch the clinical aspects. We have three clinics: general surgery, primary care and orthopedic. I handle the Meaningful Use and eCQM requirements for both the hospital and clinicians. So I wear a lot of hats.
How do you use the ENCOR for Eligible Clinicians product?
Well nowadays, since everything is going smoothly, I check Medisolv about once or twice a week. I check on things like our e-prescribing. If I notice that we are slacking, I can notify our CMO and request that he send out some encouragement.
I also use it to make sure our clinicians' results aren't dipping below in any of our quality measures. Each month, I send out a score card to all of our clinicians. This gives them an idea of how they are doing on their quality measures. They like to know what their scores are. And if I find that they are decreasing, I'll send them over some patient examples to help them understand what's happening to their score.
That's what I like about the product the most. I can go in and find information at the patient level. Then I can go back into our EMR and locate the specific nurse or physician that is missing the measure.
You started working with ENCOR about the time Laughlin transitioned to the new ENCOR for Eligible Clinicians. What were some of the challenges in the beginning while using ENCOR?
I know I did a lot of manually mapping when I first started the clinical quality measures! It took a lot of work with Medisolv to figure out the mapping. And once I did have it set up, things wouldn't work correctly. I would have to figure out if we mapped something incorrectly. Or if it wasn't the mapping that was the issue, it might have been user error. For a while, that's all it was. We had to figure out why we weren't getting the results we wanted.
We were actually on a bit of a time crunch too. We started in January of that year and we had to have it completed by June 1st.
So not only did we have to figure out the technical aspect, but also we had to get everyone trained. It's hard to just tell people, 'You've got to click this box.' You actually need to educate them on why they have to click that box. What's the reasoning behind that box? That was definitely a challenge.
What motivated your hospital to start electronically capturing your physicians' quality measures?
Of course, like a lot of people, we were forced to start capturing these measures to prevent us from being penalized by CMS. We knew we had to do this to meet our Meaningful Use and CQM requirements. This motivated us to start the process of blending these requirements into our everyday workflow with a focus of improving our quality of care for patients. That was the catalyst to get us started, so we are in a much better position today.
And how have you personally changed from the beginning with Meaningful Use to today?
Well you know, I tell this story to a lot of people. Before I started in this role, I was working in the ER and I was in my little bubble; clocking in, doing my job, clocking out. This journey has made me so involved with all facets of the hospital. I am educated on all of the departments and how the hospital is run.
I realize now, that it starts in the beginning, when a patient hits the door. Everything counts, from what we do with them, how we document, how we order and finally how we bill. When you work in the ER or ICU as a nurse, you just see that and it's hard to understand the big picture. I guess now I'm just a well-rounded person in all areas of our hospital.
Do you feel like ENCOR has helped you to manage that workflow? Do you think it's easier now than it was at the beginning?
I don't think that we could have been successful without ENCOR. The number one reason I think that is because I had a nurse as my Medisolv clinical consultant. Susan [from Medisolv] is amazing! To be able to 'talk nurse' back and forth was so helpful. You know, you get in there with all of these software people and they don't understand what VTE is or what Stroke is. But when a nurse suggests a way to do it, they really understand it from the perspective of clinical workflow.
Honestly, we were considering a different vendor when we were deciding on what to do for our Eligible Physicians, but they did not have the clinical background and I said, 'I'm not doing it unless I have a nurse to talk to.' That's why we chose Medisolv because your consultants had clinical backgrounds.
Now you have a PQRS submission coming up, right? But this isn't your first submission, correct?
No, it's not our first. Last year was the first time we submitted to PQRS. This year, we plan to do the eCQMs for PQRS in February of 2017 for the clinicians. Then all of this MACRA stuff starts.
How do you feel about the whole MACRA thing? I know a lot of people seem to be freaking out about it.
I think once I get educated on the whole process, I'll feel more comfortable. Right now everything is up in the air. We are not sure how everything is going to be calculated, that's what I'm worried about. But Medisolv will be assisting us with all of that so I know we will be ok.
What was the process for submission like in the past?
Painless. We just confirm that we have the reporting year selected and double check everything else. Then we take a snapshot to make sure it looks perfect. After that, Medisolv takes over and submits it. They let us know when it got there and if it was successful. That's how easy it is. eCQMs are painless for us.
Has your clinicians' quality performance improved since getting Medisolv?
I think it has because it makes them more alert as to what they are doing. During these educational sessions, I will show them specifically where they are failing the measure or where they have missed specific patients. This really opens their eyes. They say 'oh, ok. I get it now.' This constant monitoring allows them to be notified when they are getting low and reminds them to do certain things. We are human. Everyone needs a reminder now and then. But these reminders help each doctor to improve their personal quality measures.
Do you have any recommendations for someone in your position who is struggling with their clinician quality reporting?
They need a physician champion. I am a nurse and I can reach nursing, but physicians relate better with other physicians when it comes to how they practice medicine. So you get a physician champion, which for us is our CMO. The CMO really understands what's going on and can help push and educate physicians on their level.
I also recommend that you stay in close contact with your office managers, nursing and quality. It's all about education and communication. Education is big. You don't exactly learn this in school. If you can educate your staff on the importance of these specific queries, it betters the hospital and helps improve the quality of patient care.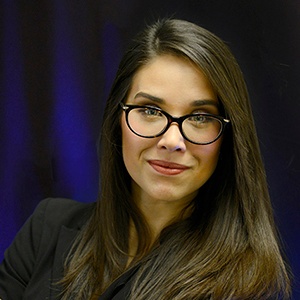 Erin Heilman is the Marketing Director for Medisolv, Inc.