Merry Medisolving: Featuring Rockdale Medical Center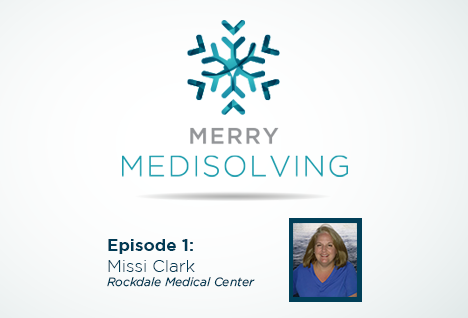 Ten years ago, when Missi Clark started working in the IT Department for Rockdale Medical Center as the Clinical Analyst, things looked much different. "We didn't even know what an eCQM was at that point," Missi laughs. "We've come a long way in a short period of time."
In fact, ten years ago, no one knew what an Electronic Clinical Quality Measure (eCQM) was because many hospitals were still using paper charts and abstracting their quality data. Missi has been around for a lot of the changes to the electronic capture of quality data.
Name: Missi Clark
Job Title: Director of Information Technology
Hospital: Rockdale Medical Center

In this article, we feature Missi Clark, Director of IT at Rockdale Medical Center and long-time Medisolv client. Here we ask her a series of questions about her use of the Medisolv product ENCOR for Eligible Hospitals.
So let's talk about your current position. When did you become the Director of IT for Rockdale? What was that process like?
Well I actually started out in nursing and that's where I was for many years. I kept being asked to help with the IT stuff in my department and was eventually asked to help implement the clinical documentation system for the hospital, so I moved permanently to IT in 2006. Some days I think to myself, 'how did I get here?' but here I sit and wouldn't change anything.
Rockdale has Medisolv's ENCOR software product; were you there when Rockdale started with ENCOR?
Yup! I was there at the very beginning in 2012. We were looking for someone to help us with our Meaningful Use reporting. That's when we found Medisolv. We chose Medisolv for many reasons one of which was that at that time they were one of the few Meaningful Use Vendors. They also had a much easier method of reporting for us and offered comprehensive consultation services. I've worked with Kristen Beatson from Medisolv for about five years now. She's wonderful.
What year did you start implementing eCQMs?
The Meaningful Use legislation is what got us started. It was back in 2011 and I can remember that the burden fell heavily on IT that year. We had to figure out what was required and then make it work. That's really how I became familiar with eCQMs.
Can you tell us a little bit about what the eCQM implementation process looked like for you?
Wow! Well, it was quite a process. When Meaningful Use started, I can remember our hospital made a conscious decision to be proactive. So for us, it was important that we get it right from the very beginning.
We joined up with Medisolv and the first thing we did was what's called a "current state assessment." It covered everything. We had to answer a ton of questions, like 'are we capturing certain data? If so, where, how and who is capturing it?' The assessment helped to reveal changes we needed to make to our clinical workflows, and it also helped identify our hospital's educational needs. It covered all of that and more, but I won't bore you with all of those details.
After the assessment, we began the process of implementation, which included reviewing and understanding the measure specification logic. Kristen and I worked together to identify all of the data elements that we needed to capture. We reviewed the value sets for each measure, which included codes that then needed to be mapped to the specific places where they were being captured in our EHR.
And that was just the implementation phase. We did so much testing and troubleshooting and adjusting over the years. I'm probably oversimplifying the implementation process and if that already sounds complicated…it was! You should see my notes from those days.
[In fact, we have those notes! Take a look here.]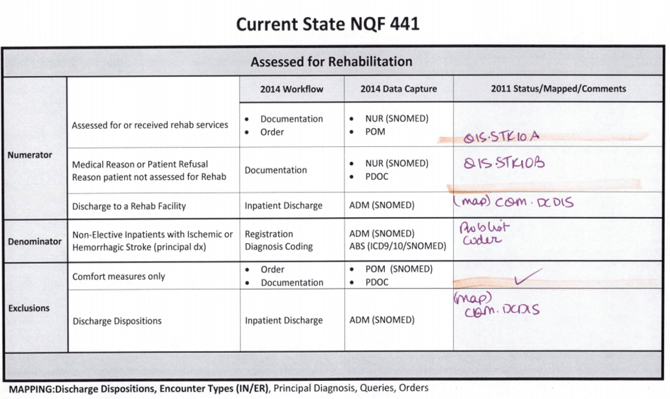 What were some of the challenges around implementation?
eCQMs are a different animal than Core Measures. There is no room for subjectivity. Either the measure was documented correctly in the EHR at the appropriate time or we fail the measure. If one little thing is wrong with how we mapped the code or the clinician doesn't document the measure correctly, then it can throw our measure results off.
At first, we had a lot of things that needed to be ironed out. Much of the documentation was free text or dictated by providers, so we could no longer do that. And getting all of our providers to document electronically was well … a struggle. And from their perspective, they felt like IT was controlling their care process and restricting their workflow. We had to work together to improve the process. We made a point to provide education to all of our clinical staff on what to do and why it mattered.
We also really struggled with EHR application functionality. Our EHR vendor had to get ready and be certified for Meaningful Use compliance at the beginning, which meant that new versions of the software were needed and had to be rolled out to the staff. That created a headache. We had to ask ourselves; 'how do we build the system to collect the data seamlessly? How is the data mapped in the EHR for collection?'
And now, even though our EHR is certified and our providers are much better about documentation, we still have to continually check the measure specifications to confirm that our EHR is in compliance with the new codes and specifications. This can sometimes cause validation challenges. When our eCQM results don't look right or are drastically different from our chart-abstracted measures, we have to figure out what is wrong. Sometimes it could be a specification change we didn't catch or it might be another clinician documentation error.
Thankfully I could lean pretty heavily on Medisolv during this process. They are very proactive about sending us information when specifications change or if there is anything else we need to be aware of.
Many hospitals struggle with aligning all of the various departments during implementation, do you have any advice on how to successfully collaborate?
Yes, I would agree that department alignment can be difficult. I truly feel that communication and research are the two keys to success. There are lots of moving parts in this process. In the beginning, I swear I had Kristen's number on speed dial. I would have one or two or 15 questions and get the information I needed from Kristen. Then I would be in constant communication with the Quality department and executive leadership to help them get the answers to the questions they had.
This process doesn't really end either. We still have quarterly and ad hoc meetings to communicate with the Quality department when new or existing gaps in the measures are identified. This helps us to stay synced up.
In what year did Medisolv first submit eCQMs to CMS on your behalf?
Medisolv submitted our eCQMs to the CMS IQR [Inpatient Quality Reporting] Program for the first time this year. It was a great accomplishment for us. We had been working diligently to be ready for submission and when Medisolv completed the submission for us, I know that I felt relieved and proud.
What was the process for submission like?
It was a breeze! We had worked so hard over the past few years that it was really pretty simple. We got an email from Medisolv asking us which quarter we would like to submit and which measures. Then a month later we got a report that showed us that our measures had been successfully submitted.
Has your hospital's quality performance improved since getting Medisolv?
Oh, absolutely. Before we installed ENCOR, the month would end before we had anyone working on analyzing our performance. We would finally receive some feedback about performance, but it would be too late to make an impact for that next month. Now we have daily visibility into our measure results. We can quickly identify where our measures are failing and why.
How did having ENCOR impact your IT department?
At first, it was much more work for us. We took the lead on implementing the eCQMs and addressing any gaps in performance. But now, I am finding that our burden is less and less. Today, if I had to be pulling SQL queries all the time, I'd probably go out of my mind. Like I mentioned, ENCOR gives everyone in our organization the reports that they want without having to rely on the IT department.
How do you feel about your readiness for next year's full year eCQM reporting requirement?
Next year will be challenging in its own way. The IQR program requires eight eCQMs next year and you have to report for the entire year. Now The Joint Commission will be requiring six eCQMs for accreditation too. So we will continue to work on improving our measure results and improving clinician workflow. But overall, I feel really good about where Rockdale is situated. If it's anything like this year, 2017 should be pretty straightforward.
Do you have any recommendations for hospital's who are struggling with the eCQMs process?
Honestly, my recommendation is to not struggle on your own. I can't emphasize enough how important it was for me to have an expert resource to work with. There are so many changes going on in the quality reporting sphere right now and I don't have time to keep on top of the changes and handle all of my other responsibilities. Of course I would recommend Medisolv, not just because the product provides you with what you need, but also because the consultants are terrific. You can do it alone, but you'll waste a lot of time searching for answers that, for me, are only an email or phone call away.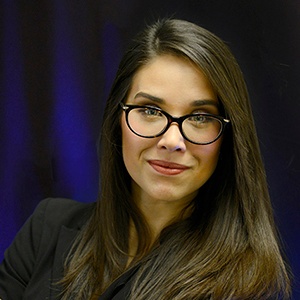 Erin Heilman is the Marketing Director for Medisolv, Inc.