Two of the available options for Eligible Clinicians to submit their Quality measures data to CMS include EHR direct data submission or Qualified Registry data submission. Today, we are going to learn what measures are available in each of those reporting options and how the measures differ.
Electronic Clinical Quality Measures, or eCQMs, are only available for submission through a certified EHR such as Medisolv. "Registry measures," on the other hand, are only available for submission through a Qualified Registry also like Medisolv.
Eligible Clinicians may choose to submit any of the 53 eCQMs or 243 Qualified Registry measures listed on the Quality Payment Program (QPP) website.
By choosing six Quality measures from either of these submission methods, you will be well on your way to successfully meeting your MIPS requirements for the Quality category.
Let's take a look at what makes these two reporting options different and why a clinician may choose one option over the other.
Capturing MIPS eCQMs vs Registry Measures
The main difference between eCQMs and Registry measures is that eCQMs require structured data to be captured electronically, often at the point of care, while in most cases, Registry measures have some level of additional manual data collection from the medical record often referred to as data abstraction.
For example, with Registry measures, an abstractor can review the patient's records (electronic and paper documentation) to assess whether the patient has passed or failed the measure. Even if a physician documented in a hand-written note that they prescribed aspirin for the patient, an abstractor could use that documentation to confirm that the patient did pass the Registry measure #0067: Coronary Artery Disease (CAD): Antiplatelet Therapy.
With eCQMs, the clinician documents in a structured field within the Electronic Health Record (EHR), usually as part of a clinical workflow ( e.g., ordering a medication using an electronic order entry system or documents a valid reason for not doing an expected intervention). This data is consumed by the eCQM calculation engine without additional manual data entry.
Below we summarize differences in both types of measures.
MIPS eCQM Process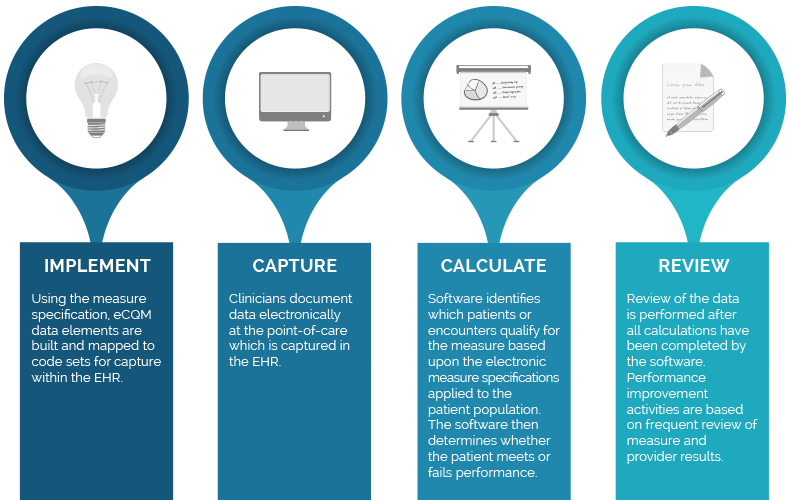 MIPS Registry Measure Process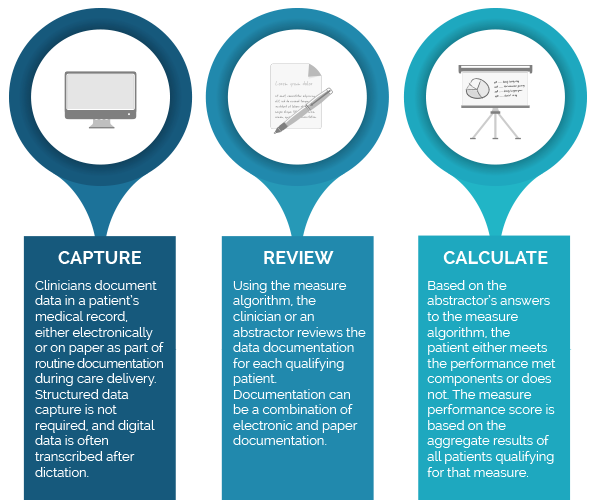 Calculating eCQMs vs Registry Measures
In addition to differences in data capture, the specifications and result calculations are also quite different.
Comparing Specifications
The specifications for each measure differ significantly as well. Let's take a look at the differences between the specifications at a very high-level.
| | |
| --- | --- |
| MIPS Registry Description Section | MIPS eCQM Description Section |
| #0067: Coronary Artery Disease (CAD): Antiplatelet Therapy | CMS122: Diabetes: Hemoglobin A1c (HbA1c) Poor Control |
| | |
If you compare the descriptions, it all looks pretty similar. Each measure has a name, type, description and rationale.
Now let's review the logic.
| | |
| --- | --- |
| Registry Specification Logic (Algorithm) | eCQM Specification Logic |
| #0067: Coronary Artery Disease (CAD): Antiplatelet Therapy | CMS122: Diabetes: Hemoglobin A1c (HbA1c) Poor Control |
| | |
When you get to the logic, it starts to look different. With the Registry measure, a nice visual guides the abstractor through the measure. As you answer yes or no, it will lead you to the correct end result.
In the eCQM logic, you will see what's called Boolean logic, which guides a computer through the measure logic and places patients into the appropriate result. Data elements in the EHR are mapped to codes. Each line you see in that logic will require a corresponding code to ensure that it's captured correctly. If there isn't a code present or if it's the wrong code or if the documentation is not in the EHR, the patient may fall out of the measure.
Why would an Eligible Clinician choose eCQMs vs Registry measures?
One of the most common reasons Eligible Clinicians choose Registry measures is if there are not enough measures relevant to their specialty to meet the minimum reporting requirement. The down side is continued abstraction burden and lack of timely results to clinicians for performance improvement.
On the flip side, eCQMs (though they may be more difficult to implement) provide near real-time reporting and have less costly ongoing maintenance.
I hope this quick summary of the differences between MIPS eCQM vs Registry measures was helpful. In a future blog, we will explore some other quality reporting options available in the Quality Payment Program (QPP).
If you need help submitting your Quality data using eCQMs, Registry or Web Interface methods, reach out to us today. We can help you with all of your MIPS reporting needs.
---
WEBINAR:
MIPS ECQMS VS REGISTRY MEASURES: WHAT'S THE DIFFERENCE?
Wednesday, June 5, 2019
1 P.M. ET | 12 P.M. CT | 10 A.M. PT
How should you meet your Quality category requirements for the MIPS program in 2019? Should you submit MIPS eCQMs or Registry measures? What's the difference and which option is better?
In this free educational webinar, we'll go over what makes up these two measure types. We'll also discuss why a clinician may choose one option over the other.
Objectives:
The differences between MIPS eCQMs and Registry measures
CMS' recent terminology change from "Registry" measures to "MIPS CQMs"
Why choosing MIPS eCQMs or Registry measures may be better suited for your needs
Medisolv has the tools to help your organization gear up for quality reporting success. In this FREE 24-page eBook, you'll learn about MIPS Year 3 and find all the information needed to complete the program in 2019.
Featured Speaker:
Susan Moschella
Senior Manager of MIPS Measures
Medisolv, Inc.

Tags:
Quality Reporting, MACRA/MIPS Program, Academy