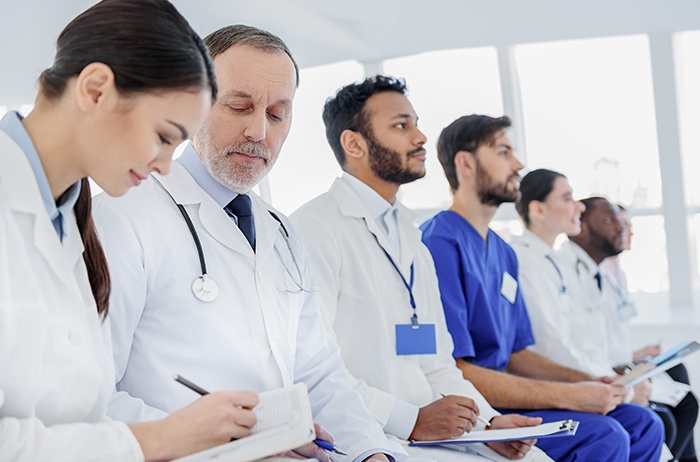 MIPS is in full force. We are in the third year and the competition to make the most money is fierce. This is because in 2019, hospitals can add up to +7% to their 2021 Medicare reimbursements. But it's turning out to be harder than people thought to make top dollar.
In a recent report, CMS revealed that 1.88% was the maximum positive adjustment for the best MIPS performers in 2017, even though CMS said participants could gain up to 4% for their performance. On the other hand, the worst performers really did lose -4% to their reimbursements. That means it's more important than ever to achieve the highest score possible in MIPS in order to maximize your reimbursement payment.
The best way to begin is to learn. Here is a summary of the 2019 MIPS requirements for you to begin your studies.
Who is Eligible for MIPS
The following titles are eligible to be a part of the MIPS program in 2019.
Physician
Physician Assistant
Nurse Practitioner
Clinical Nurse Specialist
Certified Registered Nurse Anesthetist
Physical Therapist
Occupational Therapist
Qualified Speech-language Pathologist
Qualified Audiologist
Clinical Psychologist
Registered Dietitian or Nutrition Professionals

And it's not just a title that makes you eligible for this program. You must also:
Bill Medicare more than $90,000 annually
AND
Provide care for more than 200 Medicare patients a year
AND
Provide 200 or more covered professional services to Medicare patients
If you do not meet all three of these requirements, then you are excluded from MIPS for 2019.
However, if you are anxious to get some of that positive adjustment and you would like to participate in MIPS 2019, you may do so as long as you meet any one of those requirements. If you don't meet any of those requirements, then you cannot opt-in to the program.


MIPS 2019 Payment adjustment
If you are eligible and do not achieve the score threshold of the MIPS program, you could lose up to -7% of your Medicare fee reimbursement to your 2021 payments. On the flip side, you can earn up to +7% PLUS bonus money for top performers.
Note: This payment adjustment will be made to your fiscal year 2021 Medicare fee schedule.
Category Requirements for MIPS 2019
Each category of MIPS has a different set of requirements that you must follow in order to fully participate and have your best chance at earning incentive money.
There are four categories that make up the MIPS program.
Quality

Promoting Interoperability


(Formerly Advancing Care Information)

Improvement Activities

Cost



Each of these categories carries a different weight. Your score in each category will be totaled into one final MIPS score.

QUALITY CATEGORY
Maximum Points: 60 points
Category is Worth: 45% of total MIPS score
Performance Period: 365 days
Requirements:
| | |
| --- | --- |
| | Report a total of six Quality measures to CMS. |
| | Submit at least one Outcome measure unless there is not one available in your specialty measure set. If that is the case, you can report another High Priority measure in its place. |

Other Considerations
Submit Multiple Types of Quality Measures
You may submit measures using multiple collection types – for instance, you can submit eCQMs, MIPS CQMs (formerly registry measures) and QCDR measures. CMS will use the one with the greatest score.
Claims Submissions for Small Practices Only
You can only submit your Quality measures as claims if you are an eligible clinician in a small practice.
CAHPS for MIPS
Submitting the MIPS CAHPS Survey, will count as reporting one High Priority measure. Select five other Quality measures to report, including an Outcome measure if available.
Case Minimum
Quality measures must meet the 20-case minimum to be scored.
Data Completeness
Measures must contain at least 60% of all Eligible Clinician patients across all payers.
Promoting interoperability CATEGORY
Maximum Points: 100 points
Category is Worth: 25% of total MIPS score
Performance Period: 90 days (minimum)

Requirements:
| | |
| --- | --- |
| | Report on six measures. |
| | You muse use EHR technology certified to the 2015 edition of CEHRT. |
Other Considerations
Must report on all measures
If you do not report on any of the required measures (or if you do not claim an exclusion) you will receive a total score of zero in this category.
Reweighing the PI category
CMS will automatically assign a weight of zero to this category for the following titles: NP, PA, CRNA, CNS, PT, OT, Speech Pathologist, Audiologist, Clinical Psychologist, Registered Dietitian. If, however, you want to participate in this category, you may submit the data in this category and you will be scored according to your performance.
Security Risk Analysis Measure
Even though the Security Risk Analysis measure will award you no points in 2019, you are still required to attest to having completed the actions included in this measure at some point during the calendar year.
IMPROVEMENT ACTIVITIES CATEGORY
Maximum Points: 40 points
Category is Worth: 15% of total MIPS score
Performance Period: 90 days (minimum)

Requirements:
| | |
| --- | --- |
| | Report a combination of Improvement Activity measures (up to four measures) to equal a total of 40 points. |
| | Groups with <15 participants or groups in a rural or health professional shortage area have their points doubled in this category. |

Other Considerations
Patient-Centered Medical Homes
If you are a Patient-Centered Medical Home and more than 50% of your practices are recognized as a PCMH, you automatically receive full credit for this category.
No PI bonus eligible measures
In the past, CMS awarded bonus points to the PI category for any IA measures you submitted using the 2015 Edition of CEHRT. There are no bonus points for these measures this year.
COST
Category is Worth: 15% of total MIPS score
Performance Period: 365 days

Requirements:
| | |
| --- | --- |
| | CMS will evaluate your performance on these two measures: Medicare Spending per Beneficiary (MSPB) and Total Per Capita Cost. |
| | CMS will evaluate your performance on these eight episode-based measures. |
Measure Name
Measure Type
Elective Outpatient Percutaneous Coronary Intervention (PCI)
Procedural
Knee Arthroplasty
Procedural
Revascularization for Lower Extremity Chronic


Critical Limb Ischemia
Procedural
Routine Cataract Removal with Intraocular Lens (IOL) Implantation
Procedural
Screening/Surveillance Colonoscopy
Procedural
Intracranial Hemorrhage or Cerebral Infarction
Acute inpatient medical condition
Simple Pneumonia with Hospitalization
Acute inpatient medical condition
ST-Elevation Myocardial Infarction (STEMI) with


Percutaneous Coronary Intervention (PCI)
Acute inpatient medical condition
Other Considerations

Case Minimums

CMS requires a case minimum of 35 for the MSPB measure and 20 for the Total Per Capita Cost measure.

CMS also requires a minimum of 10 episodes for the procedural measure types and 20 episodes for the acute inpatient medical condition measure types.

Reporting Options
In 2019, you may choose to report as an individual, group, large practice or virtual group.
Individual
This is defined as a single National Provider Identifier (NPI) tied to a single Tax Identification Number (TIN).
Group
Reporting as a group is defined as a set of clinicians (identified by their NPIs) sharing a common TIN. You must report group-level data for each MIPS category.
Large Practice
Large practices with >25 providers may choose to report via the CMS Web Interface. For this reporting option you must report on all CMS Web Interface measures with a full year's worth of data.
Virtual Group
Individual clinicians and small groups have the option of coming together to form one virtual group that can report together. Groups must be comprised of 10 or fewer Eligible Clinicians and, as a group, exceed the low-volume threshold.
Note: If you choose to participate in a Virtual Group, you must tell CMS prior to December 31, 2018.
MIPS final SCORe 2019

MIPS 2019 Score Threshold
To avoid a -7% penalty, you must score at least 30 points.
To be eligible for bonus money you must score at least 75 points (Exceptional Performance Bonus).
Reimbursements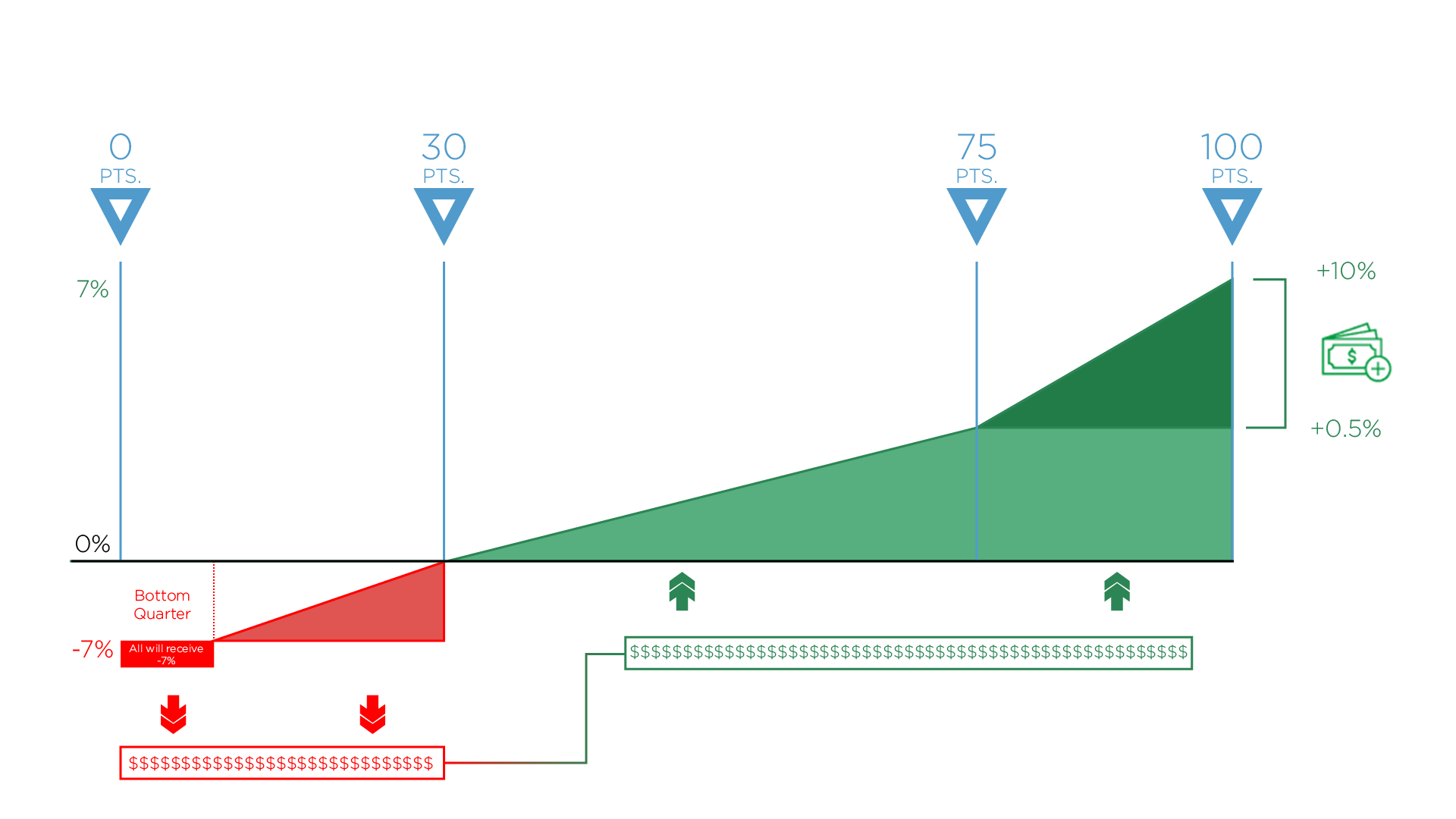 0-29 Points
If you do not meet the 30-point, performance threshold in 2019, you can lose as much as -7% from your 2021 Medicare fee schedule (in red above).
30-100 Points
CMS will take the funds of those who did not meet the threshold (in red) and distribute them among those who did meet the threshold (in green). Anyone whose MIPS score is between 30 and 100 points will receive some portion of those funds – up to a 7% increase to their 2021 Medicare fee schedule.
75 Points
By scoring at least 75 points, you'll be eligible for the Exceptional Performance bonus money (on the right). CMS has set aside an additional $500 million to distribute to anyone who scores between 75 – 100 points. This is on top of whatever portion of money you receive from those who do not participate (in red).
mips 2019 Bonus Points
There are many opportunities to get bonus points within the MIPS program.
Improvement Bonus: Up to 10 Points
Clinicians will be rewarded if they demonstrate any improvement to their 2019 Quality score over last year (pending there is enough data for comparison).
Electronic Submission: Up To 6 Points
Receive up to 6 bonus points by submitting your Quality measures via electronic submission.
Additional Measure Submission: Up to 6 Points
By submitting additional Outcome (2 points) High Priority measures (1 point) in the Quality category, you can be rewarded up to 6 bonus points.
Opioid measure bonus: Up to 10 Points
Report on either or both of these measures and receive 5 bonus points for each measure in the PI category: Query of Prescription Drug Monitoring Program and/or Verify Opioid Treatment Agreement.
Complex Cases Bonus: 5 Points
For clinicians who work with patients that have more complex cases, CMS will award up to 5 bonus points to the clinician's MIPS final score.
Small Practice Bonus: 6 Points
An additional 6 bonus points will be added to the numerator of the Quality category for anyone qualifying as a small practice.
IMPORTANT DATES TO REMEMBER
January 1, 2019 is the start date to track 365 days of Quality and Cost category measures. For the Promoting Interoperability category and the Improvement Activities category, you may start between January 1 and October 2, 2019 to track your measures for a minimum of 90 days.
The last day to submit all of your performance data is March 31, 2020.
Medisolv MIPS Package
Medisolv Can Help
Medisolv's quality reporting software, ENCOR, is designed to meet your MIPS reporting needs. Our solution spans both the ambulatory and inpatient settings and includes consulting and submission services.
Learn how we can help you successfully submit to the Quality Payment Program. Contact one of our MIPS professionals >>
---
DOWNLOAD:
BEGINNER'S GUIDE TO MIPS YEAR 3
Medisolv has the tools to help your organization gear up for quality reporting success. In this FREE 24-page eBook, you'll learn about MIPS Year 3 and find all the information needed to complete the program in 2019.
This guide includes:
Eligibility criteria
Reporting options
Category requirements