Get Equipped for MIPS 2018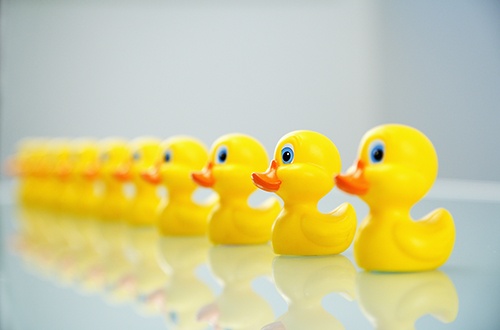 Are you familiar with each of the category requirements for MIPS 2018? Do you and your team know what to report on to achieve the best possible MIPS score?
Getting all your ducks in a row for a successful MIPS submission can be challenging, especially if you wait until the last minute to do your research and make a game plan. Keep in mind that unlike 2017, there are four different categories that will make up your total MIPS score in 2018: Quality, Improvement Activities (IA), Promoting Interoperability (PI, formerly Advancing Care Information) and new this year, Cost.
In a previous post, we provided worksheets and a measure list to help you start preparing for round two of MIPS. Today, we've laid out all the 2018 category requirements with a few tips to help maximize your performance and overall results.
MIPS Scoring
Let's start with a refresher on how CMS calculates and finalizes your MIPS score. Take a look at the graphics below for the breakdown.
Category Percentages
Each of these categories are worth a percentage that count towards your overall final score.

Reimbursements
MIPS scores are calculated for each category and assigned decile scores, which are totaled and then weighted. The goal is to achieve an overall composite score of 70 points to get the maximum reimbursement.
For 2018, Eligible Clinicians can receive a negative reduction of up to -5% and a positive adjustment of up to +5%. This increased by one percent (-4% and +4%) from last year.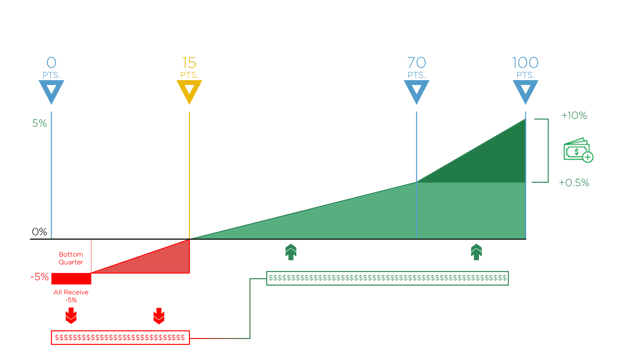 MAXIMIZING MIPS PERFORMANCE
Quality Category
Requirements: Report a total of 6 Quality measures. Submit at least one Outcome measure unless there is not one available in your specialty measure set. If that is the case, you can report another High Priority measure in its place. Based on performance you can accumulate a score of greater than 60 deciles for this category.

Max Category Points:

60 points (60 points = 50 total MIPS points)
Max Total MIPS Points

:

50

Performance Period: 365 days

TIPS FOR SUCCEEDING IN THE QUALITY CATEGORY:
Report the required 6 measures from the available measure set.
Report at least one Outcome measure if available.
Report on your best performing measures for optimal results.
Choose measures with bonus points wherever possible.
Report measures with benchmarks.
Report measures that meet case minimum/data completeness thresholds.
Avoid reporting on measures that are topped out.


Also See: Understanding MIPS 2018: Cost and Quality
Improvement Activities Category
Requirements: Report a combination of IA measures (up to 4 measures) to equal a total score of 40 points.

Max Category Points:

40 points (40 points = 15 total MIPS points)
Max Total MIPS Points

:

15
Performance Period: Minimum of 90 days
TIPS FOR SUCCEEDING IN THE IA CATEGORY:
Start as early as possible so you can use this category to improve.
Make sure to confirm that 50% of the practices within your TIN are recognized as PCMHs or APMs.
Choose quality measures that you are already working on or measures pertinent to your group. If you're not sure, be proactive by talking to your Quality department and reviewing your options.
Document your starting point, and be sure to start no later than October 2, 2018.
Keep evidence that you worked on each measure for 90 consecutive days and note the improvements that were made. This will help your team keep track of the progress made over time.
Select an IA measure that is designated for a Promoting Interoperability (Advancing Care Information) CEHRT bonus, which is worth an additional 10 bonus points.

Remember that even though you are not required to improve, it's always a good idea to aim for improvement.
Also See: Understanding MIPS 2018: Improvement Activities
Promoting Interoperability (Advancing Care Information)
Requirements: Report all Base measures using either the 2014 or 2015 CEHRT list of measures (measures change depending on which version of CEHRT you use). Choose additional Performance measures and submit enough measures to reach the 100-score threshold.

Max Category Points: 100 points (100 points = 25 total MIPS points)
Max Total MIPS Points: 25 points

Performance Period: Minimum of 90 days

TIPS FOR SUCCEEDING IN THE PI CATEGORY:
Start your 90-day reporting period by October 2, 2018.
Report ALL Base measures to earn the initial 50 points.
Report enough Performance measures to achieve the 100-point threshold.
Report one Public Health measure to earn 10 points.
If possible, implement both 2014 and 2015 PI measures and submit the best results.


BONUS POINTS:
If you want five additional points added to your score, report a second Public Health measure.
Select an IA measure for a 10-point bonus.
Use the 2015 edition of CEHRT for a 10-point bonus.


Remember, performance does matter.
Also See: Understanding MIPS 2018: Advancing Care Information
Cost Category
| | |
| --- | --- |
| | Max Weighted Points: 10 |
| | Performance Period: 365 days |
While the measures are calculated by CMS, you should assess your score based on past results. There are 10 points assigned for these measures.
Here are a few reminders to keep in mind:
Your performance for the Cost category is based on the average of two measures—the Medicare Spending per Beneficiary (MSPB) and the Total Per Capita Costs for All Attributed Beneficiaries (TPCC) measures. Your performance will be compared to all other Eligible Clinicians enrolled in the MIPS program.
CMS will calculate your Cost score using administrative claims data, and you won't be able to predict what that score will be. You can only look at what your costs are this year and work toward reducing them.
Your Cost score will be included in your total MIPS score, but it won't be calculated by CMS until after submission is complete.
CMS will provide feedback after the end of the reporting year, so be sure to take some time to review your results and start making a plan for improvement.
Review the Cost points you achieved on the Final Score at a Glance report from CMS.
The Cost category will gradually increase by 30% of your total score in 2022.
There's a lot to think about when it comes to reporting your data for each of the MIPS categories—and that's where we come in.
When you utilize a MIPS vendor like Medisolv, you can feel confident about achieving your MIPS reporting goals. In addition to our acclaimed quality management software, you'll get to work with a clinical expert like me who will work closely with you throughout the year to provide insight on each of the category requirements, help with measure selection and consult your team on quality performance improvement. We'll ensure that you'll end up with the best possible results and take care of final submission on your behalf.
Why wait? Reach out to us today and start gearing up for 2018 MIPS success.
---
DOWNLOAD:
BEGINNER'S GUIDE TO MIPS YEAR 3
Medisolv has the tools to help your organization gear up for quality reporting success. In this FREE 24-page eBook, you'll learn about MIPS Year 3 and find all the information needed to complete the program in 2019.
This guide includes:
Eligibility criteria
Reporting options
Category requirements
Important dates to remember