Readmission Prevention Checklist [DOWNLOAD]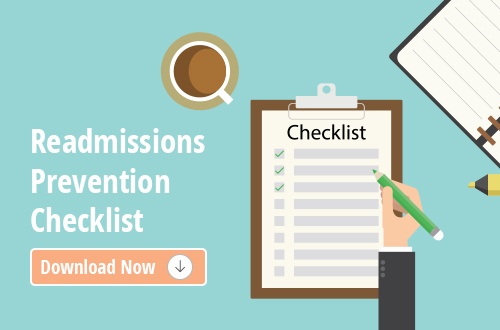 Did you know that almost 80% of hospitals nationwide received a penalty to their Medicare reimbursement payments in 2018 due to their hospital's readmission rate?1 Hospital readmission rates continue to be a problem in our country. However, there are tools that hospitals can leverage to help them predict the likelihood of a patient coming back into their hospital. Using this predictive tool, Medisolv created a handy Readmission Prevention Checklist—and you can download it for free! The checklist will help your hospital get started on a plan to intervene with your high-risk inpatients.
The history of preventing hospital readmissions
Before you pull our checklist, let's dig a little deeper into hospital readmissions. For many years now, hospitals have been working on reducing the readmission rate of their patients. The need for this reduction was prompted by the Affordable Care Act which established the Hospital Readmissions Reduction Program. You can probably guess why this became a hot issue – with this program, like so many government programs, CMS began reducing Medicare reimbursement payments to hospitals that had excess readmissions.
CMS could take up to 3% of regular reimbursements for hospitals if they have an excess number of readmissions within 30 days of discharge for six conditions:
Chronic lung disease
Coronary artery bypass graft surgery
Heart attacks
Heart failure
Hip and knee replacements
Pneumonia

Also See: How much could you lose from these Quality Reporting programs? [INFOGRAPHIC]
In the first year alone, over 2,200 hospitals were penalized for excess readmissions. Over time, the number of hospitals being penalized plateaued which may sound like a good thing, but the stats aren't as cut and dry as they appear. Did you know that 2,573 hospitals had their Medicare reimbursement payment reduced this year? And another 1,500 hospitals were excluded from reporting to the readmission program. That means of the 3,241 eligible hospitals in the United States, 2,573 were penalized. That's about 80%.1, 2
What's that telling us exactly? Well it's hard to say for sure. It honestly depends on which study you read. One study points to an 8% drop in readmissions nationwide from 2010 – 2015.3 Other studies suggest that there has not been any reduction in readmissions from 2012 – 2015.1 Perhaps hospitals became less incentivized over time. The hospitals that were able to come up with a solution to their readmission problems implemented that solution while the remaining hospitals decided to just take the penalty as an added expense each year. This theory would be supported by the fact that almost all of the hospitals that received a penalty this year had received a penalty in 2017 as well.
In either scenario, 80% doesn't seem like a good number for excess readmissions. The good news is that there are some ways to work on this problem in your hospital. One of the common ways to "predict" the likelihood that a person will be readmitted to the hospital is by using a methodology called the LACE Index.
What is the LACE Index?
The Ottawa Hospital Research Institute, along with other contributors, published an article in the Canadian Medical Association Journal years ago about reducing readmissions. The researchers were attempting to create an easy-to-use index that would quantify the risk of readmission after discharge from a hospital and help clinicians identify patients who might benefit from more intensive post-discharge care. The researchers formulated an algorithm called the LACE Index that uses variables commonly available to clinicians. The algorithm calculates a score that correlates to the probability of an unplanned readmission within 30 days. This probability allows hospitals to better utilize their resources by focusing them on patients who are at higher risk for readmission.
The LACE acronym stands for Length of Stay, Acuity of Admission, Comorbidity and Emergency visits in the previous six months. Based on the variable in the first column the patient is assigned a score. You then add the scores together for each attribute to achieve a final score. The greater the final score, the greater the chance of that patient coming back into the hospital.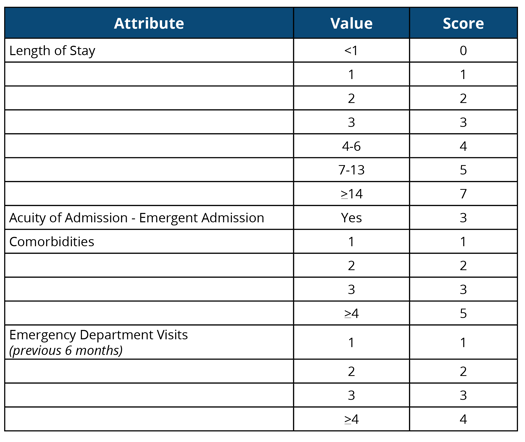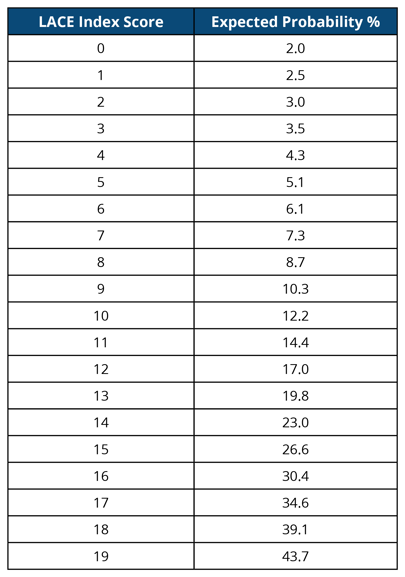 What to do with high-risk patients?
This LACE score is only beneficial to your hospital if you can assess the patient's risk while they are still in the hospital. Once they leave your hospital it's too late. When hospitals implement some type of predictive analytics tool like you see here, they ideally need to be able to access the data daily, so they can intervene with their high-risk patients.
What does it mean to intervene exactly? Of course, the answer to that question depends on your hospital. You need to figure out what makes the most sense for your clinicians and your discharge procedures. Download our Readmission Prevention Checklist to get started. Keep in mind that this is just a sample of what you could do in your hospital; it's not intended to be a one-size fits all, but it can help steer you in the right direction.
Having the right tools to help you with your readmission reduction efforts is the key to success. That's why Medisolv's RAPID software has the LACE score built right into the product. Hospitals can see the predictive readmissions score for all of their current inpatients on a daily basis. With accurate and timely access to your hospital's data, you can work toward cutting down on readmissions and avoid costly penalties from CMS.
Sources:
1. https://www.advisory.com/daily-briefing/2017/08/07/hospital-penalties
2. https://www.cms.gov/Medicare/Medicare-Fee-for-Service-Payment/AcuteInpatientPPS/FY2018-IPPS-Final-Rule-Home-Page-Items/FY2018-IPPS-Final-Rule-Data-Files.html?DLPage=1&DLEntries=10&DLSort=0&DLSortDir=ascending
3. https://www.beckershospitalreview.com/quality/every-state-but-1-lowered-hospital-readmissions-since-2010-cms-data-shows.html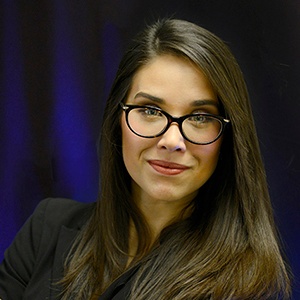 Erin Heilman is the Marketing Director for Medisolv, Inc.