Since eCQM reporting to the IQR program became a requirement in 2016, hospitals and clinicians have had to give some serious thought to the structure of their eCQM program. Some hospitals had everything set up as a result of the Meaningful Use years, and others only began the eCQM implementation process to ensure they could fulfill the IQR requirement.
Medisolv wanted to know how difficult this process was for hospitals. We were also curious to find out if monitoring eCQMs after the initial set up is burdensome to hospitals.
In a recent Medisolv survey, we asked over 200 medical professionals—both current and non-Medisolv clients—to tell us about their eCQM experiences over the years. Today, we're sharing the results!
Let's dive in.
WHO ARE THEY?
Most of our survey participants work in the IT or Quality department within their hospital, have 10 or more years of experience in the medical field and are actively involved in monitoring and improving their eCQM results.

eCQM PERFORMANCE OVE
R THE YEARS
When asked about the progression of their eCQM performance, a large percentage of our survey participants said that they have noticed an improvement in their eCQM performance over the last three years.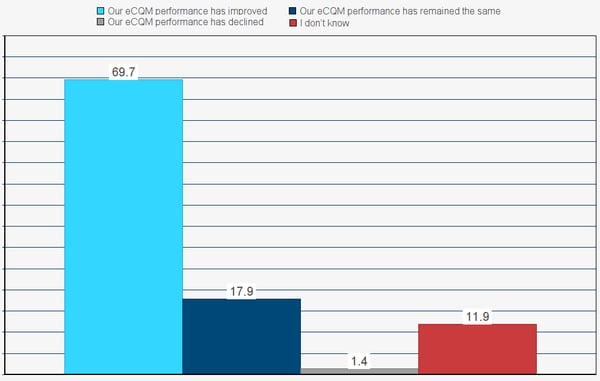 eCQM SUBMISSIONS
We asked participants to rank their level of confidence when it comes to the validity of the eCQM data that they submit to CMS. A staggering amount of them said that they have confidence in their eCQM results.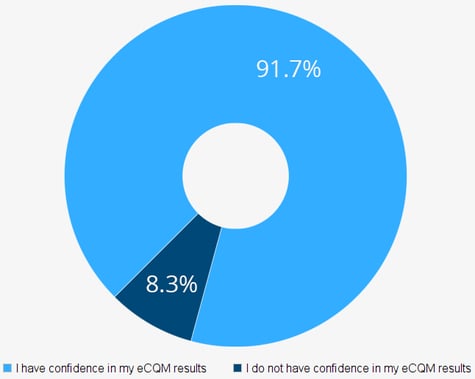 In our analysis, however, if you looked at just the non-Medisolv client respondents, you'd see that a whopping 30% of them said that they do not have confidence in their eCQM results. That's a 21.7% difference.
NON-MEDISOLV CLIENT RESPONSES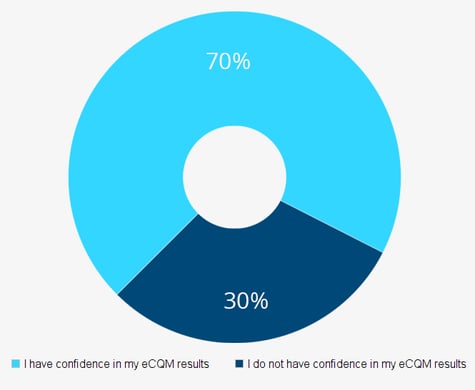 For this survey, we wanted to understand how difficult the initial eCQM implementation phase was compared to the ongoing eCQM maintenance phase.
The initial implementation phase includes the following tasks:
Performing a current state assessment of the EHR functionality and the current workflows in place;
Mapping and building within your EHR system;
Testing the results of your eCQM data and troubleshooting any technical issues;
Going live with eCQM data;
Reviewing eCQM reporting requirements selecting measures to track, educating staff on workflows and best practices;
Validating, monitoring, analyzing and improving your eCQM results;
And submitting eCQMs to the CMS IQR and The Joint Commission ORYX® quality initiative program for the first time.

The maintenance phase, on the other hand, means:
Reviewing the annual updates to the eCQM specifications;
Implementing any required changes based on the updates;
Validating, monitoring, analyzing and improving your eCQM results;
And submitting eCQMs to the CMS IQR and The Joint Commission ORYX® quality initiative program.

Both the eCQM implementation and maintenance phase seemed to be a relatively simple and manageable process for our survey participants.
IMPLEMENTATION PHASE
First we asked respondents if they were required to add any additional staffing resources during the eCQM implementation phase. The majority said they did not have to add staffing resources.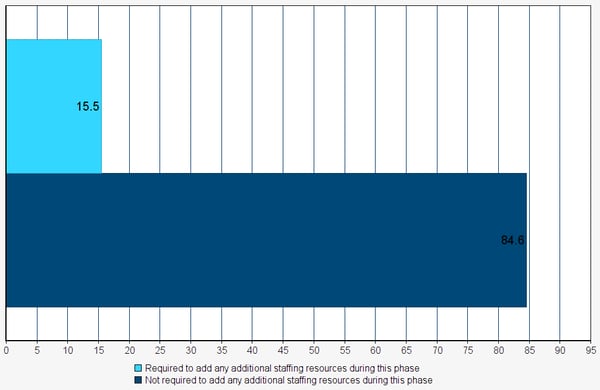 Then we asked them to rank the level of difficulty during this eCQM implementation phase on a 1-10 ranking scale.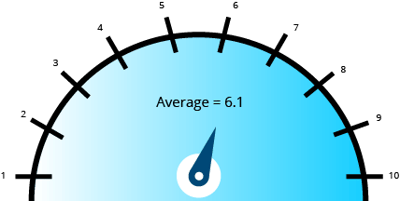 Here, we observed another interesting stat from our non-Medisolv respondents. The majority of respondents marked an 8 as the implementation level difficulty. That means that non-Medisolv respondents marked the eCQM implementation difficulty level 20% higher than Medisolv clients.
Non-Medisolv Clients (Level of difficulty of implementation)
8
MAINTENANCE PHASE
Now we posed those same questions in the context of the maintenance phase of eCQMs. Again, we found that the majority of people did not have to add any additional staffing resources during the eCQM maintenance phase.
And the level of difficulty during the eCQM maintenance phase fell to an average of four. A brisk walk in the park.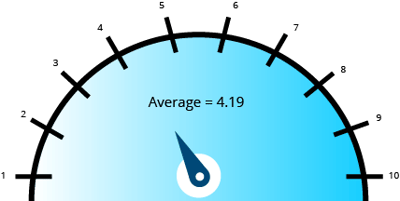 This next stat might surprise you. When asked how they feel about eCQM reporting after going through the implementation and maintenance phase, most respondents said that they think eCQM data benefits their hospital as opposed to feeling as though it's a burden. Do you feel the same way?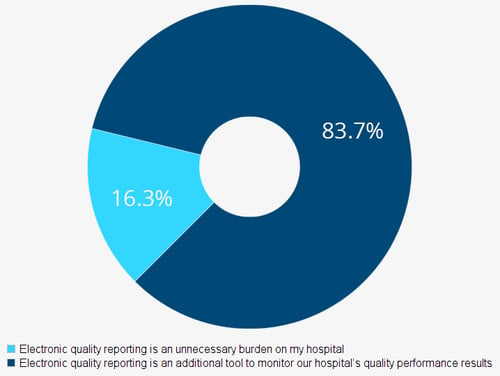 SUPPORTING ECQM REPORTING
To wrap up the survey, we wanted to know if these IT and Quality professionals agree with the eCQM regulations that have been placed on hospitals. A little more than half of our respondents support CMS for requiring them to report their eCQM data while only 11% opposed.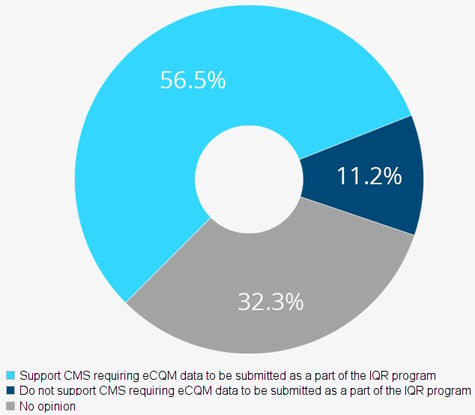 CMS may be getting pushback about eCQMs being burdensome on hospitals, but according to our survey results, many hospitals are achieving eCQM reporting success with no significant burden either during the implementation or the maintenance phase.
And it's hard not to brag a little when we see that Medisolv users had an easier time getting set up and have more confidence in their eCQM results.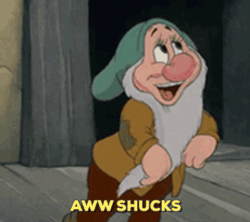 When you have a quality reporting partner like Medisolv that can guide you through the entire eCQM reporting journey, from start to finish, you can feel good about final submission and the accuracy of your eCQM data.
If you're looking for someone to help you with implementation, validation and submission of eCQMs, send us a note. We'd love to chat and see if we're a good fit for your hospital.
---
WOULD YOU LIKE TO JOIN IN ON THE CONVERSATION?
Take the same survey and have your voice heard!
---
WEBINAR:
Wednesday, January 16, 2019
1 p.m. ET | 12 p.m. CT | 10 a.m. PT
THE QUEST FOR CAMELOT:
BEST PRACTICES FOR IMPROVING THE INTEGRITY OF QUALITY IMPROVEMENT DATA
Improving your data is more important than ever because of value-based payments and public reporting. And maintaining data integrity can be an overwhelming and complicated task.
So, what can you do to improve your quality data and ensure that it's accurate?
During this session, we'll discuss how to identify potential gaps and risk points that can occur in an organization's data stewardship program. We'll also review best practice strategies to increase the "trust factor" of all your clinical quality measures.
Speaker info:
Vicky Mahn-DiNicola, RN, MS, CPHQ
VP Clinical Analytics and Research
Medisolv, Inc.
Tags:
Academy, Quality Reporting, IQR Program