The 10 Biggest Takeaways for MIPS Success in 2022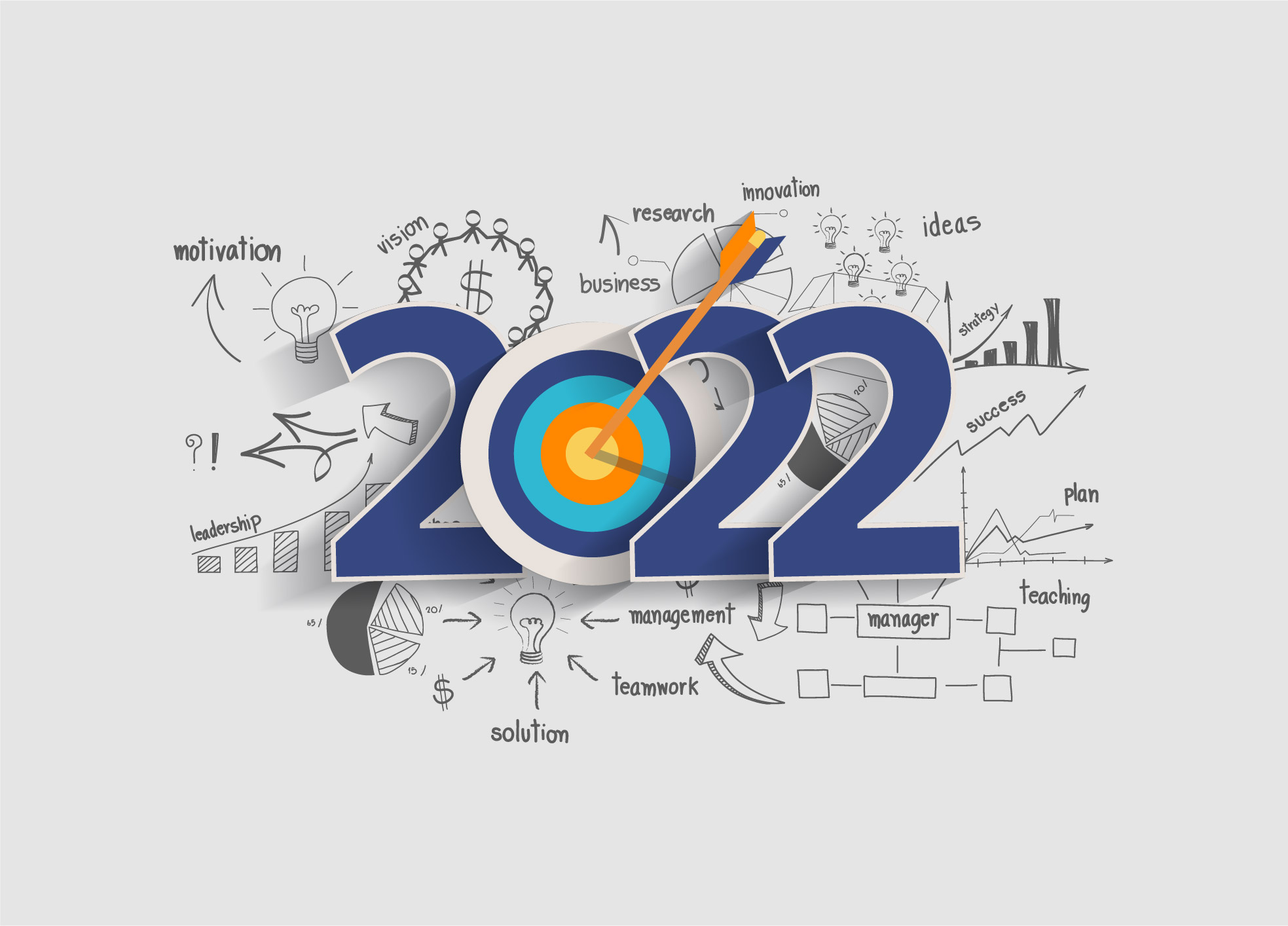 It's officially go time for your MIPS 2022 Performance Year. What's your team's game plan? Here are the top 10 things to keep in mind as you whiteboard your strategy for MIPS success in 2022 and beyond.
The 10 Biggest Takeaways for MIPS Success in 2022
It's officially go time for your MIPS 2022 Performance Year. Hopefully, you've had time to review CMS's final rule—or, better yet, checked out our easy-to-follow webinar, which breaks down all of this year's changes for you. So now: what's your team's game plan? What will it really take to win the MIPS game this year? Here are 10 key takeaways to keep in mind as you whiteboard your strategy for MIPS success in 2022 and beyond.
1. The Eligible Clinicians list keeps growing.
Let's start with the easy stuff. CMS has added two new provider types to its eligible clinicians list for 2022: clinical social workers and certified nurse midwives. If your practice includes these team members, those that meet the MIPS eligibility requirements must report in 2022 unless they are considered hospital-based providers.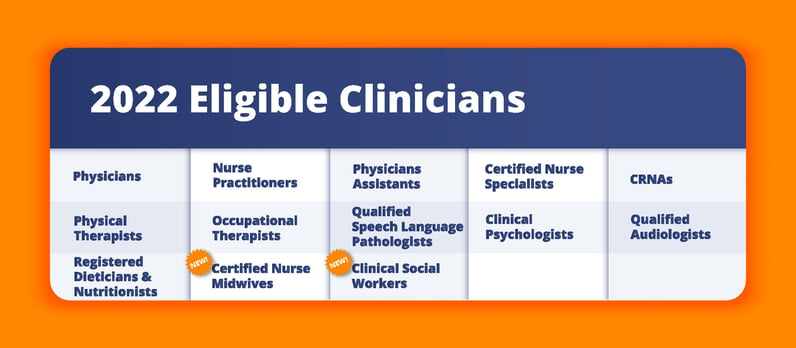 2. Quality is worth less. Cost is worth more.
Last year, Quality was worth 40% of your score. Now it's only worth 30%, despite the fact that it's the category that requires the heaviest amount of lifting for your team. Meanwhile, Cost—which you have almost no visibility into now that CMS has suspended claims calculations during COVID—has increased to 30% of your score, up from 20% in 2021. Improvement Activity (IA) and Promoting Interoperability (PI) have remained the same at 15% and 25% respectively.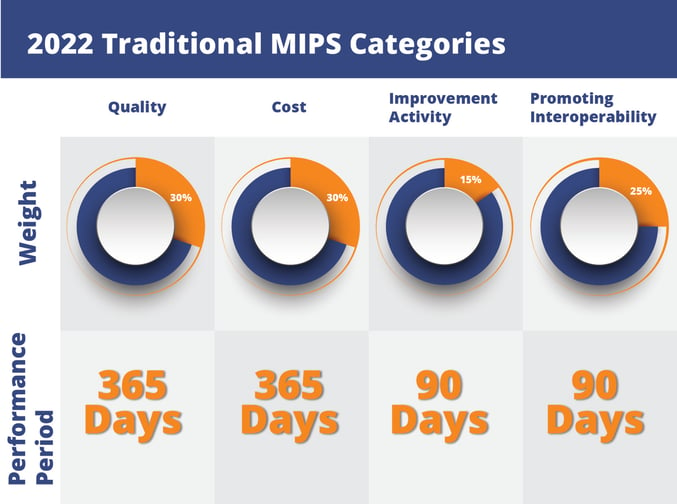 3. The performance threshold has increased to 75 points.
CMS has set its highest performance hurdle for your practice to date, increasing the penalty avoidance threshold from 60 points in 2021 to 75 points in 2022. And with the new category weights (see above), you could theoretically earn perfect scores in Quality (30 points), PI (25 points), and IA (15 points) and still only net 70 points. This is where reweighting and exceptions can be your best friends, as you'll see in our next few tips.
4. You can use the COVID-19 EUC Exception to your advantage.
Once again, CMS is allowing any practice that has been significantly impacted by COVID-19 (and who hasn't?!?) to request reweighting for any or all MIPS performance categories. As with any reweighting scenario, the weight from the categories you opt out of will then be redistributed across your remaining categories, causing the value of each remaining category to rise. Check out the example below of how this might put a practice over the 2022 threshold—and even help a practice earn a score of 89 or more, thus giving them access to the Exceptional Performance Bonus.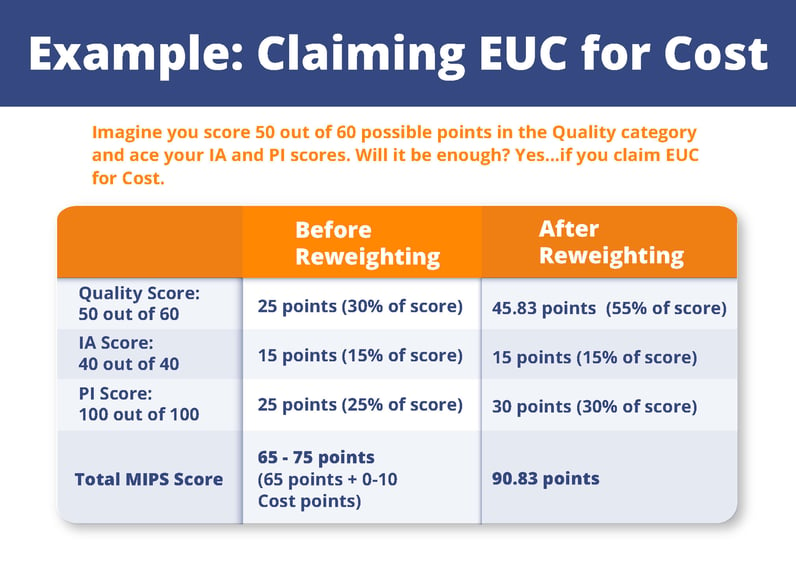 5. Small practices now get automatic reweighting for PI.
As you know, CMS automatically reweights the PI category for a selection of Eligible Clinicians. This year, that list includes Clinical Social Workers and Small Practices (those with 15 providers or fewer). If you are a small practice, or anyone on the automatic reweighting list, you do NOT have to report PI and you no longer need to apply for a hardship exception in this category. If you do submit PI data, however, it will override your exception and count toward your final score. Instead, just sit back, relax, and let the automatic reweighting do its job.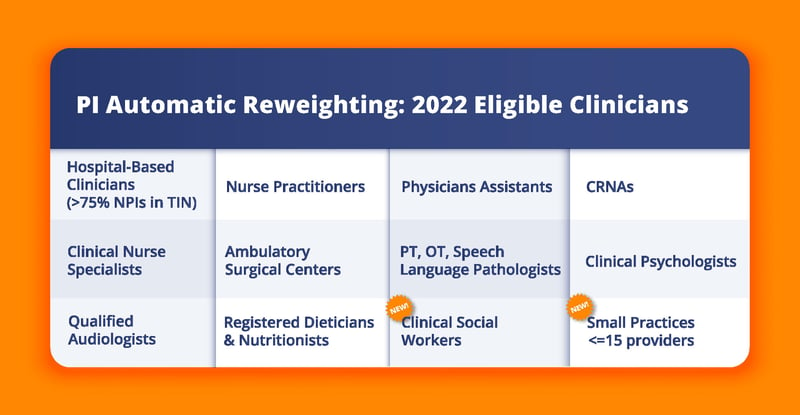 6. The two most popular bonuses will be harder to earn.
At Medisolv, the majority of the practices we support earn their fee schedule increases from the Complex Patient Bonus and the Exceptional Performance Bonus. Both are going to be harder to earn this year.
Exceptional Performance Bonus
As we alluded to in tip #3, the Exceptional Performance Bonus threshold has increased from 85 to 89 points. On top of that, this will be the last year the bonus will be offered. So, either way, it's time to start thinking about how to protect and grow your fee schedule without it.
Complex Patient Bonus
CMS is also modifying the Complex Patient Bonus in a way that will likely eliminate a lot of providers who are accustomed to earning it. The new formula will now consider the number of patients in your care who qualify as medically challenged (based on HCC scores) and/or socially complex (patients who have dual eligibility for Medicare and Medicaid). The upshot is that they are also increasing this bonus to a maximum of 10 points.
More Bonus-Related Bad News?
Yup. CMS has eliminated extra points for reporting High Priority & additional Outcome measures, as well as eliminating the End-to-End Electronic bonus. But it's not all doom and gloom (see our next tip)...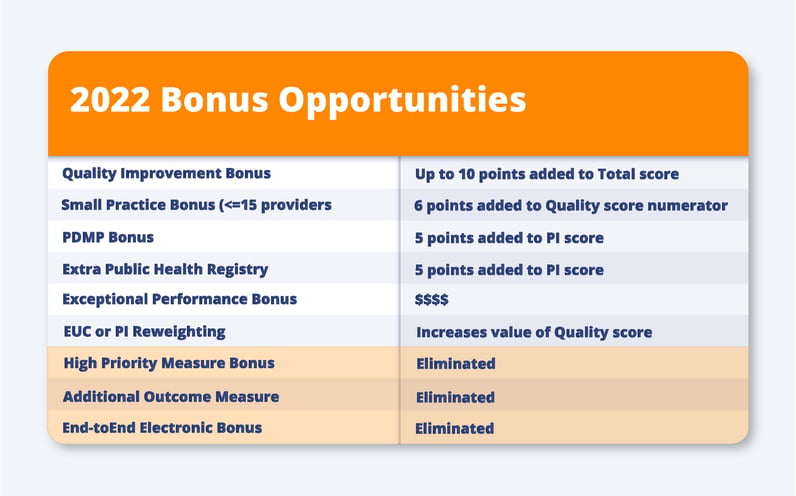 7. NEW measures with NO benchmarks can score you valuable points.
There is some good points-related news. For starters, CMS's plans to reduce the 3-point floor for quality measures down to a 1-point floor have been delayed until 2023.
CMS has also introduced the option to earn relatively high floors for reporting NEW measures that do not have a benchmark. Ordinarily, reporting a measure without a benchmark would earn zero to 3 points depending on your practice size. Now, reporting a new measure without a benchmark in the measure's first two years will guarantee you a floor of 5 points or higher (see chart below).
Whatever these measures may be, it's worth knowing this option exists. It could provide a higher decile score than some of your measures with benchmarks.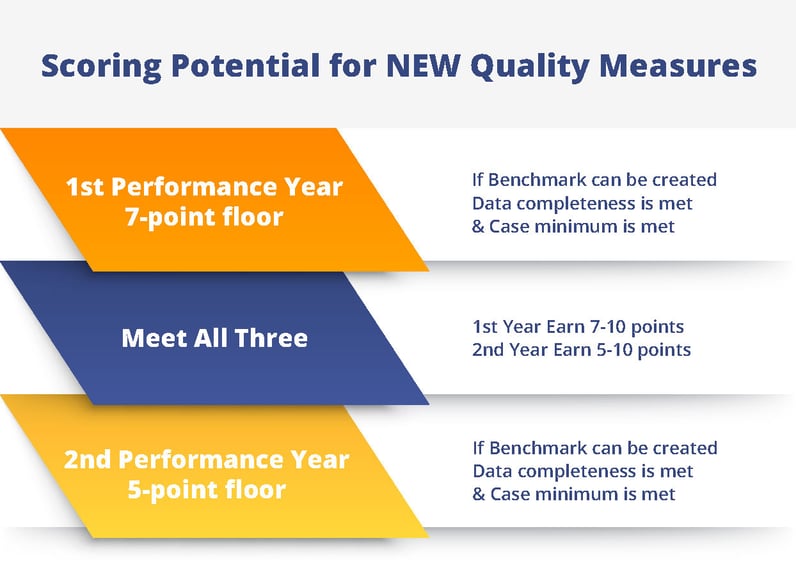 8. Are you part of an APM? Then say hello to APP.
If you're an APM participant, you may be dreading the switch to the Advanced Payment Model Performance Program (APP), which will be required for all MSSP ACOs in 2025. Figuring out data aggregation will be key for your organization over the next 12-36 months. (Need a quick refresher on APP? Check out our starter guide.)
But there is an incentive to getting started now. In 2022, if you choose to report eCQMs, APP will only require reporting on 3 eCQM quality measures—Depression, HbA1c & Controlling High Blood Pressure—as well as 2 administrative claims measures, and CAHPS. That could significantly lessen your reporting burdens system-wide if you're willing to get a jump start.
Start to Understand all Your APP Options
If your eligible clinicians are part of an APM, they automatically receive the score of the APM.

However, providers have the option to submit via APP outside of the APM, or report MIPS outside of the APM, and the highest score earned will be attributed to the provider NPI.

If your entire TIN is part of an APM, you could also report via APP or MIPS and the highest score would be applied to the TIN.
Be on the lookout for more guidance from us on APP in the months to come, or contact us now if you're ready to make the move.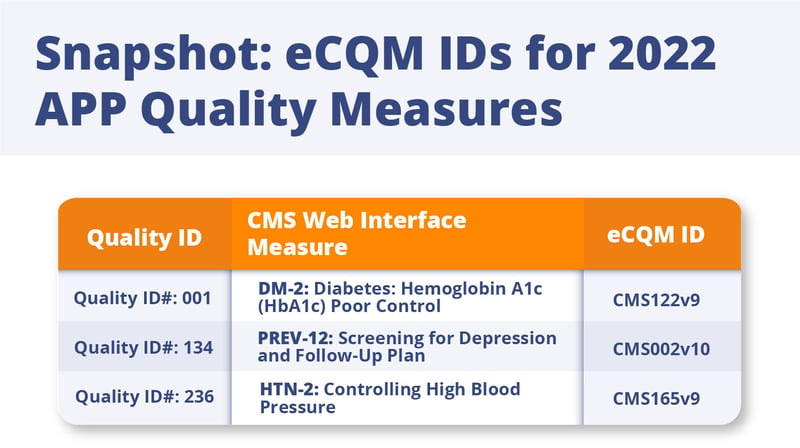 9. Start warming up for the new MVPs program.
Just as we're all starting to feel more confident about MIPS, CMS has decided to introduce the new MIPS Value Pathways (MVPs) program. Launching in 2023 as an optional program, MVPs are expected to fully replace MIPS by 2027.
The goal of MVPs will be to deliver reporting at a more granular level, specialty by specialty (or pathway by pathway to use their terminology). The MVP that a clinician or specialty practice selects will determine what measures they can and should report. CMS believes this will lead to improved value and less burden for providers and enable patients to make more informed choices when selecting providers.
Just like APP, we will walk you through everything you need to know about MVPs in coming months, but you can always check out our starter guide or connect with us if you're ready to start planning now.

10. Remember: it's all about the math
At the end of the day, MIPS reporting is really just a good, old-fashioned (but overly complicated) math problem. From reweighting to bonus points, you have a lot of variables that you can add to the equation to help you take control of your score. Take the time to understand the math and identify the variables that you're good at or eligible for. And, if you ever need a MIPS math tutor, you know who to call.


Need to Brush Up on ALL the MIPS 2022 Requirements?
Check out Medisolv's comprehensive and easy-to-understand reference tools:
We've also assembled all the CMS final rule documents for you:
---
Medisolv Can Help
We consistently hear from our clients that the biggest differentiator between Medisolv and other vendors is the level of one-of-one support. Especially if you use an EHR vendor right now, you'll notice a huge difference.
We help troubleshoot technical and clinical issues to improve your measures.
We keep you on track for your submission deadlines and ensure you don't miss critical dates
We help you select and set up measures that make sense based on your hospital's situation.
You receive one consultant that you can call anytime with questions or concerns.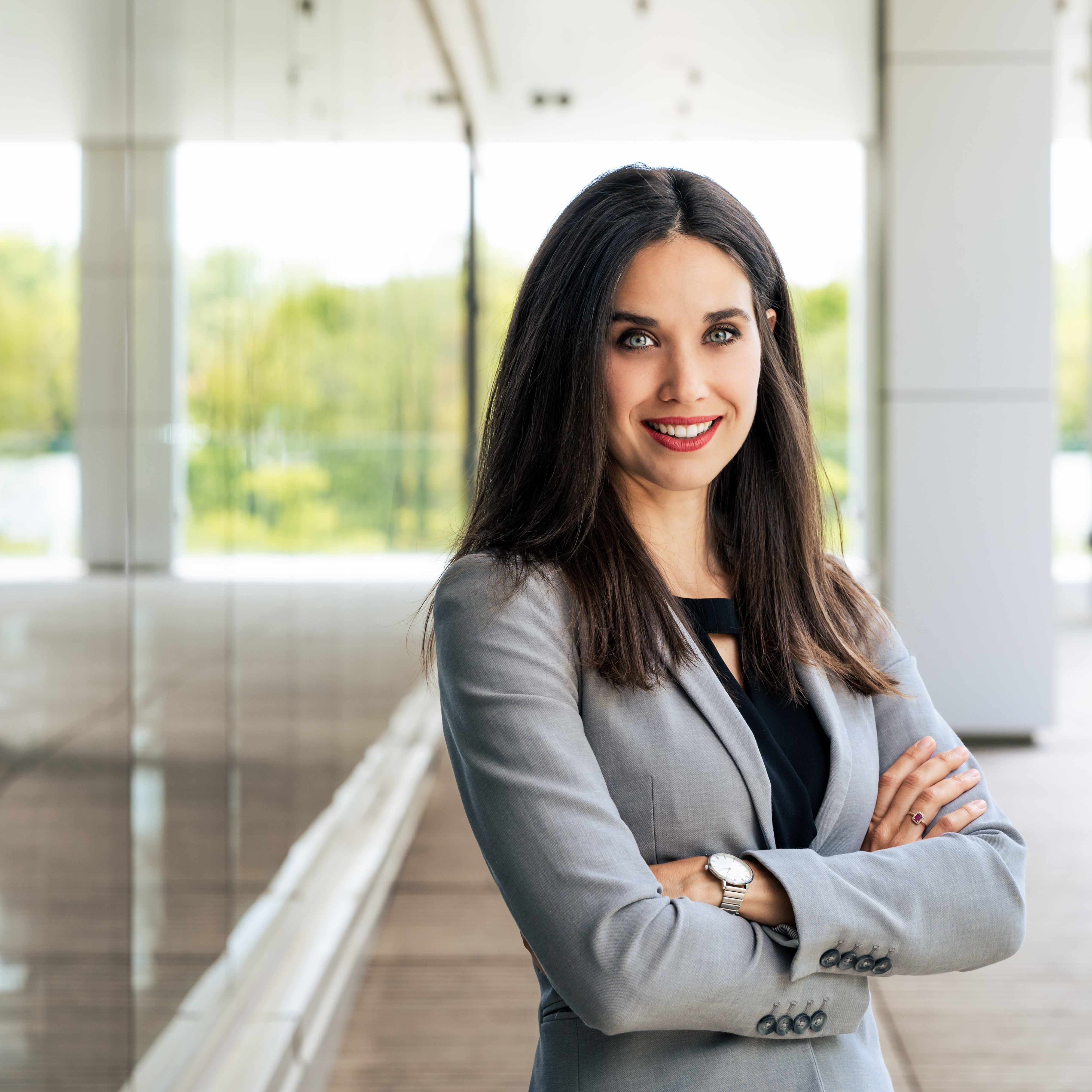 Erin Heilman is the Vice President of Marketing for Medisolv, Inc.