How to Make Money in MIPS 2018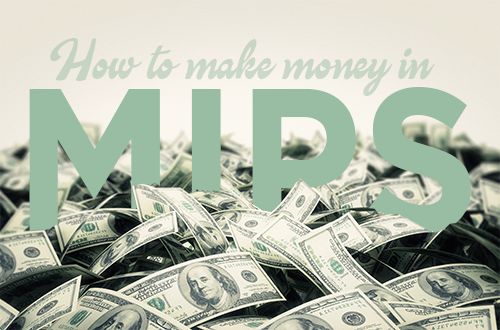 When it comes to MIPS, hard work pays off…literally. But how? And what can do you to ensure that you are maximizing your chances of receiving a nice large reimbursement?
Grab a plate and get ready for your fair share of the pie. This week, we're delving into all the ways that you can money in year two of MIPS.
score at least 15 points
Take a look at the graphic below for a visual of how CMS will finalize your MIPS reimbursement.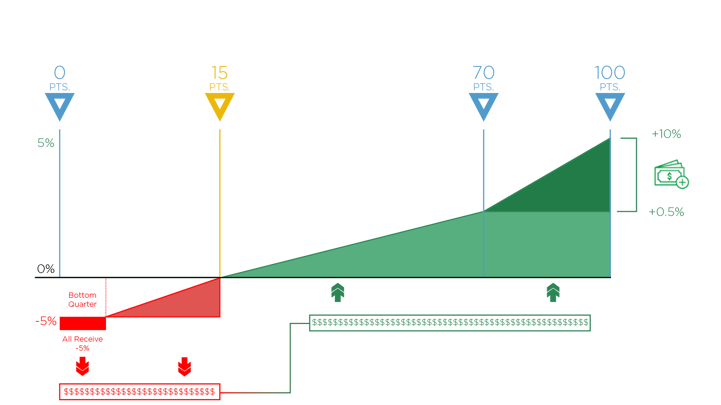 There are two magic numbers that can lead to MIPS reporting success, and the first one is 15. In 2018, you need to earn at least 15 MIPS points to avoid a penalty. This number increased from a minimum requirement of three points last year. If you score less than 15 points or choose not to report at all, you'll receive a negative reduction of up to -5%, which is shown in red on the graph from 0-15 points.
On the other hand, however, you can earn a positive adjustment of up to +5% based on your performance in each MIPS Category—Quality, Improvement Activities (IA), Promoting Interoperability (PI, formerly Advancing Care Information) and new this year, Cost.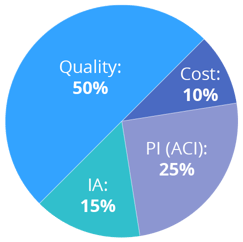 That's because MIPS is a budget neutral program. CMS will take all the funds from the negative payment adjustment and distribute them among those who did meet the performance threshold and achieved the positive payment adjustment. So, any Eligible Clinician who scores 15-100 points (this is where the graph starts to become green and less scary) will be able to get some portion of these funds. It's hard to pinpoint your exact positive payment adjustment, since the amount of people who receive the negative payment adjustment won't be known until after CMS finalizes all MIPS scores.
Also See: 2018 MIPS Reimbursements: How does It Work?

Strive for 70 points or higher
Did you know that CMS sets aside $500 million for exceptional MIPS performers?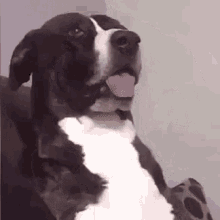 True story. The second magic number is...drum roll, please...70. If you achieve 70 total MIPS points or higher, you'll be eligible to receive the Exceptional Performance Bonus money.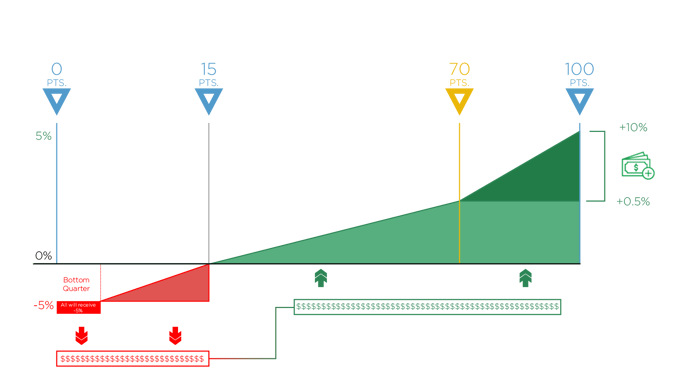 As you can see in the graph above, Eligible Clinicians who score 70-100 points can receive anywhere from 0.5%-10% as an additional increase to their positive payment adjustment.

Meet the category requirements
Keep in mind that unlike 2017, there is no pick your pace reporting option in 2018. You simply need to submit MIPS measures that total at least 15 MIPS points from one category, or a combination of categories.
While you only need to earn 15 MIPS points, be sure to work toward achieving the highest score possible by fulfilling all of the category requirements. Your performance in each of the MIPS categories will determine the amount your fee schedule will increase in 2020. Here's a breakdown of the category requirements for MIPS 2018: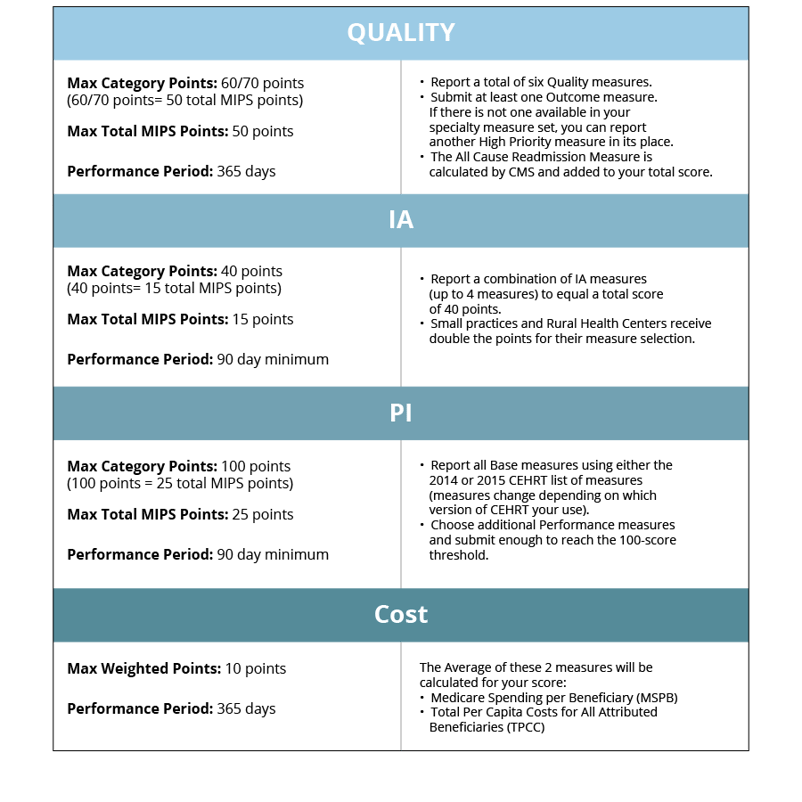 Earn bonus points
There are plenty of opportunities to earn bonus points for the second round of MIPS, so take advantage of each one to increase your chances of receiving a substantial reimbursement:
Improvement Bonus: Up to 10 points for demonstrating improvement in your 2018 Quality score over your 2017 Quality score (note: the cost bonuses were eliminated).
CEHRT Submission: Up to 6 points for submitting your Quality measures via electronic submission. One point is awarded for each measure electronically submitted.
Additional Measure Submission: Up to 6 points for submitting additional Outcome, Patient Experience or High Priority measures in the Quality category.
PI Bonus Points: Up to 10 points for choosing to report select Improvement Activities measures that use the EHR for improvement in the PI category.
Public Health Registry Measure Bonus: Up to 5 points for reporting an additional registry measure in the PI category.
2015 Edition of CEHRT Bonus: Up to 10% added to your PI score for reporting 90 days of PI measures using the 2015 edition of CEHRT.
Complex Cases Bonus: 1-3 points for clinicians who work with patients that have more complex cases. This is determined by CMS.
Small Practice Bonus: 5 points if your organization qualifies as a small practice (less than 15 Eligible Clinicians).
Your pick, folks. Which pie will be yours in 2020?

If you're feeling lost and unsure of what's expected of you for MIPS 2018, send us a note today. We'd love to chat and see how we can help with all of your MIPS reporting needs.
---
DOWNLOAD:
BEGINNER'S GUIDE TO MIPS YEAR 3
Medisolv has the tools to help your organization gear up for quality reporting success. In this FREE 24-page eBook, you'll learn about MIPS Year 3 and find all the information needed to complete the program in 2019.
This guide includes:
Eligibility criteria
Reporting options
Category requirements
Important dates to remember